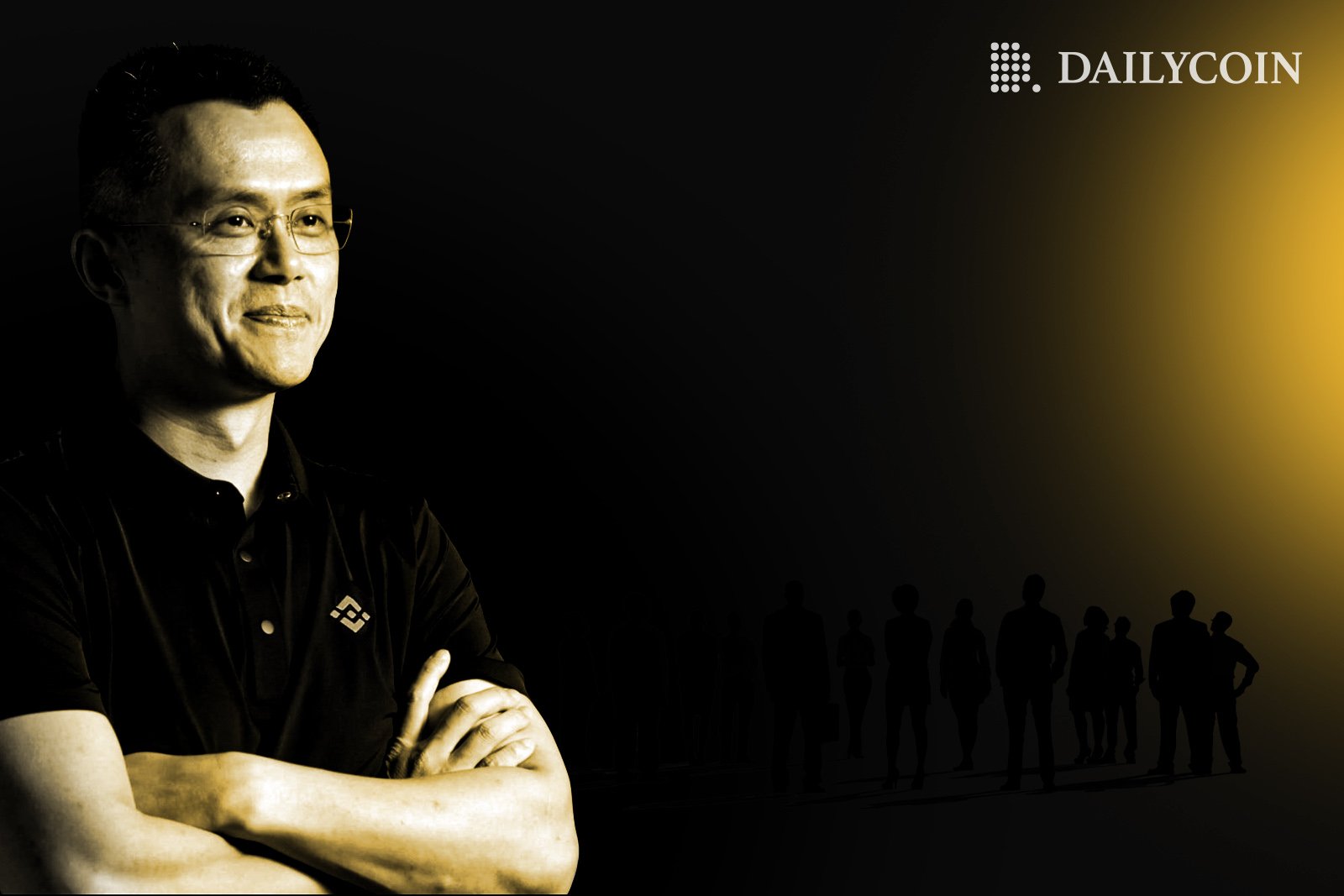 In July 2017, no one knew who Changpeng Zhao was. The name would have only elicited blank stares if people were asked about it. 
However, just eight months later, CZ became a billionaire and was running the world's largest cryptocurrency exchange by trading volume. 
In just eight months he went from a nobody to one of the most important people building the future of the blockchain. 
The question now is how did CZ become the most powerful man in crypto?
The story of Changpeng Zhao, also known as CZ, starts in China. Zhao was born in China's Jiangsu province to Chinese teachers. He was born in 1977, so the overtly totalitarian communist rule in China was coming to an end as a result of Mao's death.  
While the communist fundamentalist Mao Zedong had died, there was still some appetite for Soviet-era repression in China. For example, intellectuals were regarded as members of the bourgeoisie class and were routinely sent into exile.
That was a fate that CZ's father suffered shortly after his son's birth. For some reason, CZ's father was branded a "bourgeoisie senior intellectual" and was sent into exile. This kicked off a chain of events that resulted in the entire family leaving China and relocating elsewhere. 
By the end of the 80s, CZ's family chose to move to Canada to start a new life. CZ at the time was just 12 years old and had to become acclimated to a new culture and a new language.
When CZ's family moved to Canada, they weren't rich. While they weren't living in penury, they didn't have the luxury that other immigrant families had. CZ had to immediately start working to support his family. As a teenager, he flipped burgers at a McDonald's and even took on all-night shifts at a gas station.  
After completing high school, CZ decided to study Computer Science at McGill University in Montreal, Canada. 
The fact that he was able to get into McGill University in the first place is a testament to how bright CZ proved himself to be. McGill University has one of the highest average entering grades of any University in Canada. High-schoolers who gain admission into the university almost always have a finishing grade above 90%. 
Tokyo 
After college, CZ was selected for an internship in Tokyo. He took the opportunity with open arms and soon found himself working for a subcontractor of the Tokyo Stock exchange. 
CZ didn't know it at the time, but his experience at the stock exchange would eventually mold his career and give him the financial knowledge needed to build Binance. His job at the time was simple, and it was actually right in his area of expertise. He was to develop matching software for trade orders. 
Bloomberg Tradebook
In time, CZ  got a job at Bloomberg Tradebook where he developed futures trading software. 
He spent four years at Bloomberg Tradebook and experienced meteoric career growth. He was promoted three times in those four years and became responsible for managing multiple teams around the world. 
Shanghai 
He wanted something more and decided that Shanghai was the place to find it. In 2005, he made his move to the city and founded Fusion Systems. 
By this point in his career, CZ essentially had all the skills he needed to build a company like Binance. He was a guru at Computer Science and had spent years in finance and high-stakes trading. It was almost like he was being built for his role in cryptocurrency. 
Fusion Systems and Bitcoin 
CZ spent eight years in Fusion Systems. His company was thriving, his profit margins weren't bad, and business was booming. But then, a friend introduced him to crypto in 2013, and he immediately knew that it was something he had interest in. 
The friend who introduced CZ to crypto was an investment poker player named Bobby Lee. Lee told CZ that if he invested just 10% of his net worth into Bitcoin, the coin could be worth ten times its value, and CZ would be twice as rich. And if Bitcoin lost all of its value, CZ would have lost just 10% of its net worth. According to Lee, investing in Bitcoin was a no-brainer. 
CZ saw the logic in this argument and believed his friend completely. To prove just how dedicated he was to Bitcoin, CZ immediately sold his apartment to buy Bitcoin and quit his job to switch to crypto. 
CZ spent much of 2013 researching Bitcoin as quickly as he could and he even attended conferences. Because of his immense networking efforts, he soon got on the Blockchain.info team where he worked closely with Roger Ver and Ben Reeves, who were very important figures in the crypto space around 2023. 
After just a year of working at Bitcoin.Info, CZ left to become the CTO at OKCoin. However, he didn't find success at OKCoin and he left a bit later.
Throughout his time at Bitcoin.info and OKCoin, CZ learned a lot about crypto. 
In July 2017, he eventually put all this knowledge to work by creating Binance.That same month, he raised $15 million for the company through an ICO, and the company started growing almost exponentially. In eight months, Binance had surpassed Blockchain.com and became the largest exchange by trading volume. 
And CZ was suddenly one of the most influential men in crypto. He was also worth $1.2 billion. 
The Troubles 
However, Binance wasn't an instant success. Those eight months weren't rosy by any means. Just as the company was expanding, the Chinese government banned ICOs and eventually banned crypto exchanges. 
China made this policy because it faced a weakening economy and wanted to block the flow of money out of the country illegally. This led to an investigation of crypto firms and their activities. It seems that the finding of this investigation informed the decision to ban ICOs. 
The People's Bank of China finalized the bans of ICOs in September 2014, and then went on to ban ICO platforms from issuing ICO tokens. While the crypto ecosystem was still reeling from the ban, Chinese regulators banned crypto exchanges in their entirety. All of this happened within the span of two weeks. 
Fortunately for Binance, its IP address wasn't in China unlike that of its biggest competitors. Huobi and OKCoin were Binance's biggest competitors, but unfortunately, they were domiciled in China. That means they had to close down and they found it difficult to diversify their customer base outside China. 
However, Binance had no problem with staying open, since its servers weren't affected by Chinese regulations. Hence, following the Chinese ban, Binance was able to get a huge chunk of their businesses. 
Just eight months after Binance was founded, the company had grown exponentially and had 7 million users. But that was just the beginning.
Today, CZ is still the head of Binance, and Binance is still the world's biggest exchange. The success of Binance has rewarded him handsomely too, as he is now worth $10 billion. Interestingly, almost all of his wealth is still in crypto and it doesn't seem like he will exchange them for fiat. 
Despite being extraordinarily wealthy, CZ still wears cheap clothes. He doesn't have expensive cars, houses, or anything of the sort. He wears basic clothes and shoes and looks like your everyday guy. The only difference is that he's been on the cover of Forbes magazine, and he's one of the richest people on the planet. 
He even says that he will probably give all his wealth away in the end. 
Sam Bankman-Fried (SBF) was also one of the most powerful men in crypto and had an impressive grass-to-grace story. However, he ended up being a corrupt and fraudulent founder who mismanaged user funds and ran a deeply dishonest business. 
Binance has only been around for six years. That's not enough time to judge just how sound the business is. In fact, recent events surrounding FTX suggest that we should be a bit more wary of large centralized exchanges like Binance.
CZ is probably the third most influential person in crypto after Satoshi and Vitalik. His actions, for good or bad, will influence the future of crypto. That's why it's important to know who he is and what motivates him.