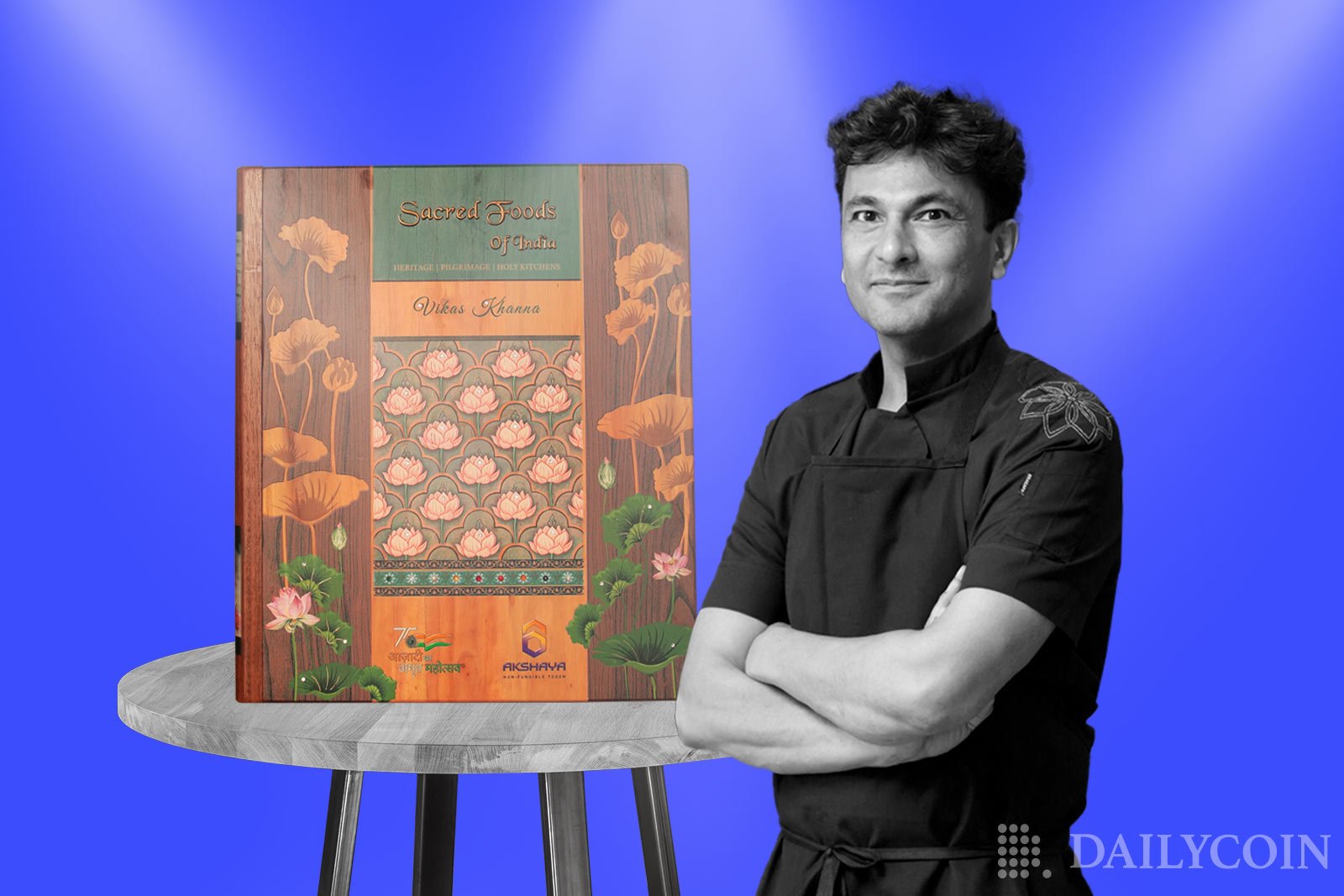 India is known for its delicious street food. The country is rich in rare spices and creative people, so it comes as no surprise that the Indian chef Vikas Khanna is not only critically acclaimed by Michelin, but is also the owner of the most expensive cookbook ever made. After the success of his $13,000 cookbook "Utsav," the master chef, proudly presents "Sacred Foods of India."
Vikas Khanna, Author of World's Most Pricey Cookbook, Releases NFTs: Vikas Khanna, the author of the world's most expensive cookbook has brought out a new product. It is a phygital cookbook with an NFT. pic.twitter.com/d1VSvKyO3Y

— P (@Amitkumardalai6) September 7, 2022
Sacred Foods of India NFT Combines Spirituality & Good Taste
The owner of the most pricey cookbook ever made has partnered up with Akshaya.io to bring Sacred Foods of India NFT collection in a 'Phygital NFT' format. Truly, the idea is one of a kind, as the cookbook comes boxed in an antique-style maple and walnut wooden box, all covered in Swarovski crystals.
Complementary to the shiny box with the physical "Sacred Foods of India" cookbook, there's also 250 limited edition NFTs. The NFTs were minted by Akshaya.io, an Indian startup, which was the first in the country to offer metaverse and blockchain-related items. Akshaya.io is focused on antique art and boutique and sacred artifacts.
The Sacred Foods of India NFT includes over 100 holy recipes from Indian traditional cuisine, improved by the master chef himself. Vikas Khanna was excited to share the unmatched NFT cookbook: "I am proud to share this innovative work of art, the incredible history and flavors of Indian cuisine within, as well as the compelling stories that make these sacred, uniting recipes so special," says the Michelin star chef.
Despite the most expensive cookbook turning into a blue-chip NFT collection, the NFT market is plummeting. The lead NFT marketplace, OpenSea, has recently recorded yearly lows.
The funds raised for the NFT cookbook will be used to fight famine in the rural areas of India. The first cookbook by Vikas Khanna, "Utsav," was auctioned on Sotheby's, and all of the revenue was used for charitable causes.