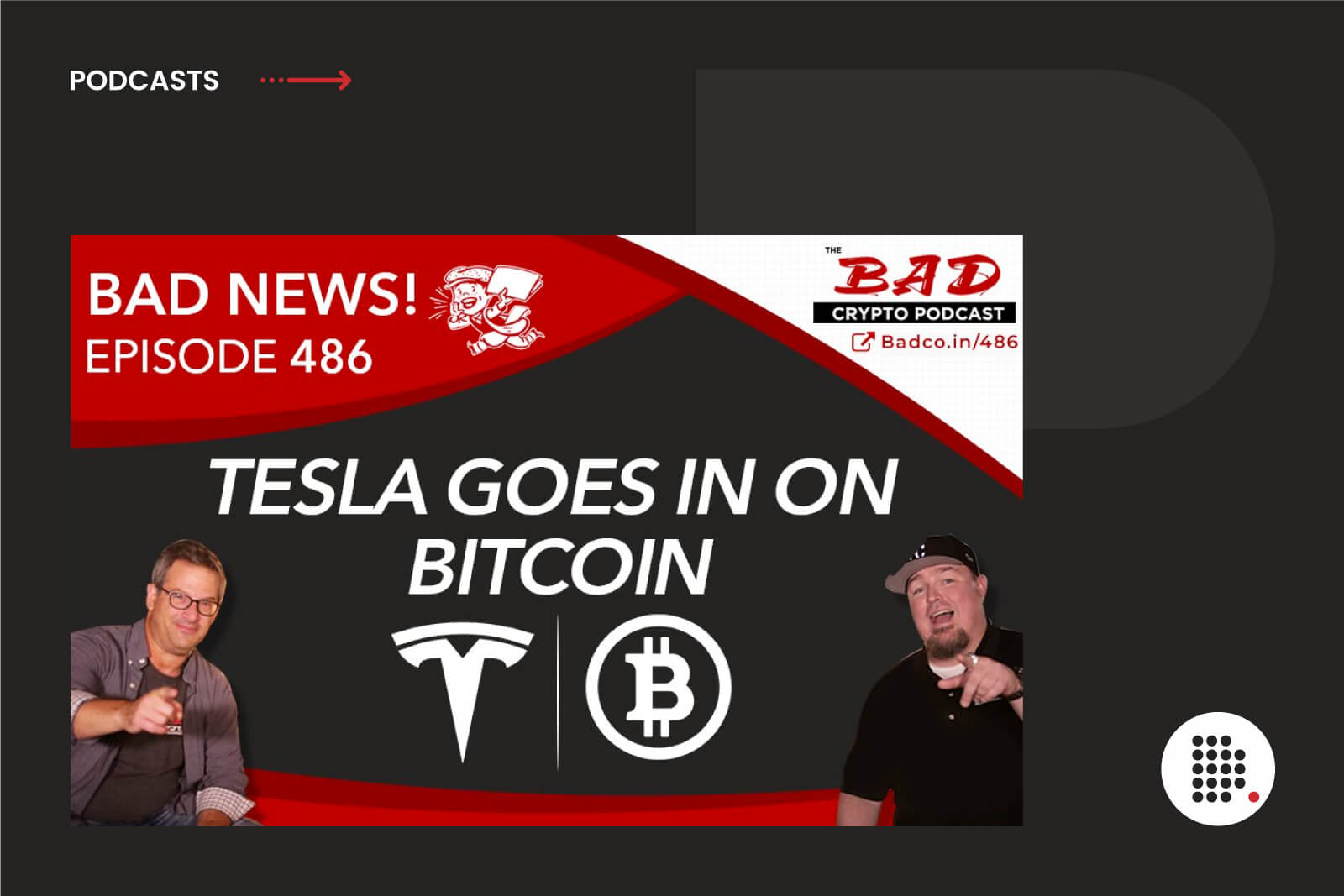 He need only wave his magic wand and things happen. No, we aren't talking about Houdini. We're referring to Elon Musk, the world's richest man. He announced that Tesla now owns $1.5 billion in Bitcoin, and the markets reacted with great delight. $50,000 is now in sight as some speculate that Apple could be the next domino to fall in line with Bitcoin acquisition. In fact, Bitcoin has now overtaken gold as the 4th most popular investment vehicle in the United States.
Altcoins are rallying as well as DOGE surges to new heights and WAX rises on news of massive growth. And speaking of WAX, the NFT world is exploding as Capcom's Street Fighter prepares to launch their NFT series and the Blockchain Heroes just like the stonks.
Welcome to our "you can check-in time any time you like but you can never leave" Bad News episode #486 of the Bad Crypto Podcast.
Even without Apple taking a bite, though, Bitcoin has now overtaken gold as America's fourth most popular investment vehicle. On the downside, it's had to use a lot of gas to drive that fast. According to one estimate, Bitcoin now consumes more electricity than the whole of Argentina. It's also a bigger energy consumer than both the Netherlands and the United Arab Emirates.
Elon Musk, though, hasn't only been pushing Bitcoin. He's also been promoting Dogecoin, which has almost doubled over the last week, and risen more than seven-fold over the previous month. Mark Cuban is happy. He bought some for his son and thinks it makes a good learning tool.
Perhaps his son should have bought Cardano too. The altcoin has also doubled this month, making it the fourth most valuable cryptocurrency by market capitalization. Cardano recently reported the successful launch of a smart contract on its testnet. Frederik Gregaard, the foundation's CEO has also argued that a blockchain infrastructure would help to prevent the kind of closure that RobinHood was recently forced to enact. Some experts though are looking in other directions. They see good times in the first quarter of the year for Cosmos, Polkadot, and Electroneum.
Crypto traders in Nigeria, though, will probably have to look away. The country's central bank has ordered the closure of all cryptocurrency accounts. In India, the government might fast-track a bill to ban Bitcoin and other cryptocurrencies. While in China, the Blockchain-Based Service Network (BSN) has integrated with the Casper Network, making the layer-1 proof-of-stake blockchain network available on BSN in the first quarter of the year.
German police have confiscated more than $60 million of Bitcoin from a fraudster who hacked people's computers to mine cryptocurrency. The criminal has completed his term but can't access his hoard. If he can't have it, though, no one can. He's refusing to give the police his private key.
As Valentine's Day approaches, there is some love in the technology air. Match Group, the owner of Tinder and Match.com, has paid $1.73 billion to seal its partnership with South Korea's Hyperconnect Inc. And Uplift.Art, a platform for NFT-backed artworks, is launching a series of love-themed artworks to celebrate the founders' relationship. Michael and Francesca Blu have created a series of poems and music celebrating their love. Half the proceeds from the sale will go towards building a school in Haiti.
NFTs themselves have been booming. WAX has seen a growth rate of almost 146%. And new to the WAX blockchain is Stonk Wars, the third installment of the Blockchain Heroes series. This set commemorates the gallant fighters of Reddit in their battle against hedge fund traders. Maybe Elon Musk should give them all a Tesla.