Supply percentage holdings of small-scale BTC accounts reach ATH.
BTC whales are loosening their grip on supply.
Altcoins are poised to gain a larger market share over the long term.
The enduring crypto winter has led to depressed sentiment and loss of interest as token prices dwindle. However, amid the melancholy, an intriguing shift unfolds in the Bitcoin landscape.
Small-scale holders are emerging as the likely heroes, having upped their percentage stake in the available BTC supply to all-time high levels. Meanwhile, the once-dominant grip of whales continues to slide. With the halving around the corner, will we witness a new era dominated by small accounts?
Bitcoin Whale Dominance Wanes
According to Santiment, the percentage of small-scale wallets holding Bitcoin has reached an all-time high of 41.1%. Meanwhile, the share of supply held by whales remains dominant, currently at 55.5%. However, this figure has been gradually declining since June.
Santiment defines small-scale or non-whale wallets as accounts with holdings of less than 100 BTC, while a whale account is determined as a balance exceeding this threshold figure.
The dynamic between small-scale and whale accounts is changing. Since March, the supply percentage held by small-scale accounts has been trending upward regardless of price action.
By contrast, the supply held by whales has been choppy over the same period, resulting in acute swings that culminated in a June peak of 56.4%. Following the peak, a sharp "sell-off" in holdings has seen the supply share held by whales edging lower.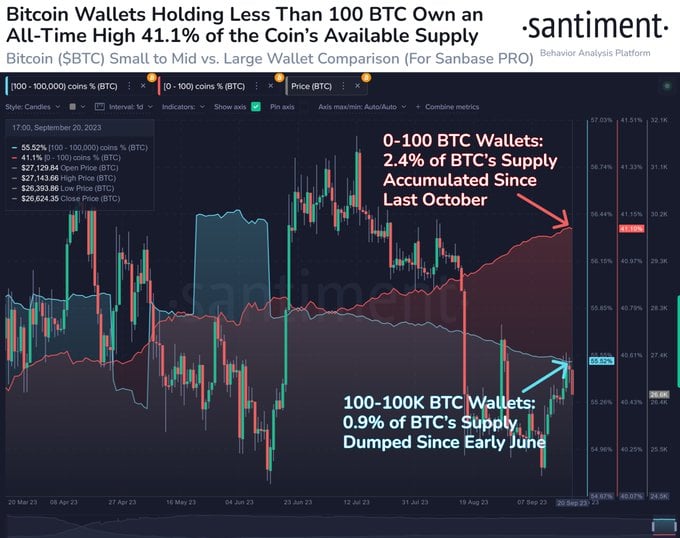 Although whales are loosening their grip on the BTC supply, Bitcoin's overall market dominance has strengthened in 2023, but for how much longer?
Rise of the Altcoins
Bitcoin's dominance in the cryptocurrency market has been growing over 2023, having peaked at 52.3% in June. However, it's worth noting that prior periods saw Bitcoin Dominance at 73.6% in December 2020 and in the high nineties before early 2017. This change reflects the emergence of altcoins in recent times.
Google search trends serve as an indicator of market sentiment, and with the term "Bitcoin" not featuring in the top 10 of a search trend study conducted by Marketplace Fairness, there are further signs that altcoins are poised to gain a larger market share over the long term.
On the Flipside
The definition of a small-scale account still equates to a substantial fortune in dollar terms, up to $2.66 million at the current price.
An individual can hold multiple wallets of less than 100 BTC, making the split between small-scale and whale wallets less meaningful.
Why This Matters
The shift towards small-scale holders represents a meaningful step in Bitcoin's path for greater decentralization. The waning control of whales has implications for Bitcoin's susceptibility to manipulation and volatility profile. If this trend continues, BTC will emerge more decentralized and resilient from crypto winter than ever.
Find out more about the Bitcoin network's validation issues here:
Bitcoin Overflows with Pending Tx in Record Congestion

Learn more about Stellar's fight to end poverty in collaboration with the World Economic Forum here:
Stellar Joins WEF Initiative to Support Vulnerable Communities