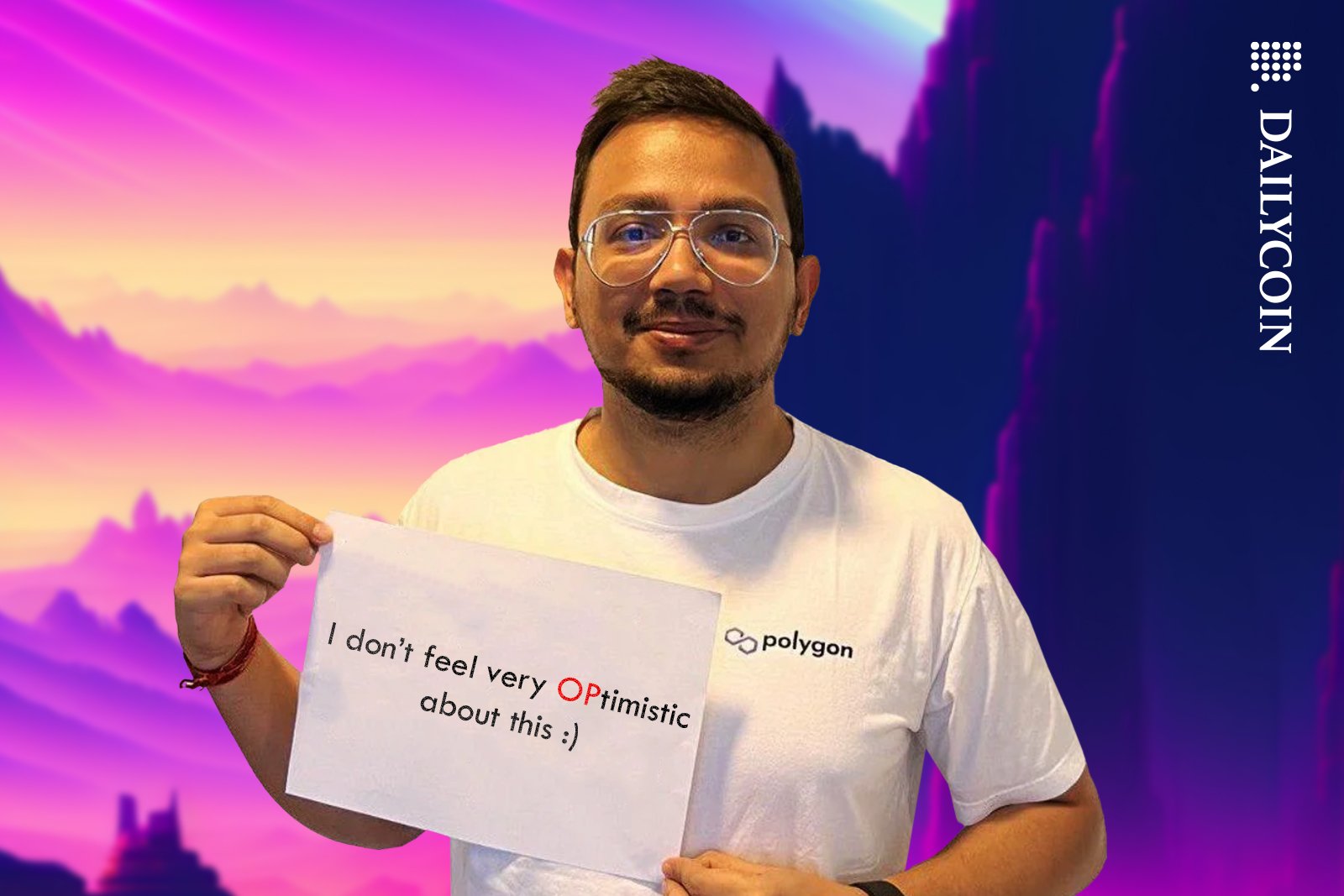 Polygon Labs has nudged Celo to consider transitioning to an Ethereum Layer 2 using its CDK.
The proposal bids against cLabs' initial plans to build on Optimism's OP stack.
Polygon's Sandeep Nailwal argues that the CDK offers the best solution.
The Ethereum scaling vision has gone multichain. With each ecosystem offering unique benefits and the Layer 2 narrative gaining a new lease on life in recent months, two major contenders, Polygon and Optimism, may be set to go head-to-head.
In what could become a litmus test for which holds the best appeal, Polygon co-founder Sandeep Nailwal has pitted Polygon's Chain Development Kit (CDK) against Optimism's OP stack as popular EVM-compatible Layer 1 Celo plans to transition to an Ethereum layer 2.
Polygon Labs Courts Celo
Polygon Labs wants Celo to transition to a zero-knowledge-powered Ethereum Layer 2 using Polygon's CDK.
In a proposal expressing the team's intent on Wednesday, September 20, Polygon co-founder Sandeep Nailwal asserted that the proposed move would allow Celo to "maximize the advantages of being an Ethereum L2 while maintaining the characteristics that made the chain a success in the first place."
The Polygon Labs proposal comes as an alternative to a July 2023 proposal from cLabs, developers of the Celo blockchain. cLabs argued that it was time for the chain to move to Ethereum, the blockchain it has long admired, as a Layer 2 network built on Optimism's OP stack. Nailwal, however, tips Polygon's CDK and, by extension, its ZK technology as the better alternative for Celo.
Nailwal Argues For Polygon's ZK Approach Over the Optimistic Rollup
Arguing for the Polygon Labs alternative, Nailwal addressed cLabs' initial upgrade value propositions, including cross-community collaboration, enhanced Ethereum compatibility, improved security, and maintaining lower fees while highlighting the unique benefits of the Polygon CDK.
Expressing excitement at the prospect of working with cLabs on off-chain data availability and sequencing technology, Nailwal touted Polygon's EVM equivalence approach for compatibility and reliance on ZK validity proofs for security, which eliminates the need for human action as better alternatives to the EVM compatibility of Optimistic rollups and dependence on fraud proofs.
The Polygon co-founder also argued that an Ethereum Layer 2 built with the CDK and running Polygon's ZK validium technology would offer fees on par with what is presently obtainable with Celo.
On top of these, Nailwal points out that with the CDK, Celo would, among other things, be joining a unified ecosystem of ZK-powered Layer 2 chains, enjoying significant customizability and interoperability, near-instant withdrawals, and swift finality.
Should the Polygon co-founder's arguments sway the Celo community, the blockchain would be joining the likes of Canto, Astar, Immutable, and Gnosis Pay, which are building with Polygon CDK.
On the Flipside
While Polygon only recently released its CDK, Optimism's OP stack already powers several popular Ethereum Layer 2 chains, including Arbitrum and Coinbase's Base.
Matter Labs is working on a multichain future for zkSync.
Why This Matters
The latest move by Polygon Labs highlights how fiercely the competition is heating up in the Ethereum Layer 2 space.
Read this to learn more about Polygon's CDK:
How Polygon's Chain Development Kit Enables the 2.0 Vision

Recent activities from ICO wallets and whales are raising eyebrows in the Ethereum community:
ETH ICO Wallet Linked to Dev Joins Buterin, Whales in $31M Move