A tweet by McDonald's on January 26th, 2023, sparked reactions from Elon Musk and the Dogecoin (DOGE) community about their illusive collaboration.
The Twitter conversation stemming from McDonald's original tweet accumulated 8.1M views in less than 24 hours.
Elon Musk reaffirmed that he would "100%" still appear in a McDonald's ad if the fast food company implements DOGE payments.
On January 26th, 2023, the official Twitter account of the American multinational fast-food chain McDonald's published a simple tweet that sparked a reaction from Elon Musk and the Dogecoin (DOGE) community 
After a tweetless-period of more than three months, McDonald's tweeted the phrase "what did I miss" to its follower base of 4.7M, and the tweet has thus far accumulated approximately 8.1M views.
Business magnate Elon Musk replied to the tweet by McDonald's with "oh hi lol."
DogeDesigner, a UX/UI graphic designer at Dogecoin, seized the opportunity to resurrect a year-old tweet from Musk, in which he pledged that he would "eat a happy meal on tv if McDonald's accepts Dogecoin."
DogeDesigner asked Musk if the deal was still open. Musk simply responded with the "100%" emoji, speaking volumes on his opinion of a potential partnership should McDonald's look to strike a deal.
The price of DOGE has been experiencing an upswing of 6.42% over the last seven days, according to data by Messari. However, Dogecoin's value has remained unaffected by "the DogeFather" speculation, trading at $0.085 USD at the time of writing.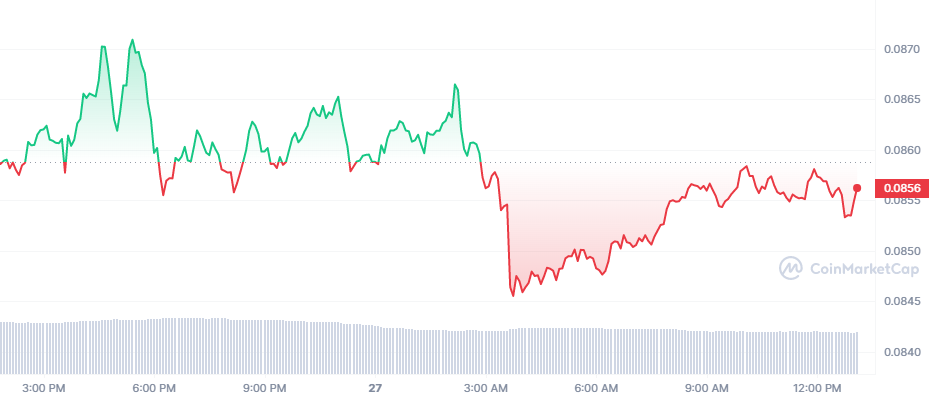 1-day price chart for Dogecoin. Source: CoinMarketCap
McDonald's has not replied to the comment, but the simple 100% emoji from Elon Musk has accumulated over 140K views from the exuberant community.
Is McDonald's Loving the Engagement?
After Elon Musk initially tweeted his Happy Meal ad proposal on January 25th, 2022, McDonald's responded by saying "only if Tesla accepts Grimacecoin." However, Grimacecoin (GRIMACE) was only launched as a spontaneous meme token after the interaction.
Delta Investment Tracker reported that the initial Twitter thread had a favorable effect on Dogecoin's price, as trade in the meme coin increased by 4.06%. However, the same conversation saw McDonald's stock prices drop 2.13%.
Delta Investment Tracker further stated that McDonald's might have experienced a similar boost to Dogecoin's if they had accepted "Elon's deal." The community might be anxious to discover whether the activity from McDonald's is purely a publicity stunt or genuine interest in the long-anticipated partnership with DOGE.
McDonald's has not directly responded to Musk's proposition about DOGE, and the recent activity might be just a continuation of the original speculation.
Should Dogecoin prices increase from the current trading price of $0.085 USD, communities should consider the origin of the increase.
McDonald's is one of the largest fast-food conglomerates, with over 40,000 restaurants across the globe, serving approximately 70 million customers daily.
A partnership with McDonald's would propel the global adoption of Dogecoin (DOGE) and potentially influence the coin's current #9 ranking by market capitalization.