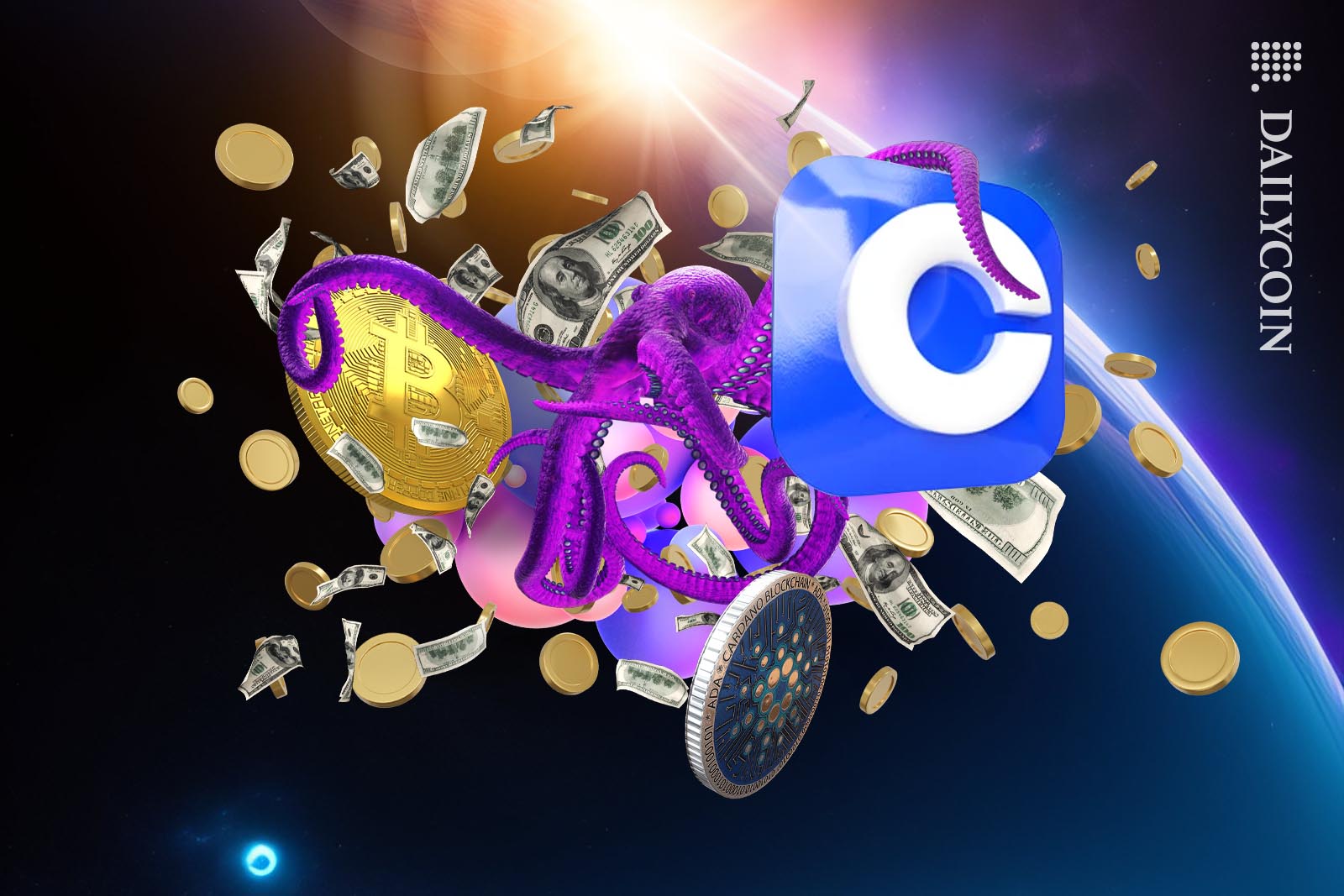 Coinbase is the largest U.S. exchange and was listed on the Nasdaq in 2021. It clocked an all-time-high share price of $357.39 later that year. It's launching an international exchange for professional overseas investors to trade crypto derivatives, kicking things off with BTC and ETH Perpetual futures. 
Kraken hit the scene just two years after the Bitcoin blockchain was launched. That makes it one of the oldest cryptocurrency exchanges; it's has lived through market surges and downturns over the decade – all without a major hack. It reached a valuation of over US$10 billion in 2022. 
How do the two stack up against each other – and which is better for you? Let's find out.
Overview of Kraken and Coinbase
While they both allow you to buy and sell cryptocurrencies, they have some key differences in their strengths and weaknesses.
Kraken
Kraken is a San Francisco-based exchange that was founded in 2011. The exchange is known for its security features, low fees, and wide range of trading options. It supports many cryptocurrencies, including Bitcoin, Ethereum, Solana, Litecoin, Bitcoin Cash, Dogecoin, Ripple, and Cardano.
Pros
Low fees compared to other exchanges, especially with Kraken Pro.
Offers a wide range of 200+ cryptocurrencies.
Has advanced trading options, such as margin trading and futures.
Robust security features, including two-factor authentication and cold storage.
Offers staking for specific cryptocurrencies, except for U.S-based customers.
Cons
Not accessible in some U.S. locations (New York and Washington).
The user interface can be overwhelming for new investors.
High fees on the beginner platform "Instant Buy."
Coinbase
Coinbase is a San Francisco-based exchange that was founded in 2012. The exchange is known for its user-friendly interface, robust security features, and wide range of payment methods. It supports fewer cryptocurrencies than Kraken but offers trading pairs with fiat currencies.
Pros
Operates under strict U.S. regulation since it's a listed firm.
User-friendly interface that's easy for beginners to navigate.
Robust security features, including two-factor authentication and cold storage.
Offers a mobile app for trading on the go and a separate wallet for complete crypto and NFT ownership.
Cons
Higher fees compared to Kraken.
Offers fewer cryptocurrencies than some other brokerages.
Suffered an account hack that affected 6,000 customers.
Kraken vs. Coinbase: Side-by-Side Comparisons
Let's dive into the nitty-gritty details of the two exchanges and what makes them tick:
Feature Comparison
First, a highlight the unique and robust features of Kraken and Coinbase:
Kraken
Advanced Trading Features: Kraken offers advanced trading features such as margin trading, futures trading, and options trading, which allow users to trade with leverage, hedge their positions, and speculate on price movements. With the Kraken API, you can also automatically trade cryptocurrencies on the brokerage via code.

There are two platforms:

1. Kraken, used for regular trading.
2. Kraken Pro, designed for professionals. Its dashboard has 13 different order types – and they feature chart analysis tools that are fully customizable, as well as in-depth order books. 
High Liquidity: The exchange has high liquidity for many cryptocurrencies, meaning users can buy Bitcoin, Ethereum, and other large assets without causing significant price movements.
Strong Security Measures: Kraken is known for its strong security measures, including two-factor authentication with Google Authenticator and Yubikey, encrypted databases, and cold storage for funds.
Low Fees: Kraken charges lower trading fees than many other exchanges, especially for high-volume traders.
Coinbase
User-Friendly Interface: Coinbase is known for its user-friendly interface, especially the ease of use for new investors when navigating and buying/selling cryptocurrencies.

It initially had Coinbase for beginners and the Coinbase Pro platform for more experienced traders. However,  Coinbase Pro was discontinued in 2022 and replaced with the new Coinbase Advanced Trade. There are several multiple Coinbase APIs available as well.
Extensive Asset Selection: Coinbase offers a wide range of over 250 cryptocurrencies, including some of the most popular ones, such as BTC, ETH, ADA, BCH, and LTC. However, it doesn't support Ripple (XRP).
Mobile App: Coinbase has an exchange and crypto wallet app that allows users to trade and monitor their portfolios.
Insurance: Coinbase has insurance protection for its customers' digital currency holdings of up to $255 million for the crypto assets held in hot wallets, which provides an additional layer of protection against loss due to security breaches or hacks.
Security Comparison
The focus here is on how safe your digital assets will be on the exchange.
Kraken
It has a two-factor authentication (2FA) system and optional global settings lock to prevent unauthorized changes.
As of May 2023, it ranks No. 2 on CER, a cryptocurrency exchange security review site.
95% of customer deposits are held offline in cold storage units around the world, and its servers are monitored 24/7 surveillance by video monitors and armed guards.
Its security measures have seen Kraken's Security Working Group bag the 2022 CSO50 Award.
Coinbase
Coinbase also has a 2FA and keeps digital assets in cold storage, which keeps most of their cryptocurrency funds offline in vaults and safe deposit boxes. The Coinbase wallet comes with fingerprint access and exchange FDIC insurance for USD deposits up to $250,000.
Pricing Comparison
Next up is a look at the fees – what will it cost you to use each platform?
Kraken
It charges different fees. Instant Buy has a flat 0.9% fee when trading stablecoins and 1.5% for other cryptocurrencies.
High-volume traders save by using Kraken Pro, with a tiered fee structure. Maker fees here start at 0.16%, and taker fees start at 0.26%. Traders under $50,000 for their 30-day volumes are charged 0.16% for marker fees and 0.26% for taker fees.
Traders averaging over 30-day rolling volumes over $10 million 30-day rolling volumes have maker fees set at even 0% and taker fees set at 0.10%.
If you buy crypto using an online bank account, there'll be a processing fee set at 0.5%
Coinbase
The exchange charges different fees based on whether users place or execute orders. These fees can range between 0% and 0.60%, depending on how much trading users have done in the past 30 days. However, if users are trading stablecoin pairs, there's a 0% maker fee and a 0.001% taker fee.
Payment Methods Offered
Both exchanges support bank transfers, wire transfers, and cryptocurrency deposits and withdrawals. They also support trading in multiple fiat currencies, including USD, EUR, GBP, JPY, and AUD.
Customer Support Comparison
They offer 24/7 customer support through email and phone, with live chat available during business hours.
User Reviews and Social Proof
Social proof plays a significant role in attracting and retaining customers on these trading platforms. Here are ways that Kraken and Coinbase have established trust and credibility with their users.
Kraken
Userbase: Kraken customers are spread across 200+ countries around the world.
Trustpilot rating: It has a 2.7/5 rating on Trustpilot.
Trading volume: Kraken is one of the top 10 cryptocurrency exchanges by trading volume, with over $653 million in daily trading volume (as of May 2023), according to CoinMarketCap.
Mobile app ratings: It has over 1 million app downloads on Google Play Store and is rated 4.7 on Apple App Store.
Partnerships: Kraken has partnered with several other companies in the cryptocurrency space, such as BitGo.
Coinbase
User base: Coinbase's userbase covers 100 countries, making it one of the largest cryptocurrency exchanges in the world.
Trustpilot rating: Coinbase has a 1.5/5 rating on Trustpilot.
Trading Volume: It clocks $1.4 billion in trading volume (as of May 2023).
Mobile app ratings: Its Android app has been downloaded ten million+ times. Its non-custodial mobile wallet, under the same brand name, has been downloaded over 5 million times. It has a rating of 4.7 on Apple App Store.
Venture capital backing: Coinbase has received backing from several well-known venture capital firms, including Andreessen Horowitz and Greylock Partners.
Cryptocurrency Exchange 101: Picking the Right One for You
When choosing a crypto exchange, there are several factors to consider. Here are some of the most important things to keep in mind:
Trading Options
Can the exchange provide the features you need to execute your trading strategy, whether it's on margin, futures, or options?
Some exchanges specialize in specific trades, while others offer a broader range of options. If you're interested in margin trading, you'll want to choose an exchange that supports it with competitive margin rates.
Some brokerages also offer the ability to trade futures or options, which can be helpful for more advanced traders.
Trading Tools
Does the exchange offer trading tools that align with your trading goals? Some exchanges provide advanced charting tools that can help you visualize market trends and identify trading opportunities. Others may provide educational resources, such as tutorials or trading signals, to help you stay current on market trends and make more informed trading decisions.
Liquidity
The level of liquidity an exchange has can affect the ease and speed of your trades. An exchange with high liquidity will have many buyers and sellers, which can result in faster trade execution and lower spreads.
That means you can quickly buy and sell crypto assets without worrying about price slippage or delays. When comparing exchanges, consider their trading volume and the number of active users to understand their liquidity.
Security
Since exchanges are a prime target for hackers, choosing an exchange with solid security measures to protect your assets is crucial. Some security features to look for include two-factor authentication, which adds an extra layer of security to your account, and cold storage, which keeps your crypto assets offline and out of reach of hackers.
Additionally, you may want to consider an exchange's security track record and any past security breaches to gauge its overall security posture.
User Interface
A user-friendly interface can make a big difference in your trading experience. When comparing exchanges, look for an intuitive, easy-to-use interface that allows you to navigate the trading platform and execute trades quickly.
A clean and well-organized interface improves the user experience and makes finding the features you need more accessible.
Deposit/Payment Options
To choose a cryptocurrency exchange, consider payment options, transaction speed, ACH transfers, and deposit/payment limits. Pick an exchange that supports your preferred payment method, like bank transfers, credit/debit cards, PayPal, or online payment systems. Verify which payment options are available, as some exchanges may have restrictions based on your location.
Transaction speed varies by exchange and payment method. If you need to buy or sell cryptocurrency quickly, choose an exchange with fast payment options like credit/debit cards or online payment systems. But remember, faster methods can come with higher fees.
ACH transfers offer a convenient and reliable way to deposit funds into a cryptocurrency exchange, but not all exchanges accept them. Processing can take a few days, and there may be fees and deposit/withdrawal limits.
Different payment methods have different limits on buying or selling cryptocurrency, and some exchanges may have minimum and maximum deposit limits per payment method. Choose an exchange with higher limits if you plan to trade large amounts of cryptocurrency, but note that higher limits may require additional verification.
Mobile App
In the fast-paced world of crypto trading, can you react to the news quickly and take advantage of volatility?
Let's say you're waiting in line at the grocery store and suddenly see that the price of Bitcoin has started to skyrocket. How soon can you open up your exchange account and cash in your profits before the price dumps – or increase your size before it runs even higher?
Or the FED has made an announcement that caused a sudden crash while you were on your way to work. Can you buy the dip?
If you choose an exchange that doesn't have a mobile app, you'll have to wait until you get back to your computer to take advantage of sudden price changes or check on your portfolio. That could mean missing out on valuable opportunities or even losing money.
If you prefer to trade on the go, you'll want to choose an exchange that offers a mobile app. One that gives you convenient access to your trades and real-time market data. You can check in on your trades and stay updated with market fluctuations no matter where you are, as long as you have your phone. n app with a similar experience to the desktop version.
Plus, some exchanges even offer mobile-exclusive features, like push notifications to inform you of price changes or easy-to-use interfaces explicitly designed for mobile devices.
On the Flipside
Both exchanges have reported system outages, especially during periods of high market volatility, preventing users from carrying out trades.
Coinbase was fined €3.3 million ($3.6 million) by the Dutch Central Bank for regulation violations when registering in the Netherlands.
Kraken was given a $30 million fine by the SEC "for offering unregistered securities." That led to it shutting down its staking service for the U.S. market.
Why This Matters
Cryptocurrency exchanges are essential for buying and selling cryptocurrencies, and the exchange you choose can significantly impact your trading experience.
Understanding the unique features, security measures, pricing, payment methods, and customer support of different exchanges can help you make informed decisions and choose the best exchange for your needs.
FAQs
Here are answers to common queries regarding the exchanges: