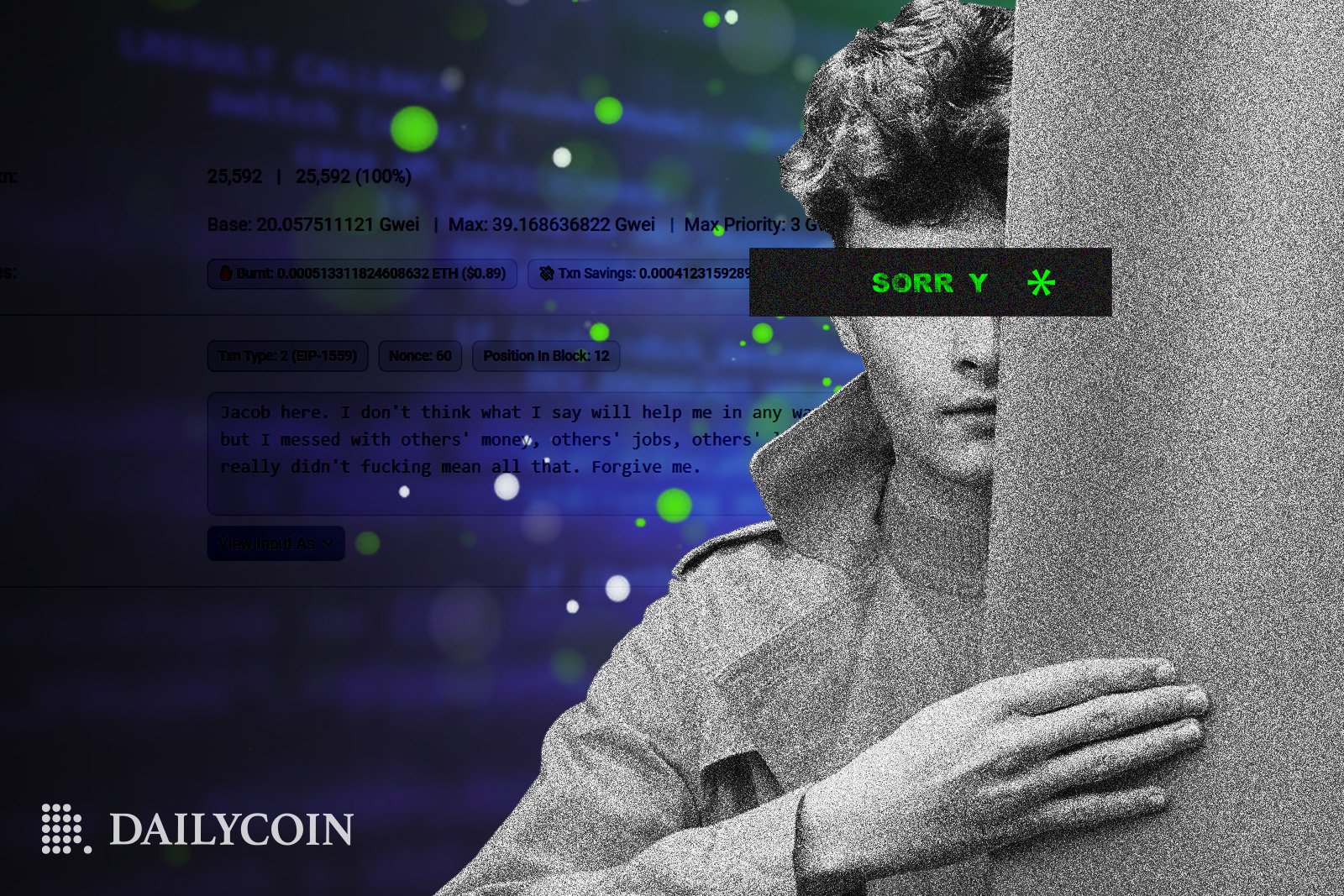 The Euler hacker said he "f**ed up" and "didn't mean" to steal user funds.
He asked for forgiveness.
The exploiter said he would return all of the stolen money.
Hackers in crypto usually choose one of the paths: either keep the money they stole and move it through a mixer or immediately return it in exchange for a reward.
However, the recent attack on Euler seems to be a unique case. The individual behind the $200 million theft has decided to apologize for hacking the protocol and even doxxed himself.
Euler Hacker Apologizes for $200M Attack
The Euler hack saga has seen a surprising turn of events. The hacker behind the attack on the decentralized finance (DeFi) protocol that saw about $200 million stolen has apologized and asked for forgiveness.
In an encoded transaction message sent to himself, the hacker, called Jacob, said he "didn't want" to steal the funds.
"Jacob here. I don't think what I say will help me in any way but I still want to say it. I f**ed up. I didn't want to, but I messed with others' money, others' jobs, others' lives."
The exploiter then asked for forgiveness.
"I really f**ed up. I'm sorry. I didn't mean all that. I really didn't f**ing mean all that. Forgive me."
Jacob then proceeded to return 7,000 ETH and $10 million worth of DAI to Euler. In total, he returned over $120 million of the $200 million stolen. He said he would return the rest once he was sure about his safety.
"The rest of the money will be returned ASAP. I only look after my safety, and that is the reason for the delay. I'm sorry for any misunderstanding."
The Euler hacker's tone has changed since Euler threatened the exploiter with law enforcement and offered a $1 million bounty to whoever had any relevant information.
On the Flipside
It's unclear whether Euler will continue its $1 million bounty if the hacker returns all the stolen funds.
Why You Should Care
The recent developments in the Euler story show that users should think twice before attempting anything unlawful in the crypto world.
Read more about Euler's ultimatum to the hacker:
Euler's 24-Hour Ultimatum to Hacker: Return 90% of Stolen Funds or Face Arrest
Read more about the recent bitcoin (BTC) price action:
Bitcoin (BTC) Nears $27,000 as Talk of New Bull Market Emerges