Decentralized Storage Networks are challenging the status quo of giant cloud storage companies like DropBox, OneDrive, and Amazon. These centralized storage systems hold user data on large servers and run the risk of censorship, data loss, and information theft, to name but a few dangers.
Traditionally, we have relied heavily on centralized storage systems like those mentioned above, giving up much of the power held in terms of data security, and providing these tech giants the opportunity to use the information to their advantage.
Meanwhile, a decentralized storage model safeguards the integrity, accessibility, and security of data by spreading file hosting across a peer-to-peer network. Several companies already offer decentralized storage options, so we decided to compile a list of the 7 best decentralized data storage providers in 2022 for your consideration.
The Crust Network is a unique, blockchain technology application that provides decentralized storage and computing facilities. The network is based on a fair and open mechanism, providing top notch security and low energy consumption. 
The network supports multiple storage-layer protocols, such as IPFS, and offers instant, accessible, on-chain storage functions. The Crust network is built on the Meaningful Proof of Work (MPoW) and Guaranteed Proof of Stake (GPoS) consensus mechanisms, facilitating data processing and storage in a secure, cost-effective way.
Crust uses its own native blockchain to track storage locations and reproduce requested files, while also incentivizing nodes to facilitate file withdrawals. To do this, Crust utilizes a tracking system to monitor node traffic, and nodes that do not frequently facilitate file withdrawals will receive fewer storage orders.
Furthermore, Crust has a native token, called CRU, which is used for staking and governance, payments for transaction fees, and serves as a reward for storage providers.
Founded in 2017 by Arthur Brock and Eric Harris-Braun, Holochain is an open-source framework for building peer-to-peer, secure applications, and developing dApps that do not require the use of blockchain technology. 
Holochain further provides a distributed database that is not dependent on servers, but rather enables apps to connect user devices directly to a secure network. The P2P platform allows users to access self-owned data, while maintaining peer accountability. 
What's great about Holo for app developers in particular, is that it can facilitate cost savings on cloud hosting, since Holo enables the use of locally installed software while ensuring that redundancy of cloud software is maintained. 
HoloFuel is a Holochain-based currency that serves as a contractual service obligation, acting as an accounting system of sorts in regards to paying hosts for services rendered. Moreover, the service features the HoloToken (HOT) ERC-20 token, which is redeemable for HoloFuel.
Sia is a thriving, decentralized, peer-to-peer cloud storage solution that aims to reduce the cost of cloud storage, while improving the security of users' stored data. Launched in 2015 by David Voric, Sia now has 11 investors, including INBlockchain and Dragonfly Capital Partners.
When data is stored on the Sia blockchain, Sia splits, encrypts, and distributes it to different nodes, which can later be used to retrieve the data upon the request of the specified user only. This is because only the user possesses the private encryption keys.
Sia made this possible by creating a marketplace for hosts and users via the token economics of Siacoin. Anyone can rent out extra space on their PC to the Sia decentralized network, receiving payment in Siacoin, the native cryptocurrency for the Sia blockchain platform, in return. Users looking to use Sia storage must first pay Siacoins to a chosen host.
Compared to centralized systems, which are liable to single points of failure, and are often suspected of taking advantage of unencrypted data to further their business profits, the Sia platform offers a much more robust and affordable alternative.
After starting strong as one of the largest initial coin offerings of all time, raising $257 million in 2017, Filecoin has developed into a great decentralized storage network. 
Filecoin is a peer-to-peer network that stores files, using built-in economic incentives to ensure that files are stored reliably over time. The platform utilizes a native cryptocurrency for the provision of storage services.
The network's native cryptocurrency, referred to as FIL, supports all transactions. Users pay FIL to store their files, while miners and storage nodes earn FIL for hosting the files. The blockchain ledger records each transaction, and provides proof that miners are storing the files correctly. 
A further benefit is that the P2P platform runs on IPFS, a P2P hypermedia protocol designed to address some of the limitations of using HTTP for distributed storage. Filecoin is also reasonably affordable, costing a fraction of the price of a centralized storage provider. 
The Filecoin project launched on the Ethereum mainnet in October 2020, and currently has a market cap of $1.52B. 
With over two decades of operations under its belt, BitTorrent is one of the oldest and best known decentralized data storage networks out there. Founded in 2001, BitTorrent became infamous as a site for pirating movies and other media, but has since evolved into a decentralized storage network offering a range of products, including the BitTorrent File System (BTFS)
BTFS is a scalable, decentralized storage system designed to reduce storage costs, improve fault tolerance, and avoid government censorship. As with many other distributed storage networks, BTFS relies on user nodes. However, one of the features that distinguishes BitTorrent from other networks, is that there are more than 100 million user nodes in place on the platform. Furthermore, BTFS is blockchain-based, and runs using the TRON network, which has more than 1,000 full TRON nodes.
BTFS is a derivative of the InterPlanetary File System (IPFS), making it suitable for both file transfer and storage. Unlike with other decentralized data storage offerings, however, BTFS is designed in a way that enables users to identify and remove illegal, or copyrighted media from their nodes.
Founded by Shawn Wilkinson in 2014, Storj was created with the simple idea of making storage safer, faster, and more affordable. Storj is an open-source, peer-to-peer, encrypted cloud storage platform that uses a decentralized network of nodes to host user data. Users who elect to provide terabytes of cloud storage space can essentially become a node for the network, qualifying them to receive Storj tokens as rewards. 
Storj's Decentralized Cloud Storage (DCS) is more private, secure, and affordable than most conventional, centralized cloud storage alternatives. On Storj DCS, no file is ever in one place. Instead, files are encrypted, split into 80+ smaller pieces, and distributed across a global network of individual nodes. When a user needs their data to be reconstituted, it is automatically put back together by the network.
In terms of pricing, Storj DCS makes costs easy to calculate, since there are no hidden fees. Users have the option to pay for the service using Storj tokens, or regular credit and debit cards. 
Storj has high, multi-region availability, trustless architecture, default encryption, and edge-based access controls, making it more secure, and minimizing data breach risks since only individual users can grant permission to access files, giving them full ownership, control, and responsibility over their data. 
One particularly reassuring aspect of the Storj network is that it is also one of the few Ethereum ICO projects to have received the blessing of Vitalik Buterin. Vitalik was even one of the contributors of the Storj whitepaper.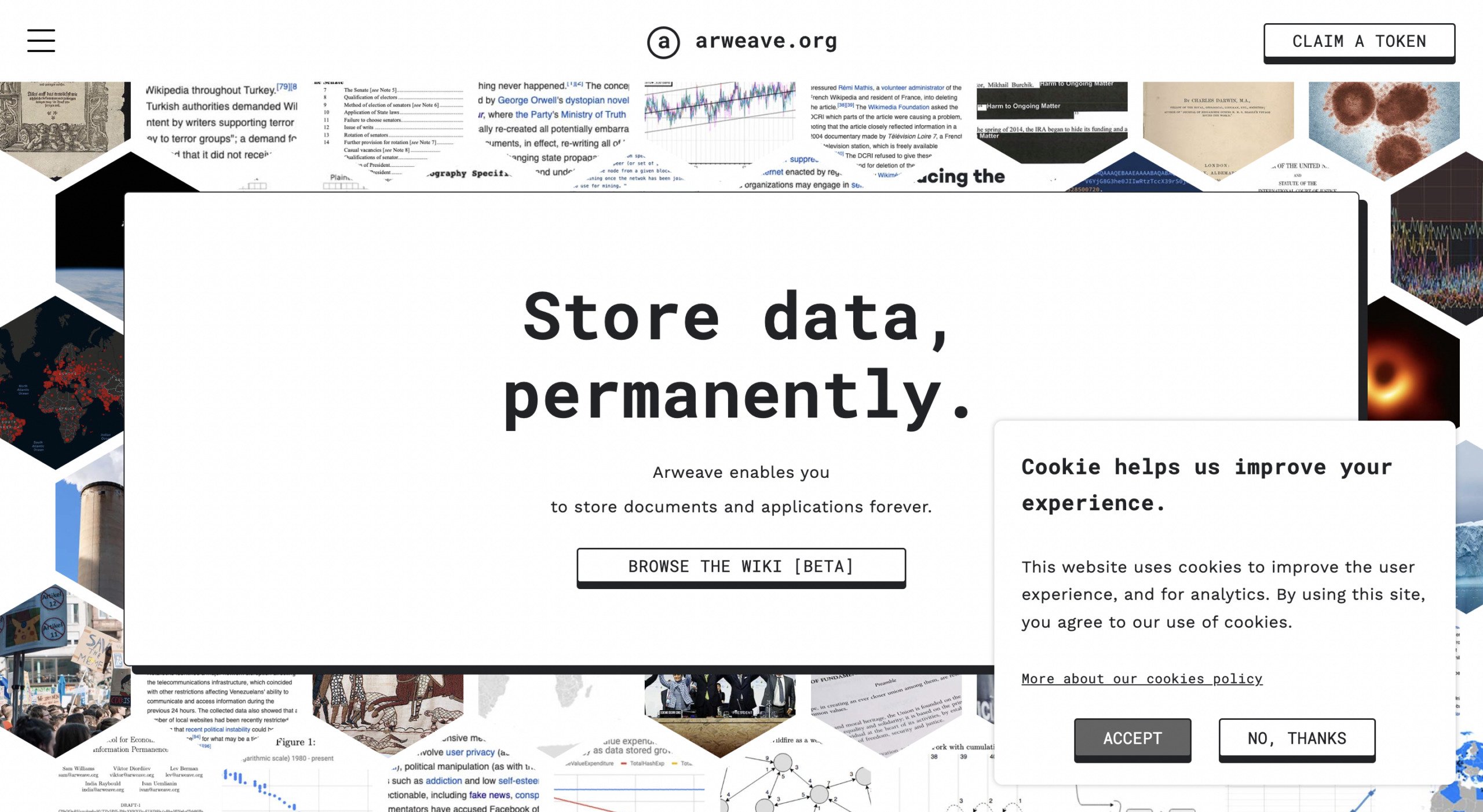 Operating completely differently from other decentralized storage networks, which often prioritize privacy and avoiding censorship or surveillance, Arweave was designed for data permanence. Being a collectively owned hard drive that never forgets, Arweave allows users to remember and preserve valuable information, apps, and history indefinitely. 
The network is a peer-to-peer (P2P) storage protocol modeled after a blockchain, and makes additional storage capacities accessible, with PCs functioning as Arweave clients. The platform employs Permaweb as the software program that provides data storage and other features.
Data storage requires a one-time payment in the form of AR tokens, which are accessible on the majority of cryptocurrency exchanges.
Arweave integrates a variety of top-level security features. For example, the system integrates enterprise-grade encryption to keep data safe. This data is inaccessible by the nodes hosting the information, and, perhaps more impressively, even Arweave cannot view the stored data. The network runs using AR tokens, the project's native asset, which users can make payments with in order to endlessly store their data on the network. 
Centralized storage services have ruled the data storage game for years, but more and more people are starting to see the loopholes in their services, including loss of privacy, system errors, unfair costs, and mismanagement of data, among other issues. 
In contrast, Decentralized Storage Networks run on the blockchain, thereby offering a better, cheaper, and more secure mechanism for storing information. Since demands for efficient data storage are increasing daily, it is only a matter of time before individuals and companies alike cross the border to a more robust, expansive data storage system.