Choosing the best Shiba Inu wallet is essential to every new SHIB Army member's cryptocurrency journey.
Finding the right blend of security, simplicity, and functionality could be the difference between exploring the deep corners of the blockchain ecosystem and losing your cherished crypto assets, like Shiba Inu (SHIB), Ethereum (ETH), and Bitcoin (BTC) to shady hackers.
In this guide, we'll break down the best Shiba Inu wallets in the digital asset industry to help you protect your SHIB tokens and NFTS from prying eyes and snatching fingers.
What Is a Shiba Inu Wallet?
Born from the mysterious mind of Ryoshi, Shiba Inu is a captivating meme coin that has taken the crypto space by storm. Shiba Inu, a direct competitor to the infamous Dogecoin (DOGE), has transcended its meme status and built a flourishing ecosystem.
But what exactly is a Shiba Inu wallet?
A Shiba Inu wallet is a digital tool designed to securely store, manage, and transact SHIB tokens on the blockchain. Much like a physical wallet holds your traditional currency, a SHIB wallet safeguards your SHIB assets.
Whether trading, swapping, or simply holding onto your tokens for prospects, these wallets ensure your digital currencies remain accessible yet protected from potential threats.
What to Look for in a SHIB Crypto Wallet
Choosing the best SHIB wallet for your needs can be daunting, especially with so many providers barking for attention.
What should you prioritize when selecting the ideal SHIB crypto wallet?
Security – As you'd expect, this is the most important aspect of any Shiba Inu Wallet. Security features like advanced data encryption, two-factor authentication, and cold storage are essential when protecting your SHIB assets from cyber threats.
Shibarium Support – Shiba Inu has come a long way since it originally launched on the Ethereum blockchain. The ideal Shiba Inu wallet supports Shibarium, the project's Layer 2 network.
User Interface – A user-friendly interface ensures crypto novices and experts can seamlessly manage their assets. The wallet should offer an intuitive user experience, making tasks like trading, swapping, and checking transaction histories easy to understand.
Compatibility – The wallet's compatibility with various devices and operating systems, be it Android, iOS, Windows, or Linux, can greatly influence user experience. A versatile wallet allows you to manage your SHIB tokens from multiple devices.
Customer Support – Shiba Inu wallets can be complicated pieces of technology. If you have any burning questions, it's great knowing that a dedicated customer support team is just a message away if you need a hand.
Additional Features – Crypto wallets aren't just about storage. Features like staking opportunities, multi-currency support, and integration with DeFi applications will help you make the most of your Shiba Inu journey.
Remember, the ideal SHIB wallet should align with your needs and investment goals. Whether in it for the long haul or the short-term gains, ensure your chosen wallet complements your crypto aspirations.
Top Shiba Inu Wallets
The crypto space is awash with dozens of SHIB wallets, all claiming to be the best place to store your precious Shiba Inu coins. Not all are created equal. Fortunately, we've researched so that you don't have to.
1. Ledger
Regarding the gold standard of cryptocurrency security, Ledger is the kingpin. This hardware wallet, renowned for its impeccable security features, is a fortress for your Shiba Inu tokens.
Unlike hot wallets that remain constantly connected to the internet, Ledger uses cold storage. This means that your wallet's private keys are stored offline, significantly reducing cyber-attack risk.
The Ledger team announced they'd extend support to Shibarium, making this non-custodial wallet a complete solution for the SHIB Army.
Despite its advanced security features, Ledger offers a user-friendly interface through its Live software, allowing easy management of your SHIB tokens. It's easy to send and receive Shiba Inu coins, and you can even buy crypto with a credit card on Ledger Live.
Finally, the world's top crypto wallet provider offers a range of hardware wallets for different budgets, from the iconic Ledger X to the more affordable Ledger Nano.
Pros
Robust security features and cold storage
Expected to support Shibarium
Simple UI, making it easy to manage your Shiba Inu tokens
Buy Shiba Inu directly from within the wallet
The Ledger Live app is available on Google Play and the Apple App Store
Cons
Ledger wallets can be costly, especially when compared to free software alternatives
2. Rabby
While not as widely recognized as some of its counterparts, Rabby is carving a niche in the crypto wallet space. Tailored to cater to the modern crypto enthusiast, Rabby offers a blend of convenience and security for your SHIB tokens.
Rabby's interface is designed with the user in mind. Its intuitive layout ensures that even those new to the crypto world can easily navigate and manage their SHIB assets. Before signing any blockchain transaction, Rabby shows you exactly what will happen inside your Shiba Inu wallet address in plain English.
A true first mover, Rabby automatically connects to and supports the Shibarium blockchain and all other EVM (Ethereum Virtual Machine) networks. This makes it a dream for DeFi and dApp users, who might bridge between Ethereum and Shibarium often.
Pros
Supports Shibarium and all other EVM networks
Translates blockchain data into plain English, protecting you from hidden exploits and hacks
Powerful security features
Completely free to use and install
Cons
Desktop and browser extension only, although the Rabby mobile wallet is expected to launch in the near future
3. Atomic Wallet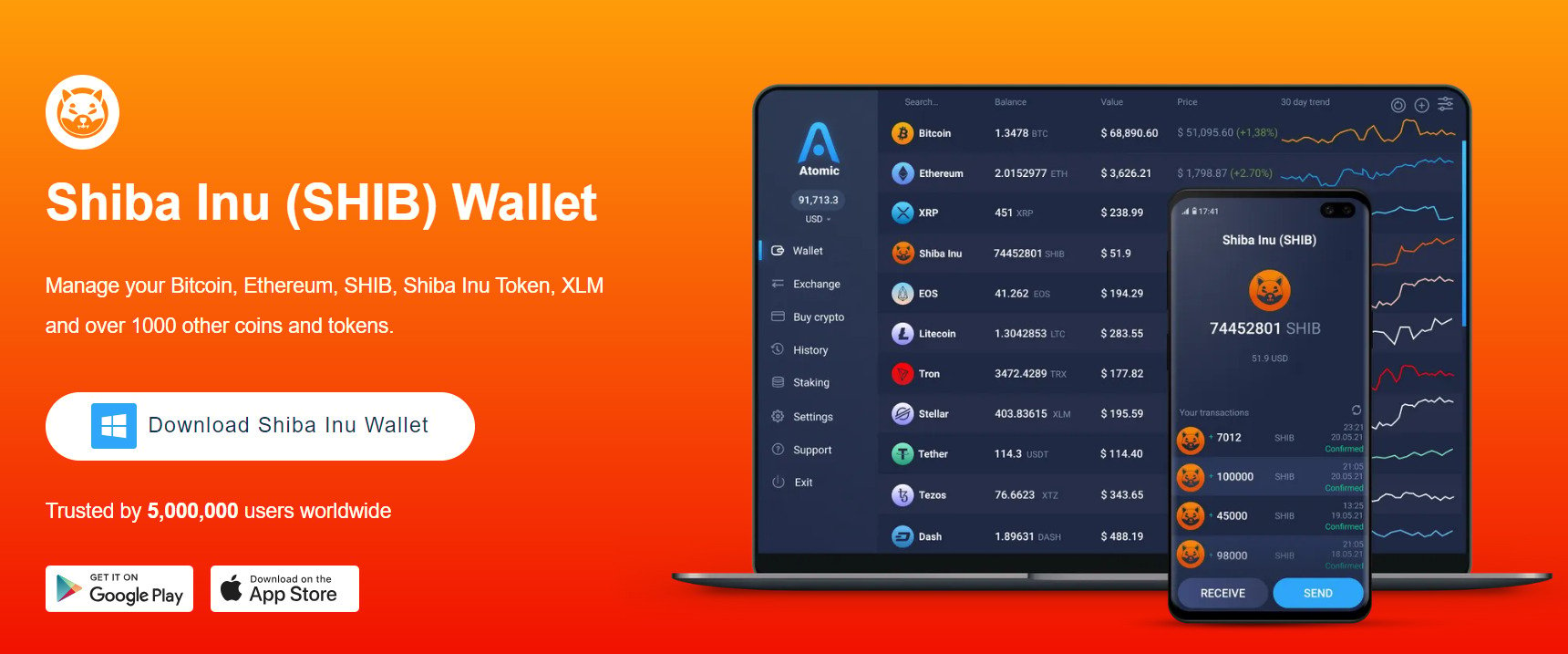 Atomic Wallet is the way for Shiba Inu holders who adopt a simple buy-and-hold philosophy. Atomic Wallet has emerged as a trusted name for newcomers to the crypto space.
Beyond just SHIB tokens, Atomic Wallet supports over 300 crypto assets, making it a one-stop shop for diverse cryptocurrency management. One of Atomic Wallet's handy features is its built-in token swap capability, making it easy to trade crypto within the wallet.
Atomic Wallet employs advanced encryption protocols to protect your SHIB tokens and other assets from potential threats. The wallet also provides plenty of hands-free staking options, helping users generate passive income.
With its intuitive design, Atomic Wallet ensures users can easily navigate their crypto portfolio, check transaction histories, and manage their assets without any fuss. On top of that, users can also buy SHIB directly with fiat currencies like USD, all within one app.
Atomic Wallet's main flaw is that it isn't directly compatible with dApps. If you want to explore the wider Shiba Inu ecosystem and trade tokens on a decentralized exchange like ShibaSwap, you must choose an alternative.
Pros
Hyper-simplified UI designed for beginners
Buy Shiba Inu coins within the app
Available on Desktop, Android, and iOS
Dedicated customer support
Cons
Doesn't support dApp integration
On the Flipside
Choosing a Shiba Inu wallet isn't a decision you'll have to sit with for the rest of your life. After creating your wallet, you can import your seed phrase into any other provider to use its software. Why not try all these SHIB wallets and decide which is best for you?
Why This Matters
Your Shiba Inu wallet is your link to cryptocurrency and blockchain. Choosing a wallet that suits your needs will help you get the most out of your crypto journey.
FAQs
Which wallet is best for Shiba Inu?
While that depends on your needs and expectations, most people agree that a hardware wallet like Ledger is the best place to store your SHIB tokens.
How many wallets hold Shiba Inu?
According to blockchain data provided by Etherscan, over 1.3M crypto wallets hold Shiba Inu coins.
Does SHIB have its own wallet?
No, there is no official SHIB wallet developed by the Shiba Inu team.