Let's face it, the first thing most people do in the morning is to check their social media. Perhaps they post a motivational quote on Twitter, share a morning look photo on Instagram, or check out a comment on Facebook. In fact, it is safe to say that social media is a second life for many internet users. So, it comes as no surprise to discover that there are over four billion active social media users spread across the globe, more than half the world's population.
Regardless, millions of users worldwide are dissatisfied with how most social media platforms deal with censorship, privacy, user control, data theft, and sharing, among other usage policies. Notably, centralized social media platforms such as Facebook and Instagram have been prosecuted repeatedly for undermining the trust of their billions of users.
Data leakages, for instance, occur in ways that are sometimes hard to grasp for a layperson. One minute you think your information is safe on social media, and the next your details are on some black site. Recall back in 2021, when a Facebook leak exposed the personal information of over 533 million Facebook users from 106 countries. Sadly, that's not the first incident, nor the first centralized social media platform, that jeopardized public user data. It also happened to LinkedIn.
What Are Decentralized Social Media Networks?
Decentralized social media networks are social platforms built on the blockchain and specifically designed to protect users from censorship restrictions, promote free speech and safeguard user data in the most solid way possible. These social networks are different from the rest because they operate on independent servers or nodes, rather than existing on servers controlled by a central authority. 
Decentralized social networks also often have tokens and NFTs that are used as new ways to monetize content. So decentralized social media is not just a change to the infrastructure of centralized platforms; they are also a change to how social media companies make money. 
Today, centralized social networks earn money by selling all the data they have– including user data. But with blockchain-based social networks, users will actually own their own data and as such have better data security. And that is the one thing that stands decentralized social platforms apart from the gaggle of traditional social media that we have today. 
Another thing that differentiates these social networks from others is that there are many decentralized social networks that you can choose from. 
Today, traditional social media platforms suffer from the monopoly of big tech. There is no such monopoly in the world of decentralized networks.  
So if you want to register on one, here's a list of the best decentralized social media platforms to consider in 2023.
Minds is a growing decentralized alternative social media platform that's dedicated to Internet freedom. It allows users to speak freely, protect their privacy, earn crypto rewards, and take back control of their social media.
Founded by Bill Ottman, Minds is based on open-source technology and emphasizes user privacy, whereas other social platforms mine your data for ad purposes. You can post videos, blogs, images, set statuses, messages, and video chat securely with groups or directly with friends. 
The decentralized social network Minds rewards you with MINDS Tokens (ERC-20) every day for creating popular content, referring friends, or providing liquidity. Unlike other traditional platforms, the Minds network allows users to decide how their own algorithm should work with the "Build Your Algorithm" feature. It has over three million users worldwide.
Pixelfield was launched in 2018 as a decentralized alternative to Facebook's Instagram. It offers you control over your data and controls the privacy of your images without any advertisements on the platform.
Pixelfield utilizes the same underlying open protocol used by Mastodon, i.e., ActivityPub. It is a free and ethical photo-sharing platform, powered by the ActivityPub federation and is freely licensed under the AGPL license.
It has a chronological feed (no algorithms) and offers media descriptions for the visually impaired. The alternative photo-sharing platform also provides photo filters with the option to assign a license to an image. You can select your audience: public, non-listed, or followers only. It is a truly decentralized network where you have optimal control over your entire experience.
Launched in 2010, Diaspora is one of the oldest decentralized social media networks. It was touted as a big Facebook alternative and got pretty popular at some point.
Diaspora is decentralized in such a way that it has no central hub. Even so, it's very easy to connect and communicate with people. It is composed of servers called "pods" all over the world, each containing the data of those users who have chosen to register with it. 
On Diaspora, you own your data. You don't sign over rights to a corporation or other interest who could use it. Moreover, you choose who sees what you share, using Aspects. The social network has over 700,000 users and more than 600,000 posts. If you are searching for a decentralized social media network that has proven itself in the market, Diaspora is the one for you.
Peepeth is a blockchain-powered social network alternative to Twitter powered by the Ethereum blockchain. It encourages mindful engagement and positive contribution. Peepeth wants you as a user to think before you post or like, support charity, and learn more about yourself.
On Peepeth, accounts and posts called "peeps" are stored on the blockchain. That gives you exclusive control over your account and content. No intermediary is required for you to post or access data. This is the crux of decentralized social media and Peepeth delivers on that wonderfully. 
Interestingly, instead of a Like button, Peepeth has the once-per-day Ensō, which enables you to offer Ensō to peeps that enlighten, entertain or inspire you. It has over 50,000 users and more than 300,000 peeps.
Interestingly, the Peepeth front end is centralized and really can be taken down by anyone. However, any of the node operators can restore it and the incorruptible data. This is what makes Peepeth censorship resistant. 
Aether is an open-source P2P platform for self-governing communities with auditable moderation and mod elections that's an alternative to Reddit.
The content on Aether is ephemeral in nature and is kept only for six months unless someone saves it. Since it is P2P, there are no centralized servers.
It is also a network where every user is ultimately in control of what they see. Its transparency ensures that the actions of moderators are visible to users. No content can just disappear. If something gets deleted, you'll know who did it, why they did it, and if you want, how to get it back.
Aether is free to use, however, if you would like to contribute to the team, you can do so via Patreon. Or you could get Aether Pro, which is essentially a team-based version of Aether that can be used as a collaboration tool.
Blurt has reshaped social media by building a growing social economy where users are rewarded for sharing their voices. It's a new kind of attention economy. 
The app creates a complete and total social economy for its users. This economy is not static either, and it is constantly growing. 
Blurt.blog is one of the many websites that are powered by the Blurt blockchain and BLURT cryptocurrency. All of these websites read and write content to the Blurt blockchain, which stores the content in an immutable blockchain ledger, and rewards users for their contributions with digital tokens called BLURT. 
Every day, the Blurt blockchain mints new BLURT tokens and adds them to a community's "rewards pool." These tokens are then awarded to users for their contributions, based on the votes that their content receives as well as the votes they give out.
Mastodon boasts of being the world's largest free, open-source, decentralized microblogging network. Basically, Mastodon is an open-source alternative to Twitter. 
The decentralized social platform provides you with the unique possibility of managing your audience without middlemen. Deployed on your own infrastructure, you can follow and be followed by any other Mastodon server online, and is under no one's control but your own.
Mastodon supports audio, video, and picture posts, accessibility descriptions, polls, content warnings, animated avatars, custom emojis, and more. It is also free of ads.
In April 2022, Mastodon founder Eugen Rochko put its user count at 3 million, with 250,000 active monthly users.
Following Elon Musk's purchase of Twitter, there have been a few profile moves to Mastodon. While that is yet to turn into a mass migration to the app, it certainly shows that Mastodon is widely recognized as one of the alternative platforms to Twitter. 
Aave, one of the largest cryptocurrency lenders, is changing the social media narrative, having launched its own Web 3.0 social platform powered by NFTs, Lens Protocol, in 2022.
Lens Protocol is a decentralized and composable social graph, suggesting that it is a project that gives users the tools to create their own social media platforms using Web 3.0 technology. 
Lens Protocol enables each user's followers, community, and content to be linked to their Non-Fungible Token (NFT) profile. It can be subsequently moved into any app powered by Lens. 
The Web 3.0 social media platform also offers users ownership of data, better connectivity, access to more information, a permissionless network whose service cannot be broken, and more importantly, the lack of a central actor controlling the information. 
The protocol is barely a year old, but it has already made extensive strides in the world of decentralized social media. Right now, it has an open-source, decentralized, and composable social graph that makes it easy for every content creator to create their own platform and control their own experience.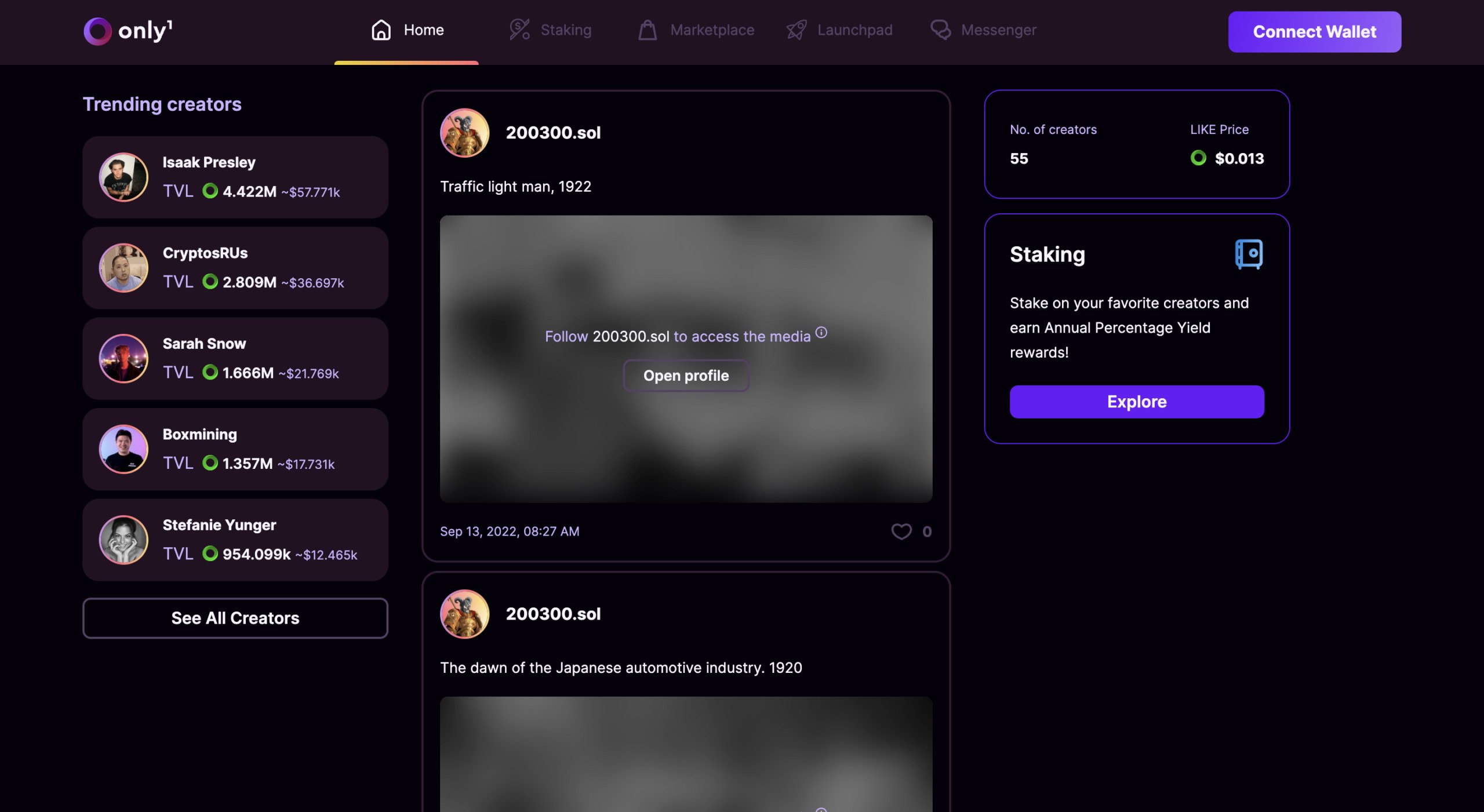 Only1 is an alternative NFT-powered social media protocol built on one of the fastest blockchains in the world, Solana. It is dramatically different from traditional centralized social media platforms like Twitter and Facebook by being a decentralized platform.
Although it is a decentralized platform, Only1 uses non-fungible tokens (NFTs) to allow content creators to directly interact with their fans without the need for third parties. 
Only1 provides a platform where social media content creators can create their content, monetize it on their own without the need for third parties, and allow their fans to directly interact with the content using NFTs.
The app also has its own native coin called $LIKE, and the coin is used to reward both creators and fans. The $LIKE tokens are also regularly burnt to keep the token price stable. 
With Only1, users get direct remuneration for generating user attention. Plus, when it comes to content moderation, the community set out platform guidelines, not one single entity can deem specific content inappropriate.
Founded in 2014 by Ned Scott and blockchain developer Daniel Larimer, Steemit is a blockchain-based blogging and social media website. It was specifically developed using STEEM blockchain technology.
The main feature of the site is rewarding active users with Bitcoin. The internal Steemit cryptocurrency, named STEEM, which has a value currently much less than Bitcoin, can be earned through posting, voting, commenting, curating, etc., and by just staying active on the site. The site also rewards active users with Tron as well.
New users don't gain a lot from voting, so they have to work to gain their STEEM power by providing unique and useful posts. With every creation, the value of their vote becomes greater. All in all, the site delivers precisely what decentralization promises; security and earnings. Steemit has over one million registered users.
Decentralized social media platforms are a great alternative to traditional and centralized media platforms today. They are built to compete with giants such as Twitter and Facebook. People are getting tired of those giants and want to gain their freedom back on social media. By using some of the platforms on this list, you can make sure your voice cannot be silenced no matter what. You will also have access to other benefits, including new methods of earning without restrictions.