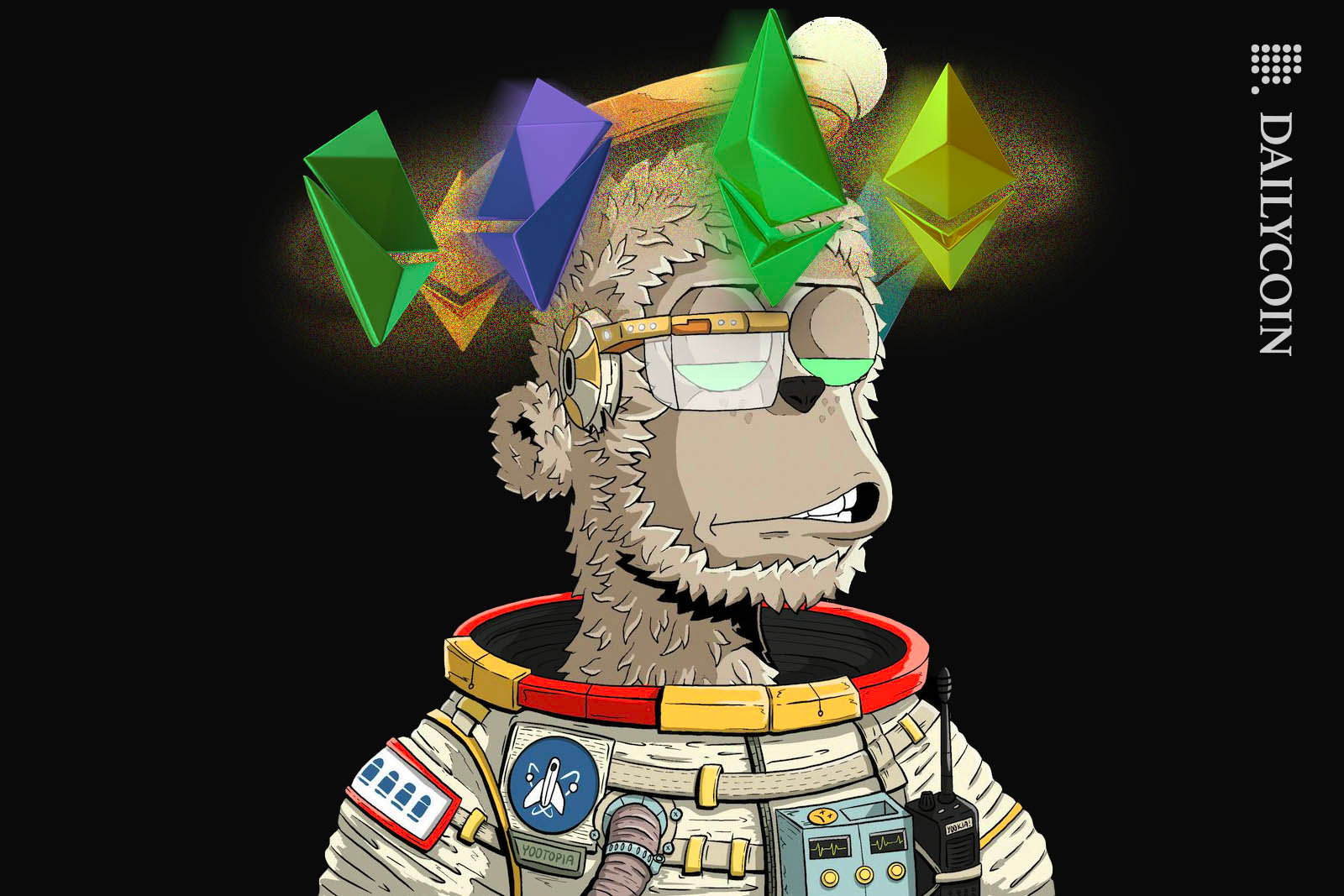 y00ts' migration to Ethereum is set to take place this week.
The collection's floor price has jumped amid the move.
Despite the floor price spike, other metrics suggest that not much is going on.
As profile picture-focused NFT projects lose steam in the extended bear market, DeLabs created NFT project y00ts is betting on a move to Ethereum to rekindle excitement by reuniting with its sister DeGods community.
With the migration process set to kick off this week, the NFTs have seen an uptick in their valuation. Can y00ts make a comeback with its Ethereum move?
y00ts Floor Jumps 2.2%
In a series of announcements on Sunday, October 8, DeLabs co-founder Rohun Vora, also known as Frank, disclosed that the migration of y00ts to Ethereum will begin this week, adding that holders can port their collectibles for free.
Amid the announcement, the floor price for NFTs in the collection sits at 0.822 ETH, representing a 2.2% gain in the past 24 hours, according to data from CoinGecko at the time of writing.
But while the jump in floor price suggests potential excitement about the move, other metrics tell a different story.
Muted Activity
Despite the recent spike in floor price, the collection has not witnessed any trading activity in the past 24 hours, according to CryptoSlam data at the time of writing. Furthermore, the data suggests that activity surrounding the collection has declined for the past 30 days, with the sales volume at $655,612, representing a 78% slump.
The data sharply contrasts the initial surge in activity surrounding the collection when DeLabs announced the move in August 2023. At the time, y00ts sales volume surged by a whopping 278%. The current decline in activity suggests that not much is going on despite the planned migration, but it would be interesting to see if this changes as the migration enters full swing.
y00ts' Ethereum migration is the collection's second in less than a year. The first migration saw y00ts move from Solana to Polygon in April 2023.
On the Flipside
Broader interest in PFP NFTs is on a decline as interest shifts to tokenized assets and loyalty programs.
y00ts' initial Polygon migration was met with significant excitement.
Frank teased the launch of an unnamed project to answer doubts surrounding DeLabs NFT projects.
Why This Matters
With the declining interest in PFP NFTs, there is a need for a new narrative to boost hype and engagement. For DeLabs NFT projects like y00ts and DeGods, the promise of unification could provide a short-term boost.
Read this to learn more about the impact of the y00ts migration on the Polygon NFT ecosystem:
Is y00ts' Ethereum Migration a Blow to Polygon's NFT Ecosystem?
FTX's Gary Wang revealed shocking details about the firm's relationship with Alameda in the ongoing SBF trial. Find out more: