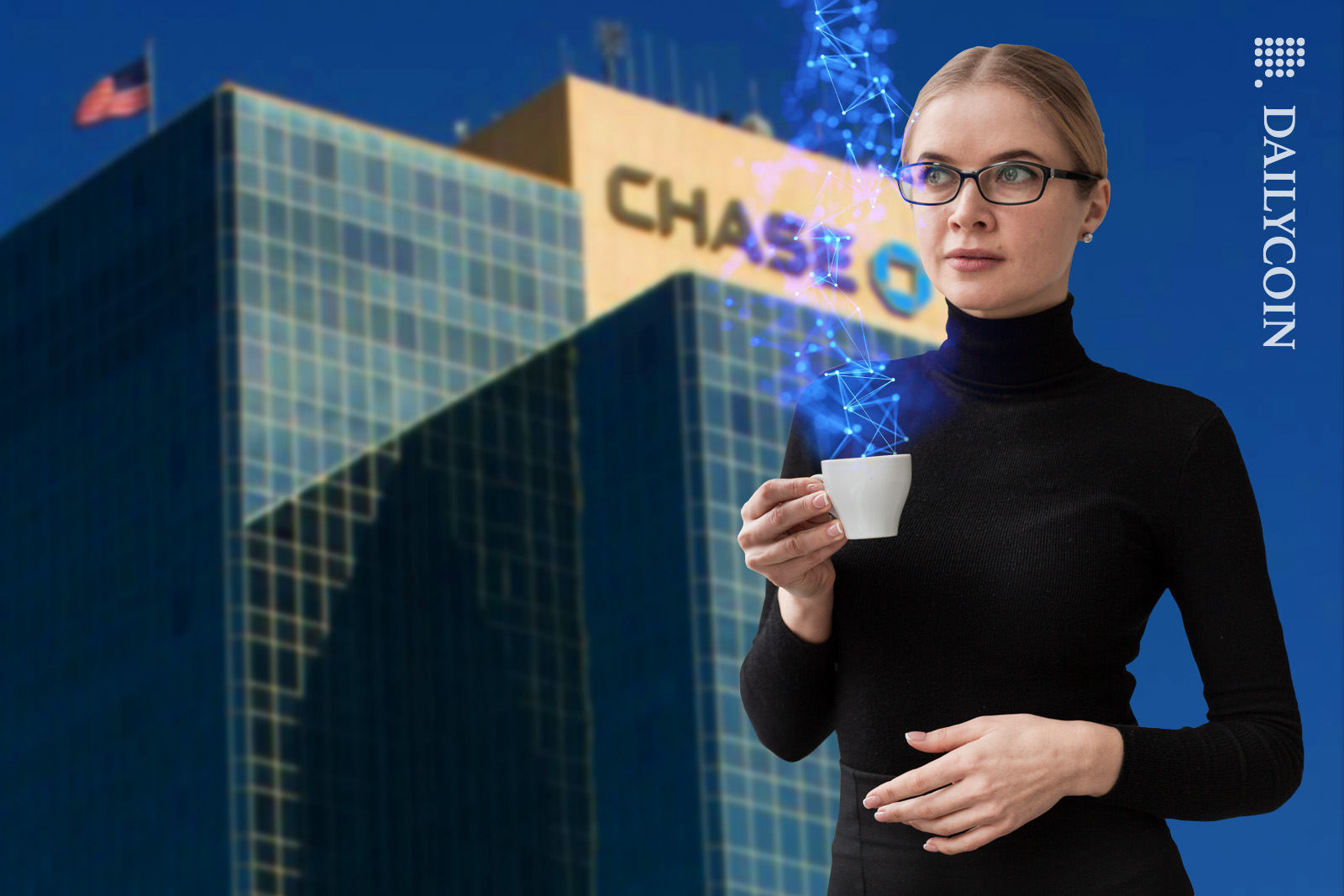 Chase Bank has opted to ban crypto payments.
Chase Bank recommends that affected customers change banks.
The UK has a wide choice of crypto-friendly banks.
Chase Bank has recently announced plans to ban crypto-related payments, effective from October 16. This policy change will impact UK-based customers who invest in digital assets.
The bank stated that instances of fraud involving cryptocurrency to steal large sums of money are on the rise and has opted to change its payment policy to keep its customers safe from digital asset fraud and scams.
What the Chase Bank Decision Means
On September 26, Chase Bank posted a notice informing users of a policy change to exclude crypto payments from its allowable payment types. This means customers can no longer on-ramp into cryptocurrency using their Chase Bank account.
From next month, transactions that Chase Bank "thinks" are crypto-related payments will be blocked. Determining crypto payments is likely based on a "hot list" of banking details for prominent crypto firms, such as popular exchanges. However, the use of "thinks" in the notice conveys a degree of arbitrary or human assessment, perhaps giving potential rise to triggering false positives.
The notice informed that the payment ban relates only to crypto payments, with no mention of penalties for breaching the policy, such as forced account closure.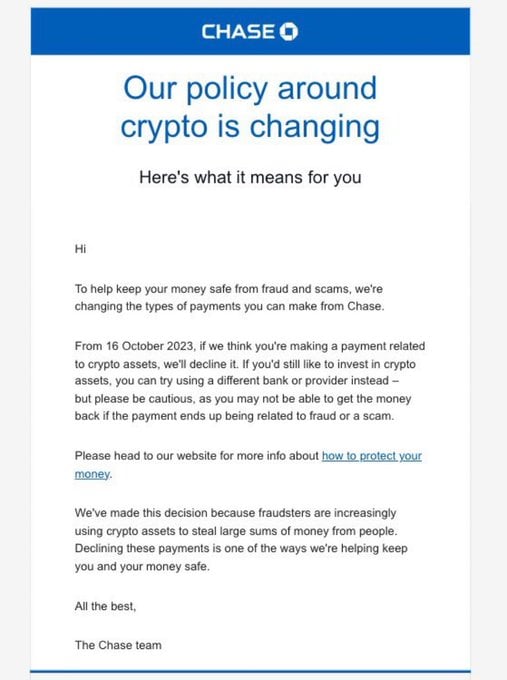 Chase Bank's crypto payment ban will restrict the availability of on-ramps in the UK crypto market, likely hindering crypto inflows. However, peer-to-peer marketplaces offer an alternative route from fiat to crypto. Chase Bank customers with stablecoins can also trade directly on centralized and decentralized exchanges.
What Can You Do Next?
Chase Bank acknowledged that the policy change might not deter individuals from investing in cryptocurrency. It recommended that affected customers who still wish to buy digital assets using fiat "try a different bank or provider instead." This recommendation was echoed by many in the crypto community, who voiced their intention to change banks.
While there are "crypto-friendly" banks operating in the UK, the level of friendliness varies between different organizations. Therefore, it is important to carefully consider your options before choosing a new banking provider. Comparison website Finder.com recently assessed the crypto-friendliness of major UK banking providers, listing several banks, including Revolut and Nationwide, as crypto-friendly.
Chase Bank customers who prefer not to switch banks can utilize various options at their own risk. This may include buying a prepaid card to conduct crypto purchases, alternatively utilizing a peer-to-peer marketplace, and choosing a seller who accepts PayPal. However, the prevalence of chargeback scammers makes PayPal a rare payment option in peer-to-peer marketplaces.
Additionally, while VPNs are useful in obscuring geo-location, particularly in circumventing national bans, you should note that VPNs will not obscure details of any payment made to a crypto firm from your Chase Bank account.
The safest option for Chase Bank customers determined to buy crypto is to switch to a crypto-friendly banking provider.
On the Flipside
Crypto fraud in the UK is up 40% in the year to March 2023, indicating that Chase Bank is justifiably concerned.
The Chase Bank payment ban makes crypto participation harder, undermining the scope of digital asset innovation in the UK.
Chase Bank's actions have rekindled suspicions of a crypto clampdown instigated by the banking cartel.
Finder.com noted that no crypto-friendly UK bank allows crypto purchases using a credit card.
Why This Matters
Although banks are free to set their own policies, the likes of Chase Bank and others underestimate the crypto community's determination, who will readily take their business elsewhere rather than abandon the space. This highlights the importance of banks adopting a long-term strategy as the crypto economy grows or risk being left behind.
Learn more about Chase Bank's crypto payment ban for UK customers here:
Chase Bank Crypto Ban Threatens To Derail UK Hub Ambitions

Find out why the SEC opposes Coinbase's involvement with Celsius' bankruptcy proceedings here:
SEC Raises Concerns Over Coinbase's Role in Celsius' Bankruptcy Plan