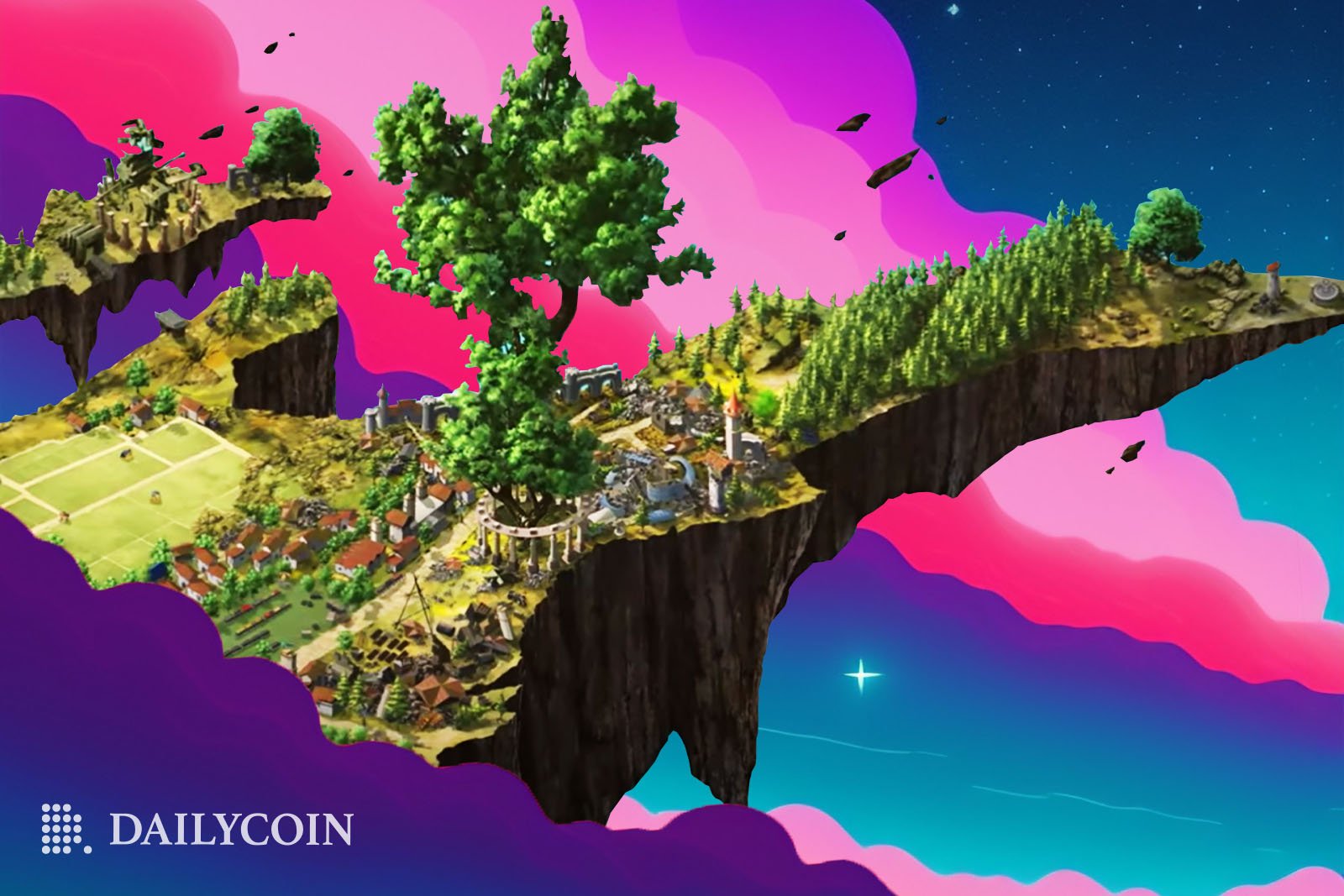 Square Enix released a trailer for its upcoming NFT game, Symbiogenesis. 
The gaming giant reveals details about the game.
Web3 gaming is still waiting for its breakthrough moment, with AAA developers playing loose with their interest in the sector. Square Enix has been particularly vocal about its NFT plans but drew scrutiny following recent news that CEO Yosuke Matsuda would be leaving the company.
The departure of the Web3 aficionado CEO left many uncertain about the gaming giant's NFT plan. However, following confirmation that it would continue with its blockchain strategy, the Final Fantasy developers have revealed plans for their upcoming title, Symbiogenesis.
Another Fantasy Tale?
Square Enix has officially launched the first trailer for its upcoming NFT-based title, Symbiogenesis. According to the 44-second trailer, the game could feature a high fantasy tale considering the snippets of floating continents filled with magical areas and more.
While the brief trailer doesn't share much about what's in the game, Square Enix has described the game as "Narrative-unlocked NFT entertainment" on Symbiogenesis' official website.
Additionally, the team has confirmed its upcoming title will feature around 10,000 collectible NFT artwork, which will have "real game utility." The NFTs will feature unique in-game characters with "various races and professions." 
Sets of NFTs will be sold as each of the game's six major chapters is unveiled, contributing to the story. Users who purchase these NFTs can use them as profile pictures and progress in the game.
On the official website, Square Enix has shared that players can complete all story chapters without owning any Character NFTs. However, those who own Character NFTs can gain utility such as access to unique stories, additional XP points, character replication, and exclusive NFT art when they clear missions.
How Did We Get Here?
Square Enix first announced its upcoming NFT game, Symbiogenesis, in November 2022. The publishers hyped the game as the "first digital collectible art project designed from the ground up for Web3 fans."
Symbiogenesis will be the first significant attempt by a gaming giant to incorporate NFTs into its existing software.
On 15 February 2023, the Final Fantasy creator partnered with Polygon to launch Symbiogenesis. The title would leverage Polygon to offer players fast, secure, and sustainable transactions. Moreover, the company looks to tap into the network's burgeoning ecosystem. 
Square Enix expects to release its highly anticipated title along with other projects in 2023, as promised in the annual letter shared by CEO Matsuda on 31 December 2022.
On the Flipside
Square Enix's first set of NFTs celebrated the 25th anniversary of its blockbuster game title, Final Fantasy VII.
Why You Should Care
Square Enix is undoubtedly one of the most successful gaming companies in the industry. Its attempt to incorporate NFTs into its games is a significant achievement for the industry. 
Read about Square Enix's strategy for 2023:
Square Enix Emphasizes Blockchain Investments in 2023 Strategy Plan.
Meta dropped NFT support from its platforms:
No More Facebook NFTs? Meta Reveals Creator Support Plans.