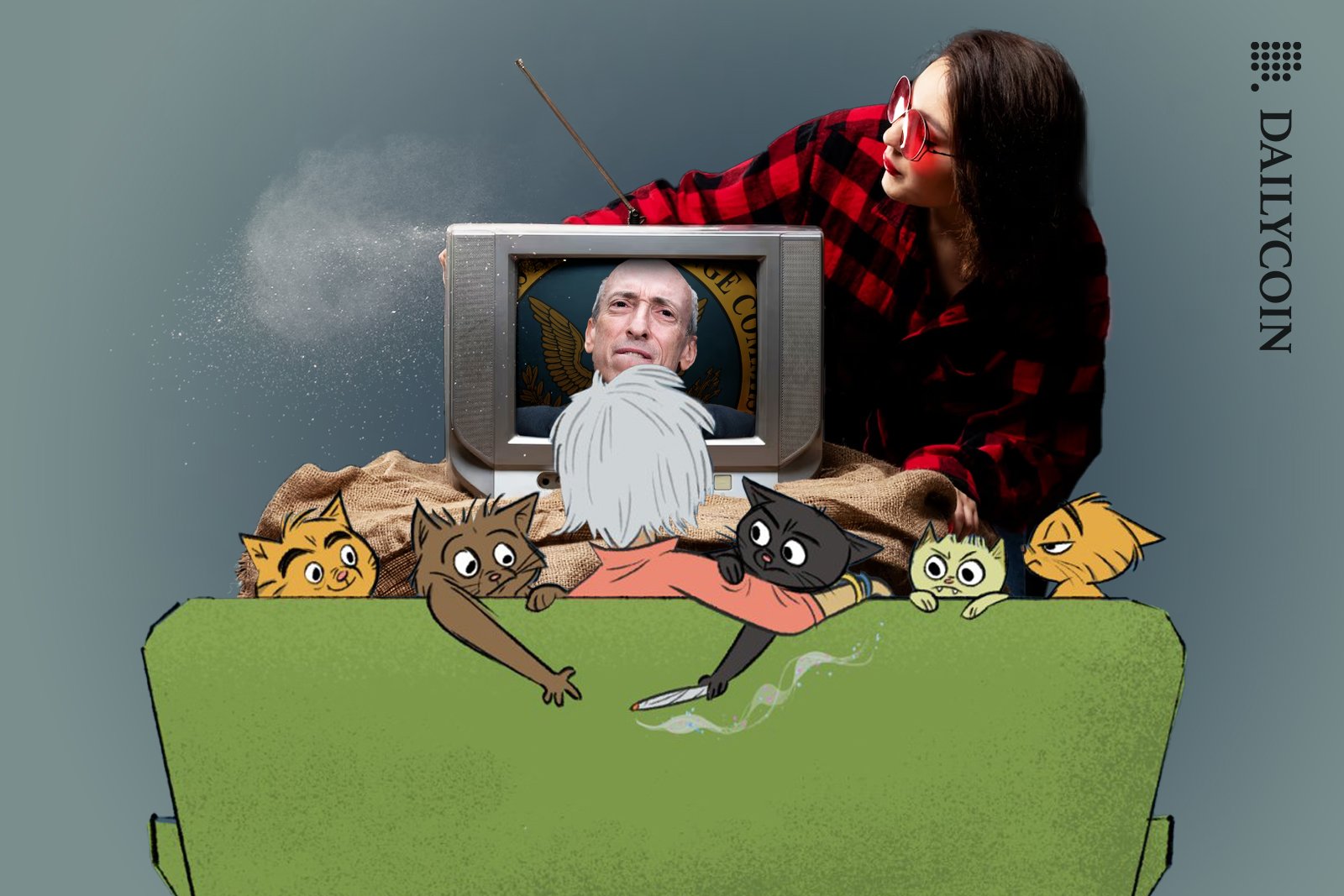 Actors Mila Kunis and Ashton Kutcher face a $1M fine over Stoner Cats NFT.
A six-episode animated TV show developed along with the NFT storyline.
Three major NFT marketplaces remove the controversial NFT collection.
The U.S. Securities and Exchange Commission (SEC) ordered the creators of the Stoner Cats NFT project to pay a $1 million fine, according to the latest court filings. The legal statement concludes that Stoner Cats LLC, which supervised the NFT project, sought funding in illegally selling unregistered assets when the LLC initiated a sale of 10,320 NFTs, making a whopping $8.2M in just 35 minutes.
Stoner Cats TV, the six-episode associated online TV show, was supposed to develop along with the evolution of these NFTs. The cartoon cats who got high from their owner's second-hand marijuana smoke found so much success after the pilot episode aired that 20% of the NFTs were resold on secondary markets with massive gains.
Frustrated Investors to Get Their Money Back?
The nine-page finalizing litigation statement from the SEC by Secretary Vanessa A. Countryman also pinpoints the fact that the LLC behind the Stoner Cats NFT collection will have to refund the customers who have bought in through social media endorsements.
Indeed, the legal file describes the price of Stoner Cats as being "tied to the success of the show," leading NFT holders to "reasonably expect to profit from the managerial and entrepreneurial efforts."
This brings an unprecedented legal case for non-fungible tokens and blockchain. The endorsement of NFTs is being revalued, as numerous celebrities recently got into trouble with Gary Gensler and the SEC.
To illustrate, iconic basketball player Shaquille O'Neal was served with two legal complaints encompassing $1 billion regarding the Astrals NFT collection and the FTX crash. Naturally, the crypto community questioned which popular NFT collection will be the next target.
Stoner Cats NFT Floor Fires Up 209%
Despite the controversial Stoner Cats NFT collection being delisted from the largest NFT marketplace, OpenSea, and Rarible & Blur.io, the sudden public attention has been bullish on its floor price. Following the news, Stoner Cats skyrocketed by 233.9% to trade at 0.055 Ether (ETH), equivalent to $90.
When the smoke cleared, Stoner Cats TV left a mark on internet culture. The mini show portrayed an elderly woman calmly watching TV while her five accompanying cats got baked sharing joints. The mini-series was only available to Stoner Cats NFT holders, featuring comedy virtuoso Chris Rock and Ethereum's founder Vitalik Buterin.
On the Flipside
Commissioners Mark T. Uyeda and Hester M. Peirce contend that applying the Howey Test on non-fungible tokens (NFTs) lacks "any meaningful limiting principle," disagreeing with the SEC's second NFT case settlement outcome.
Why This Matters
These developments set a precedent for the legal framework regarding non-fungible tokens.
Read DailyCoin's latest cryptocurrency news:
Shiba Inu Wearables: Swiss Partner to Forge Cold Wallet Ring
Polygon 2.0: Canto to Launch Polygon-Powered RWA Focused Chain