Litecoin has quite similar features with Bitcoin and is the biggest rival of it.
The use of the Scrypt algorithm to mine digital coins allows a much faster process.
Different ways of mining require different types of involvement.
The third Bitcoin halving just cut its block reward in half and crypto miners become curious about other ways to mine profit. Since Litecoin, often compared to the world's dominant crypto, still offers twice as large block reward, Litecoin mining might be worth considering.
Mining Litecoin (LTC) is not rocket science, however, you need to know the basics. Generally it is a process of creating a new block, adding it to the existing Litecoin blockchain, and getting Lietecoins as a reward for the work.
There are several things however that you have to do before you start mining Litecoins:
1. Decide the way you plan to mine it (alone, on a cloud or join the mining pool)
2. Choose mining hardware and software to use.
3. Select the type of digital wallet to store minted Litecoins. You can choose from online, mobile, desktop, hardware, or even paper wallet options.
Litecoin (LTC) is a cryptocurrency based on an open-source global payment network. The alternative peer-to-peer currency enables instant and near-zero cost payments to anyone in the world. Moreover, Litecoin was one of the earliest altcoins that appeared in the cryptocurrency space.
The coin's history starts two years after the birth of Bitcoin. Back in 2011 it was created by the Massachusetts Institute of Technology (MIT) graduate and Google engineer Charlie Lee. The coin was based on the Bitcoin protocol and is nearly identical to it, except some core elements like hashing algorithm, graphical user interface, or the interval of rewards.
Moreover, Litecoin was developed on purpose to improve the Bitcoin's flaws. The developer even claimed about having an aim to create a "silver" for Bitcoin's "gold". And since altcoin has quite similar features like Bitcoin, it is considered to be Bitcoin's biggest rival. Moreover, Litecoin may perform similar tasks four times faster, making it the main reason why it became a more convenient coin for payments.
Litecoin, which currently costs around $43, has gone through two halvings. The first one occurred in 2015, and the second – four years later, in 2019. Litecoin is the seventh-biggest cryptocurrency by market capitalization at the time of publishing.
What is cryptocurrency mining?
The process, called cryptocurrency "mining" refers to creating new transaction blocks on the particular blockchain network.
All the details about digital cryptocurrency payments – like the number of funds, the time and date – is stored on the block on a public database (or public ledger). And since the cryptocurrency is a decentralized currency, every single transaction is encrypted. Each time when the network confirms the transactions, the new block of verified transactions is stored on the blockchain. This means the new block is created.
At the same time, the nodes compete with each other by solving complicated mathematical puzzles to confirm the encrypted transactions. Roughly this is how the process, called cryptocurrency mining looks like.
At the same time, when a certain node wins over its competitors and ads a new transaction block to the blockchain, it gets a reward – an amount of particular cryptocurrency, the native tokens of a certain blockchain.
How does Litecoin mining work?
The Litecoin mining process is quite the same as mining other currencies. However, it has several key differences to compare with, let's say its "older brother" Bitcoin.
First of all, when talking about mining Litecoins, it is important to know some basics about its mining algorithm. Litecoin uses the Scrypt algorithm to mine digital coins, meanwhile, Bitcoin operates on the older one SHA-256. The Scrypt algorithm, however, requires less computing power and allows a much faster cryptocurrency mining process.
This is mainly because of the fact that the Scrypt algorithm takes preference for high-speed random access memory instead of processing power, used by the SHA-256 algorithm. On the other hand, Scrypt requires less power and thus makes Litecoin mining available for those with less powerful mining devices, such as personal computers instead of ones especially adjusted for mining.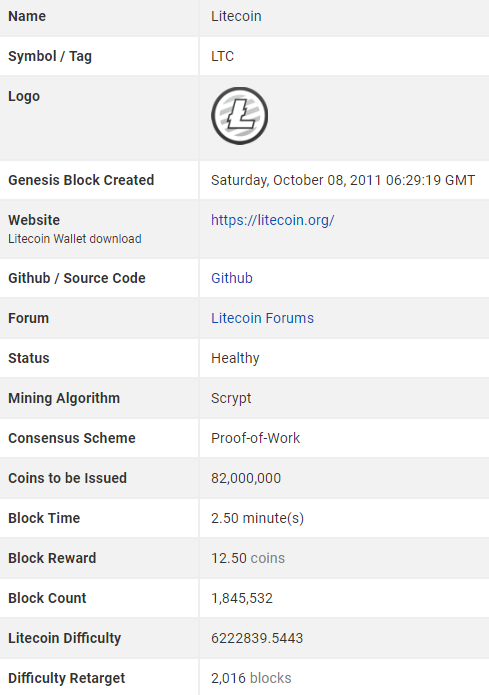 Scrypt is one of the first hashing algorithms implemented on blockchain networks. The cryptocurrencies like Litecoin, Dogecoin (DOGE), and Einsteinium (EMC2) are currently the best-known projects that use it for coin mining.
Before starting mining, you should evaluate whether you want to mine Litecoins alone or together with other miners. The mining without managing any particular hardware might as well be an option.
If you would like to mine Litecoins by yourself, only using the personal computer or more advanced mining devices, the process will be called "solo mining". Since this kind of mining ensures you don't have to share a reward and thus earn more money, it also brings higher expenses, like a bigger electricity bill or the full cost of new mining equipment. On the other hand, solo mining reduces the odds of winning the block, which results in a long wait until the confirmation of transactions will be done by your node.
Meanwhile, joint mining – or pool mining – could be a much faster process. The mining pools are the places where miners share their resources like computing power or electricity bills. The chances of winning over other nods are higher, however, the block reward might be smaller, as you need to share it between all the participants. Furthermore, you have to pay fees for being a part of a mining pool member.
There are various Litecoin mining pools to choose from, just to mention a few like Litecoin Mining Pool, that does not charge fees or Antpool, one of the biggest Litecoin mining pools.
The third option to consider before the start of Litecoin mining is cloud mining. This means that you rent computing power from a hosting company that owns and runs Litecoin mining hardware. Based on the amount of power you rent, you earn a share of reward minted by the cloud mining company.
Despite the fact that there are lots of scammers online, pretending to be Litecoin's cloud mining companies, there are several proven companies like Hashflare to consider.
What do you need to start mining Litecoins?
When you choose which mining option – solo or pool mining – is best for you, it's time to start thinking about the equipment. To mine Litecoins you first need to have specific hardware and software. And, certainly, a Litecoin wallet to store your newly minted coins.
Mining hardware is simply a physical device, used to mine Litecoin tokens. This could be a CPU (Central Processing Unit), GPU (Graphics Processing Unit) or Scrypt ASIC miner.
However, mining with CPU or GPU is possible, it also is a slower process compared to the mining machines called ASICs (Application-Specific Integrated Circuit) dedicated to the Scrypt algorithm. This kind of hardware is more powerful, which means that ASICs are able to generate more hashes per second and thus get higher chances to win the reward.
Bitmain's Antminer L3+ is currently the most powerful Litecoin mining hardware. The Antminer L3+ boasts in a hash rate of  around 504 MH/s for a power consumption of 800W. However, since this particular device is the most powerful, it also is one of the most difficult to buy, as it sells out quite quickly. There are other options on the market as well, although lots of them – especially the older ones – may not perform so efficiently and thus may not be competitive.
Since there are lots of various Litecoin mining software options across the market, it is important to evaluate which one to choose. You should keep in mind the key factors like user-friendly interface, security, customer support, mining speed and the ability of updates.
If you are new to cryptocurrency mining one of the best options to start would be MultiMiner software. MultiMiner is a desktop application available for Windows, Mac OS X and Linux. The software is compatible with many mining devices and allows switching them between different cryptocurrencies.
One of the most popular and reputable Litecoin mining software is Easy Miner. A graphical open-source mining software features a user-friendly interface and is free to use. Furthermore, it has an integrated cryptocurrency wallet. However, the software works only on Windows.
Another option for mining Litecoins – CGMiner – is openly sourced software that supports Windows, Mac OS X, Linux platforms and is compatible with a range of ASIC mining hardware. The CGMiner allows overclocking, monitoring, fan speed control, and remote interface capabilities.
Meanwhile, if you are a bit more advanced crypto miner, or like to mine Litecoins with the processor (CPU) the decent option to choose from might be CPUMiner. The software is compatible with both solo and pool mining. It also might be upgraded, since there are few updates available launched after its release.
Wallets to store Litecoins
When you decide which hardware and software to use for mining Litecoins, you have to choose where and how to store them. The place where you could safely put your digital coins is called cryptocurrency wallet. It pretty much works the same as your bank account, where you can store and manage your funds.
There are several types of digital currency storage: online, mobile, desktop, hardware, and paper wallet.
Online wallet, as its name suggests, runs on the cloud. This means that you may easily access it from anywhere in the world, where the internet connection is. Although they have various benefits such as convenient usage, this kind of cryptocurrency wallet might be breached and requires extra security.
Mobile and desktop wallets are the smartphone or PC applications that can be downloaded to your device. They are easy to install and considered to be a safer option compared to online cryptocurrency wallets. However, both mobile and desktop wallets also have several risks, like losing or damaging a device, infecting it with a virus, or experiencing a hacker attack.
A hardware wallet, or in other words – cold wallet – is the one that has no connection with the internet. This could be any physical device – be it the USB drive or secure offline computer. Such a wallet is one of the most convenient and safest options for storing big amounts of cryptocurrency.
Meanwhile, the paper wallet is another kind of cold storage wallet, often considered as the safest one. Despite the fact that it also is absolutely free. A paper wallet is a physical copy of your public and private keys in a form of QR code, printed on a piece of paper which you then store and save in a secure place.
Is it worth it to mine Litecoin?
Since Litecoin mining can be an easily available process and much faster one compared to Bitcoin mining, you should evaluate external factors to see if it pays off for you. Before diving into the process it is worth to consider the parameters like the price of Litecoin, the current mining hash rate, the cost of equipment (both hardware and software), the possible fees which you may have to pay if you choose to participate in a mining pool or cloud mining. Not to mention the fact that mining requires a lot of computing power and thus a lot of energy. Although there are countries that provide cheaper energy for cryptocurrency miners, there are a lot of jurisdictions where electricity is quite expensive. Finally, with all these factors in mind and thorough calculations done, mining Litecoin might be an option to earn money.