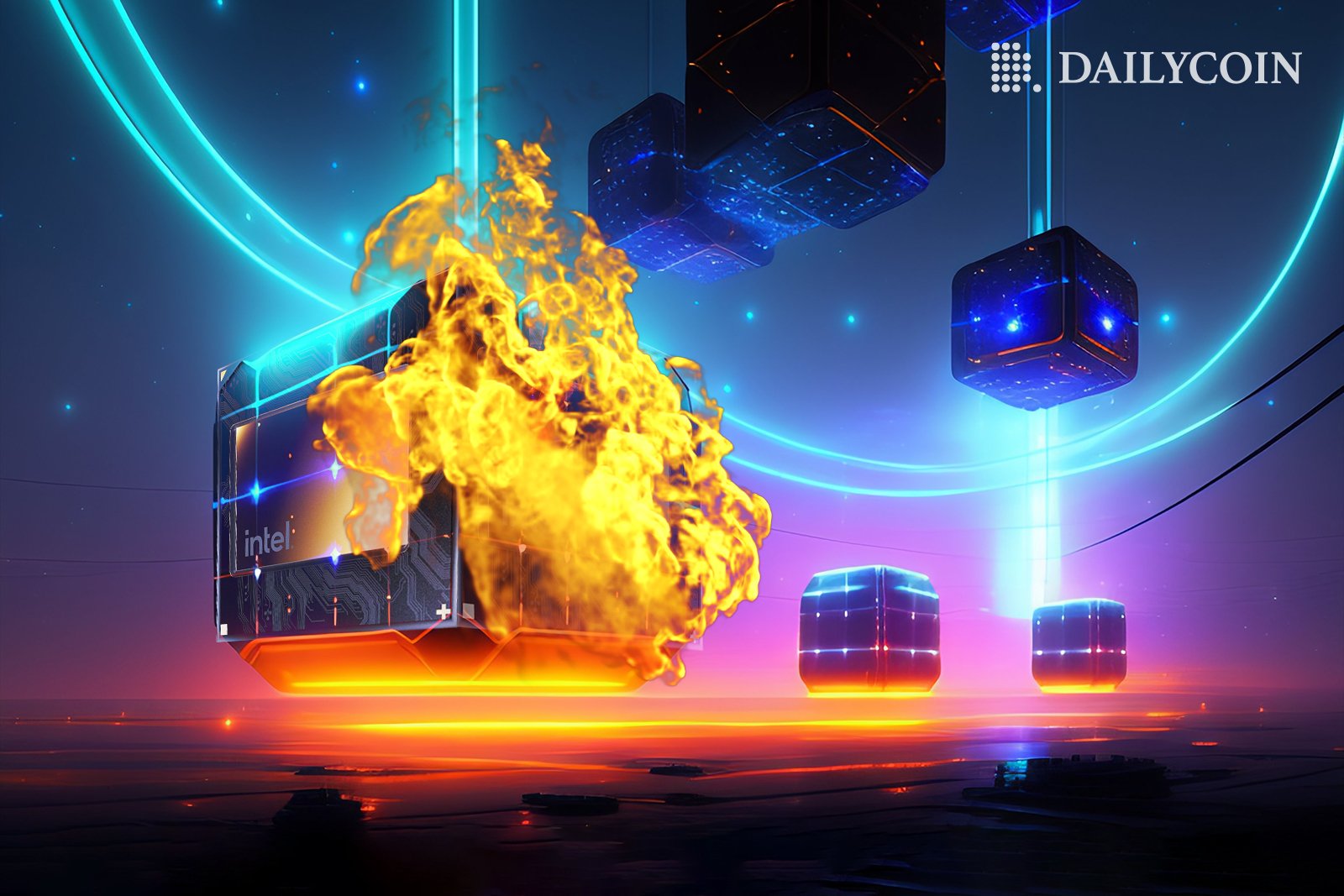 Intel will cut production of its Bitcoin mining chips.
The computer processor giant jumped into crypto mining at an unfortunate time.
Intel will refocus its resources on its IDM 2.0 strategy.
After just one year in the market, Intel has announced its exit from Bitcoin mining, ceasing the production of its advanced mining chip.
On Tuesday, April 18, Intel announced the discontinuation of its Blockscale 1000-series application-specific integrated circuits (ASICs). The chip's main function was to run calculations needed for crypto mining.
The decision came as a surprise to many, given the chip's efficiency and its contribution to Intel's revenue.
Following Intel's decision was a sudden sell-off of Bitcoin, which dropped $1,000 in value the same day.
Intel's Bitcoin Mining: High Costs, Poor Timing
Intel's decision to leave the Bitcoin-mining market comes despite the increased revenue enjoyed by the firm, due in part to the sales of the chips.
The company's revenue rose by $63 million in 2022 compared to the previous year. However, the revenue generated from Blockscale 1000-series chips did not justify the costs.
Intel faced a substantial increase in operating costs due to increased inventory reserves and investments. Costs rose by nearly 50% yearly, from $1.2 billion to $1.7 billion by year's end in 2022.
Intel's foray into the crypto-mining chip market suffered from unfortunate timing. The company launched its Blockscale ASICs in April 2021, just as Bitcoin valuations crashed at the end of the last crypto craze. Moreover, its decision came just as Bitcoin started to pick up steam, reaching $30,000 for the first time in nearly a year.
Intel's Geopolitical Bet – IDM 2.0
Rather than invest more in its crypto mining operation, Intel has elected to cut costs and refocus. From now on, the chipmaker will put its resources toward its IDM 2.0 strategy.
The strategy includes investing $20 billion in new factories in Arizona to reduce the geopolitical risk to the chipmaking industry.
Currently, a Taiwanese company makes the majority of the world's advanced semiconductors. This poses a significant risk due to the country's political disputes with China.
On the Flipside
Intel's Arizona facilities have enormous geopolitical implications for the US. Manufacturing these chips in the US would give the country more political leverage with China.
Intel's decision doesn't seem connected to the criticism against crypto mining because of its environmental impact.
Why You Should Care
Crypto miners rely on companies like Intel to provide efficient chips to secure networks like the Bitcoin blockchain. The discontinuation of the mining chip will make it more difficult for miners to provide that service profitably.
Read about crypto mining and why it is important:
What Is Mining in Cryptocurrency? Crypto Mining Explained
Warning: Read this article before you invest in the latest hyped-up memecoin: 
Beware of Pepe the Frog Memecoins: Copyright Issues Could Put Your Investment at Risk