It comes as no surprise that some influencers don't care to even check what they are promoting, and on top of that, they often don't even put disclaimers that they're being paid to promote a project, despite regulatory requirements to do so. This has often led to multiple problems: the NFT scams and 'sketchy' projects attract a large number of supporters, drawn-in investors lose money, and their creators ditch the projects, running off with millions of dollars.
The 'Bored Bunny Project' is just one of the most recent examples of a slow rug pull that caused the project to fall apart after raising over $20 million. Bored Bunny NFTs became quite popular, and its community rapidly expanded due to influencer and celebrity marketing. The project was hyped and promoted by various famous figures, including DJ Khaled, French Montana, Jake Paul, Floyd Mayweather, and David Dobrik.
Bored Bunny NFTs, which were "ready to take over the metaverse and NFT space," launched in December 2021, with 4,999 NFTs priced at 0.4 ETH each.
About the Bored Bunny NFT Scam
Top-tier NFT scam detective Zachbxt recently revealed details about the rug pull.
According to him, one obvious red flag on the official website's 'Benefits & Utilities' section was the promised benefit of "2x, 5x, or maybe even 10x the value of your investment within a few days."
The first Bored Bunny collection sold out within an hour, raising 2000 ETH ($7.5M USD), and 916 ETH ($3M USD) in secondary sales. The profits were then distributed from the Bored Bunny Contract to seven other unknown wallets.
Soon after the first collection, the Bored Bunny team announced another NFT drop – 11,111 'Bored Bad Bunnies' priced at 0.4 ETH, which swiftly generated 3,195 ETH ($10.1M USD) and 95 ETH ($300,000 USD) in secondary sales for the project.
A few days later, a third collection named 'Bored Mutant Bunny' appeared. This set featured 3,000 NFTs with individual valuations of 0.25 ETH. According to Zachxbt, this was the moment the community began to suspect that something was off about the project.
Only 532 NFTs out of 3,000 were sold from the third collection, while the floor prices of the three BB collections plummeted below their original prices.
The project's founders then suddenly became inactive and disappeared for a month. The founder, known as Jeff, returned after some time, explaining his absence to the public with a ridiculous excuse:
"Primarily, the reason of my absence this last month was that I have been through a lot of the emails, messages in private."
Then he promised to refund holders $600,000 and send free Bored Bunny merchandise to the NFT holders. Many ridiculed his 'generosity,' demanded their money back, and called him a scammer who stole millions from investors.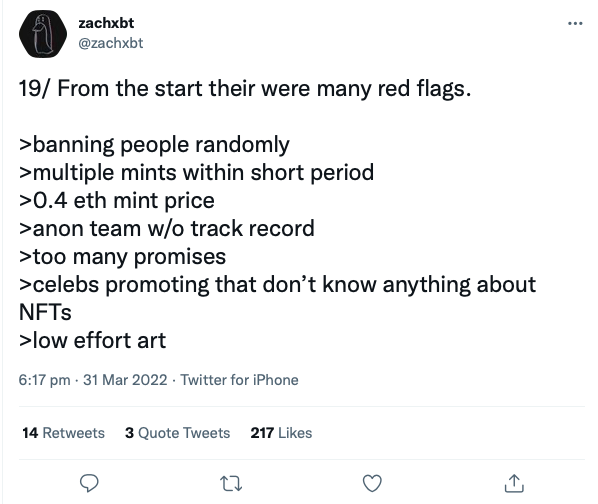 Influencer Marketing and Money Laundering
Famous YouTuber and co-owner of esports organisation 'FaZe Clan' knowledgeable in NFTs, FaZe Banks, disclosed a message in which the Bored Bunny founders asked him to promote their project, offering to pay $500,000-$750,000 for a 10-second video ad.
American boxing champion Floyd Mayweather who has 7.8 million followers on Twitter, has been known to be a 'promoter of scams.' The boxing legend made a number of ad posts for Bored Bunnies, and has previously promoted several failed projects, including 'Moonshot', 'EthereumMax', and 'Real Floyd NFT'. He has already been sued, alongside Kim Kardashian, for artificially inflating the price of the cryptocurrency EthereumMax. Meanwhile, the athlete recently released another suspicious looking NFT project, 'Mayverse'.
Jake Paul, the American boxer and brother of influencer Logan Paul (who has also promoted a number of NFT scams), also shared the BB project with his followers, actively encouraging them to engage with the Bored Bunny NFTs.
Internet stars must be more careful when advertising projects, as they could face court for promoting scams. The same also applies to project founders: last month, the two 20-year-old creators of 'Frosties' NFTs were arrested after raising $1.1 million in a rug pull scam. on counts of wire fraud and conspiracy to commit money laundering, the project founders could face a maximum sentence of 20 years in prison.
Rug pull NFT projects damage the image of the entire DeFi space and make regulations seem increasingly necessary – decentralization is about privacy and autonomy, however, many are abusing these the anonymity to launder money. 
Anyone who invests in "artificially hyped" projects is taking a big risk. As always, we reminds our readers that it is extremely important to do ample research into every project and look for red flags before making any investment decisions. To better understand the warning signs, check out our comprehensive guide on identifying rug pull scams.