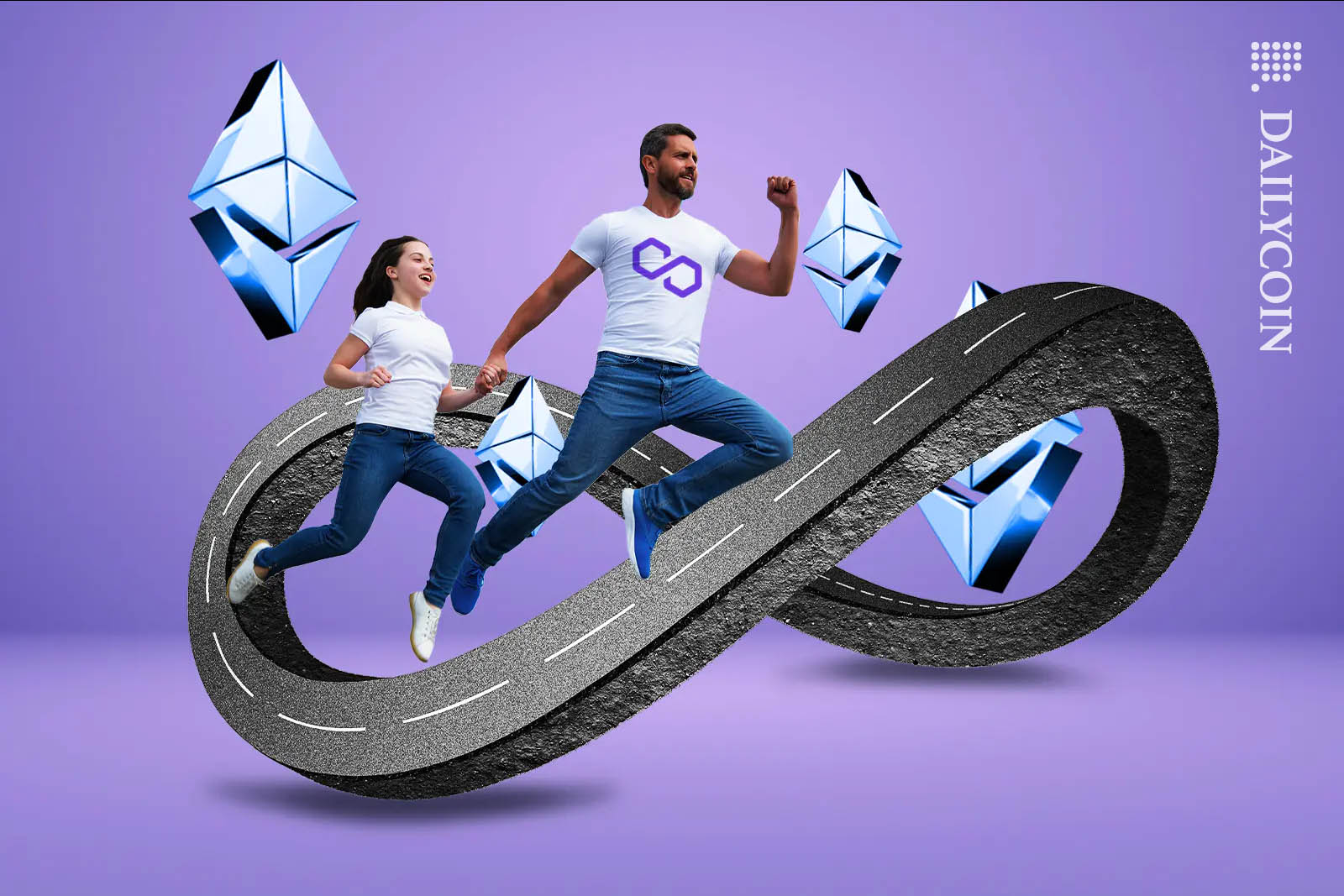 Polygon has been driving Ethereum adoption with its innovative solutions.
Polygon is revamping its network to revolutionize Ethereum.
Polygon 2.0 will transform Ethereum into a network that closely resembles the Internet.
Polygon has emerged as a driving force for Ethereum adoption, spearheading the introduction of innovative scaling solutions. With the launch of Polygon 2.0, the network looks to transform and revamp how Ethereum addresses its scalability challenges with zero-knowledge-powered protocols.
Polygon 2.0, the highly anticipated update from Polygon Labs, is set to release soon, and people are excited to see how it plans to deliver on Polygon's promise of expanding Ethereum into what it was intended to be.
Polygon 2.0: A Transformative Update
Polygon Labs recently announced the Polygon 2.0 update, aiming to establish a groundbreaking "Value Layer" for the Internet where it enables users to "create, exchange, and program value." With this new update, Polygon Labs seeks to provide the 'missing piece' to the Internet.
According to Polygon Labs' official blog, Ethereum's Value Layer struggles to resemble the conventional Internet. The blockchain company emphasized that while the Internet, as we know, is infinitely scalable thanks to elastic scaling, and has a unified environment where information is shared and accessible worldwide, Ethereum, in its current state, falls short in comparison.
Network congestion and high gas fees continue to plague Ethereum, despite the network transforming into a POS chain, as evidenced by recent events like the PEPE-led memecoin mania.
Moreover, Ethereum still has strict throughput limits, which hinder its infinite scalability. While it's possible to increase capability by adding more chains to Ethereum, doing so will fragment liquidity and reduce security.
So, Polygon 2.0 takes a unique approach. The update leverages zero-knowledge-powered Layer-2 chains connected through a novel cross-chain coordination protocol. The mechanism will empower users to navigate through an unlimited number of chains and communicate cross-chain, similar to browsing websites on the traditional Internet.
With Polygon 2.0, Polygon looks to achieve unmatched scalability, liquidity, and security. The solution strives to reshape the current infrastructure to better resemble the familiar and infinite landscape of the conventional Internet and expand Ethereum into what it was always intended to be.
On the Flipside
According to DeFiLlama, Ethereum is the top DeFi protocol based on a Total Value Locked (TVL) of $25 billion. Polygon is fifth with a TVL of $881 million. 
The average gas fee on Ethereum dropped to $7.34, marking a nearly one-third decrease compared to May's peak of $20.
The SEC named Polygon's native token MATIC as unregistered security in its case against Binance and Coinbase. 
ZK-powered protocols on Polygon have shown impressive growth in TVL in 2023. 
Why This Matters
Ethereum is one of the largest networks in the industry and is the reigning king of DeFi. However, the network still faces many scalability issues that stop it from infinitely scaling and staying secure. Polygon 2.0's innovative take could transform Ethereum into a solid network that serves as the value layer for the next generation of the Internet.