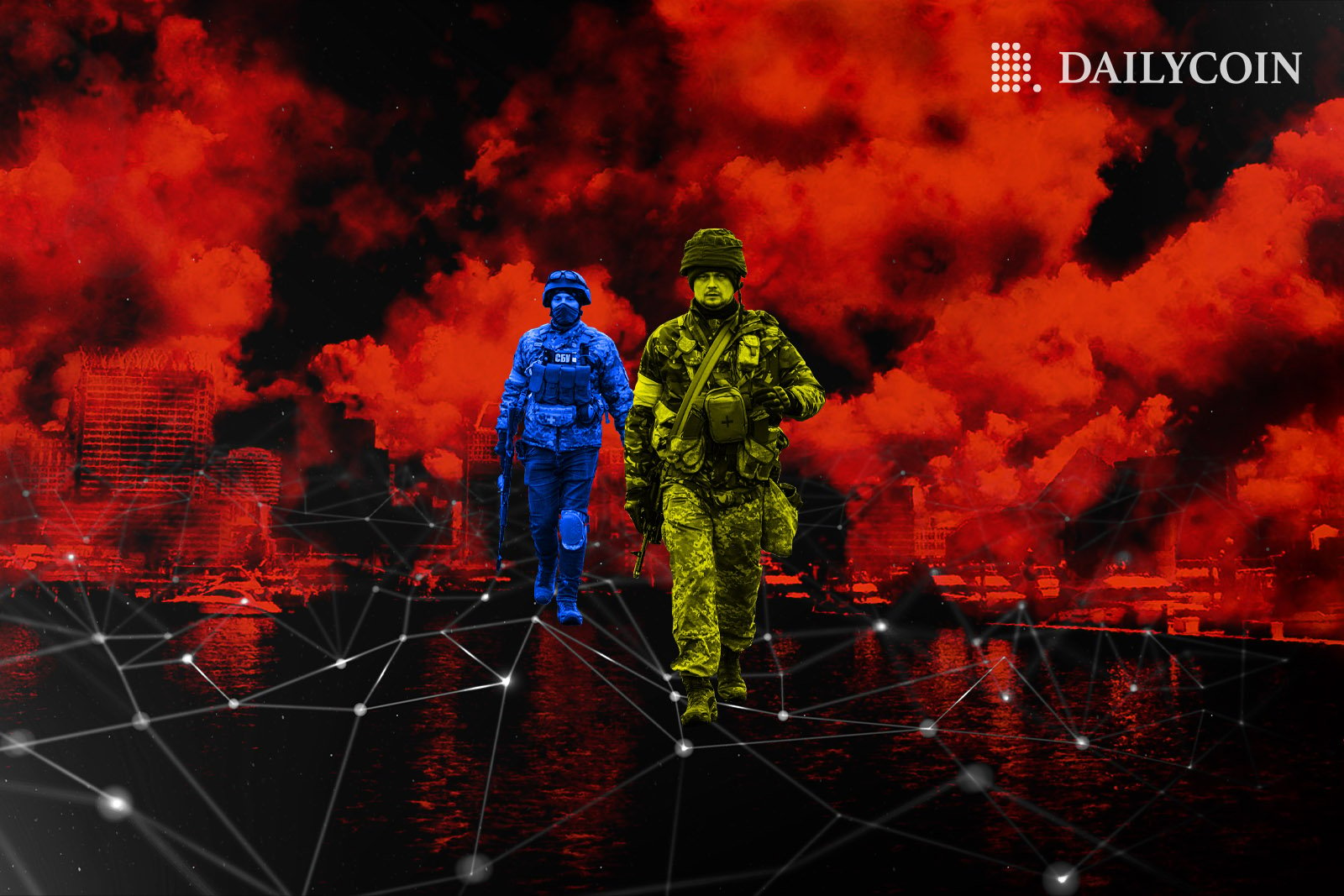 Ukraine has accumulated over $70 million in crypto donations for its war efforts.
Russia's crypto funding allegedly comes from groups performing ransomware attacks that have pledged their allegiance to the country's cause.
The conflict has caused crypto to go mainstream in Ukraine, with central exchange traffic increasing by as much as 30% over the war.
The Ukraine-Russia conflict entered its second year on February 24. It has ebbed and flowed with Russia's military might pushing on multiple fronts and Ukraine resiting with backing from NATO countries.
Throughout the conflict, there has been an agnostic player helping fuel the war: cryptocurrency. Decentralized and agnostic digital assets have become a tool of conflict on both fronts.
Both sides have used crypto for donations and cross-border payments. However, Russia has allegedly been using digital tokens to avoid sanctions and accumulating funds through malicious activities such as ransomware attacks, according to a report from Chainalysis.
In its 2023 Crypto Crime Report, Chainalysis reported that at least $456.8 million in ransomware payments were made in 2022, most of which were received by actors believed to be based in Russia.
While donations to Russia have netted its war effort $5.4 million, Ukraine has had greater inflows globally, receiving around $70 million in crypto through donations. Yet, Russia has still accumulated additional crypto through groups launching ransomware attacks.
Russia Rallies from Ransomware Payments
The $5.4 million in donations to Russia came from an estimated 100 volunteer groups committed to crowdfunding the nation's war effort. Russia received $2.2 million through the first five months of the War; however, this funding has waned since August last year. 
Rather than donations, Russia's war effort is allegedly being fueled by ill-gotten crypto payments, with several groups friendly to the Russian government pulling in millions from ransomware hacks.
Conti, a prolific Russia-based ransomware group, pulled around $66 million from victims in 2022. Following the invasion, Conti publicly announced its support for the Russian government.
US Secretary of Treasury Janet Yellen lamented how ransomware criminals operate in Russia with impunity. Yellen's department also declared paying ransomware payouts to an entity in a sanctions country, like Russia, threatens U.S. national security.
Furthermore, hacker activist group KillNet has been targeting countries supporting Ukraine, even declaring "war" against ten countries. KillNet has also minted an NFT, for sale on the US-based marketplace Opensea.
Opensea's presumed indirect involvement with KillNet raises questions about the role of crypto businesses in such conflicts. Pro-Russian groups are also using mainstream exchanges for transacting crypto.
Russian groups have been happy to utilize mainstream exchanges for most of their crypto needs–87.3% of the funds received by pro-Russia groups have gone through mainstream exchanges, the Chainalysis report revealed.
The popularity of digital assets in this conflict has extended beyond just funding the war effort, with many affected making more use of crypto.
Crypto Goes Mainstream in Ukraine
The wave of crypto donations to Ukraine was made possible as government organizations posted wallet addresses calling for assistance at the commencement of the conflict. In the first month of the war, these government addresses accumulated $56 million worth of cryptocurrencies.
Despite the positive start, the next 11 months saw a stark contrast as just $14 million more came in.
Still, Ukraine's willingness to accept digital assets during the conflict has ranked it third on Chainalysis' 2022 Global Crypto Adoption Index.
Crypto adoption in Ukraine has surged throughout the war, with exchange traffic growing as much as 30% in May 2022 in light of the country legalizing crypto on February 18, 2022. On the contrary, Russian adoption has dropped significantly.
On the Flipside
Ransomware attacks from Russian-supporting groups are waning as many victims of Conti stopped paying once the group pledged its support for Russia.
Why you Should Care
Crypto's agnostic and decentralized nature allows it to operate relatively outside regulations. However, crypto service providers, such as OpenSea, and exchanges indirectly serving the Russian war effort could run into trouble from certain nations' regulators.