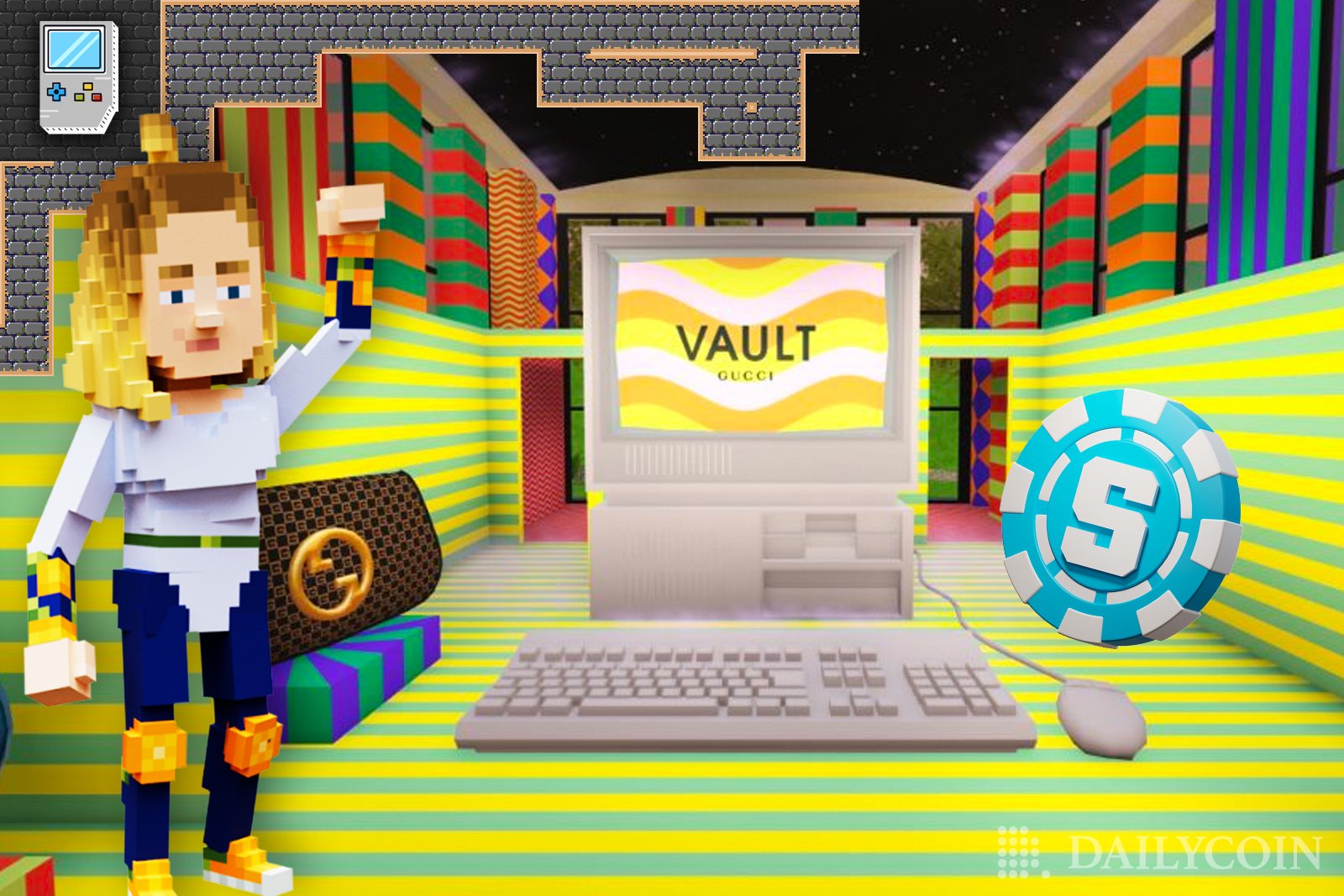 Gucci has become the first major fashion brand to host its very own Web 3.0 experience in The Sandbox metaverse. The Sandbox will play host to 'Gucci Vault Land', Gucci's experimental cyberspace. Gucci Vault Land will take players on an artistic journey through the global fashion brand's history and heritage through NFTs and games. 
Gucci was among the fastest major brands to get on board with Web 3.0. The fashion brand has played an active role in influencing digital fashion with unique designs, luxury NFTs, limited-edition digital goods, and digital experiences. 
Gucci Vault Land represents a substantial landmark in Gucci's transition to Web 3.0, after having first announced its plan to establish an interactive fashion experience in The Sandbox metaverse in February.
Journey Through Gucci History in the Metaverse
Gucci was one of the first luxury brands to utilize the potential of Web 3.0 technology and the metaverse as a means to spread its digital influence, and thereby establish its presence in the space. Gucci also became the first luxury brand to launch an NFT collection, as well as a digital hub in Roblox, an online game platform and game creation system with over 204 million monthly active users, as per ActivePlayer, a game statistics aggregator. 
The collaboration is a turning point for The Sandbox's 'Alpha Season 3', and serves as proof of The Sandbox's commitment to bring "endless action" to the metaverse. 
Here are just some of the details of what Gucci Vault Land is all about: 
From October 27th to November 9th, Gucci Vault Land will host an experimental, Web 3.0 experience that educates players through artistic showcases of Gucci's vintage fashion NFTs. 
Players can learn about Gucci's heritage, and compete with other players for a chance to buy a selection of digital collectibles. 
Robots will guide players through various facets of Gucci Vault Land, educating them about the core values of the design house via games and tasks to reinforce everything learned, and incentivize players with rewards. 
Finally, Gucci Vault NFT holders will be rewarded with exclusive Gucci Vault Aura NFTs wearables, which will be equipable in The Sandbox metaverse. 
As a major fashion brand, Gucci is at the forefront of building and developing Web 3.0 through experiences, collections, and education. Gucci aims to further the technology's mass adoption by inviting non-native users to experience the metaverse through events, digital art showcases, and more. The Gucci Vault Land event will enable users to learn all about Gucci, while also introducing Web 3.0 to people unfamiliar with the metaverse and its experiences.
Read about other fashion brands utilizing Web 3.0:
PUMA Launches Metaverse Project at NYC Fashion Week