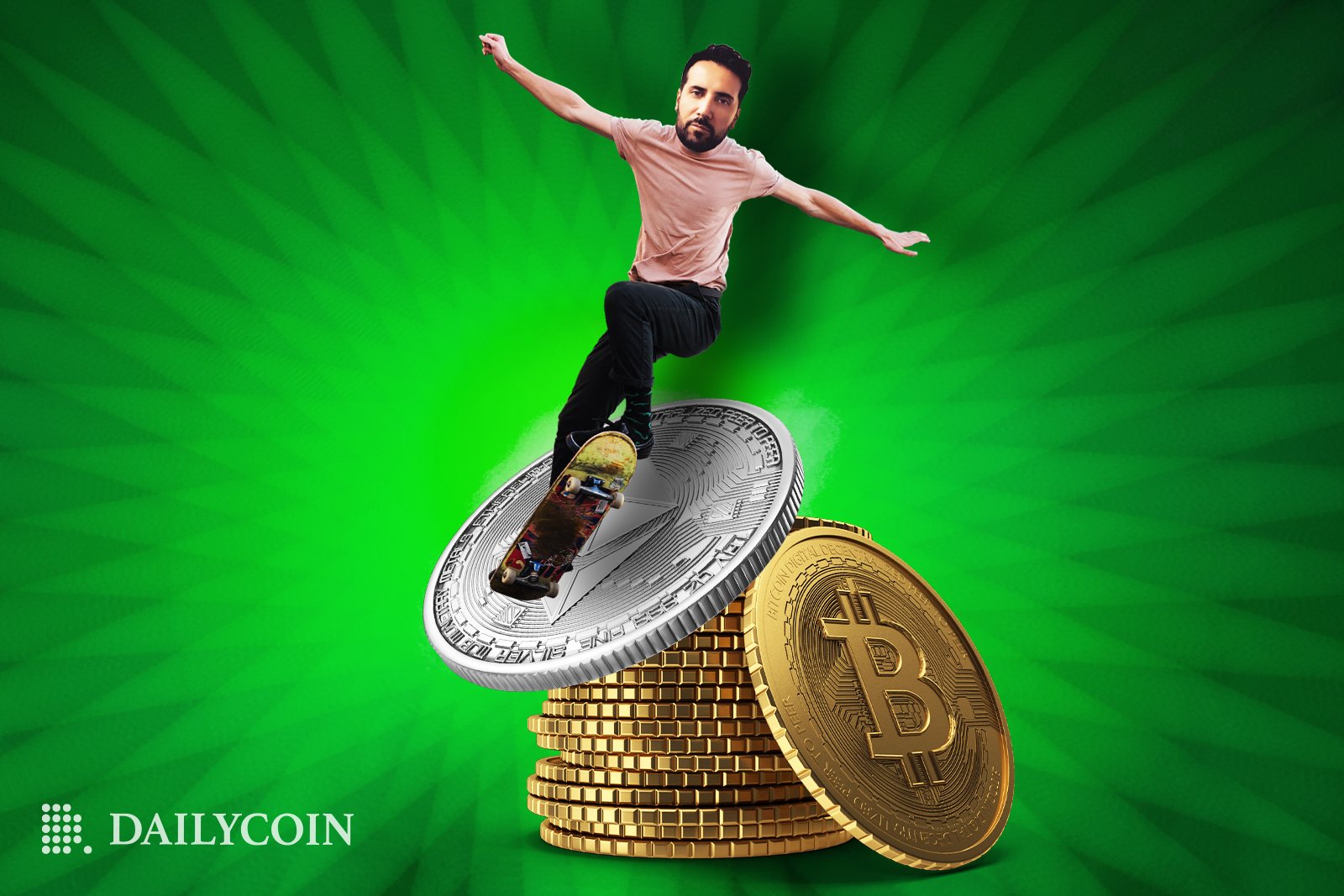 Crypto entrepreneur David Gokhshtein revealed to his Twitter audience that he expects Ethereum (ETH) to flip Bitcoin (BTC) some time in the future. Not being threatened by getting roasted by his Bitcoin Maximalist friends, the Half-Baked Hero received some surprising answers from crypto aficionados.
Crypto Twitter Does the Math
As per usual, David Gokhshtein's bald statements didn't go unnoticed. "It already did, brother," asserts Julian Kent, a crypto enthusiast who argues that adding all the ERC-20 tokens in the TOP 50 by global market capitalization does the trick. "It has been surpassed for a while now," Mr. Kent claims, while another crypto trader Sprack Burger remarks "Already has. Look at all the ERC-20 tokens with good liquidity."
Let's look deeper at these claims: the leading digital asset Bitcoin has a global market capitalization of $578,508,586,135. On the other hand, the leading altcoin and NFT favorite blockchain Ethereum sits at $249,842,988,311. Bitcoin's market dominance is 43.9%, while Ethereum's is 19%.
On top of that, the global cryptocurrency market rank has many ERC-20 tokens, which are based on Ethereum, including Shiba Inu (SHIB), Uniswap (UNI), top stablecoins Tether (USDT) and USD Coin (USDC), along with the scaling solutions that come from forked versions of Ethereum's code, like Polygon (MATIC).
Ethereum Kneels Before Bitcoin?
Adding up all of the Ethereum-related altcoin with at least $5 billion, the global market cap of the TOP 20, stopping at decentralized crypto exchange Uniswap (UNI), equals to $402.5bn at the time of publication, which refutes these claims for the time being.
However, it's important to note that popular altcoins with large market capitalization like BNB (BNB), XRP (XRP), and TRX (TRX) have been excluded from the count since these altcoins originally started as ERC-20 tokens but later developed their own blockchains.
Ultimately, the swift growth of Ethereum-based tokens is evident in the numbers, but it's yet to top Bitcoin. The ongoing squabble on Twitter between Ethereum enthusiasts and Bitcoin Maximalists gave birth to many heated discussions and a flurry of sarcastic memes.
BTC and ETH Maxis are fighting it out on Twitter
On the Flipside
Many crypto enthusiasts in the Twitter thread argue that Bitcoin will remain "the mother of all crypto," comparing Bitcoin's long-term value to gold.
Many also argue that "Bitcoin would have to crash big time" for that to happen.
Why You Should Care
The two largest digital assets are enjoying solid bull runs, as BTC and ETH both recently achieved yearly highs.
Explore trending crypto stories on DailyCoin:
Gokhshtein Shocked: Dogecoin Surges 7.7% After Twitter Move
Testnets in Crypto: How To Use Test Networks to Earn Cryptocurrency