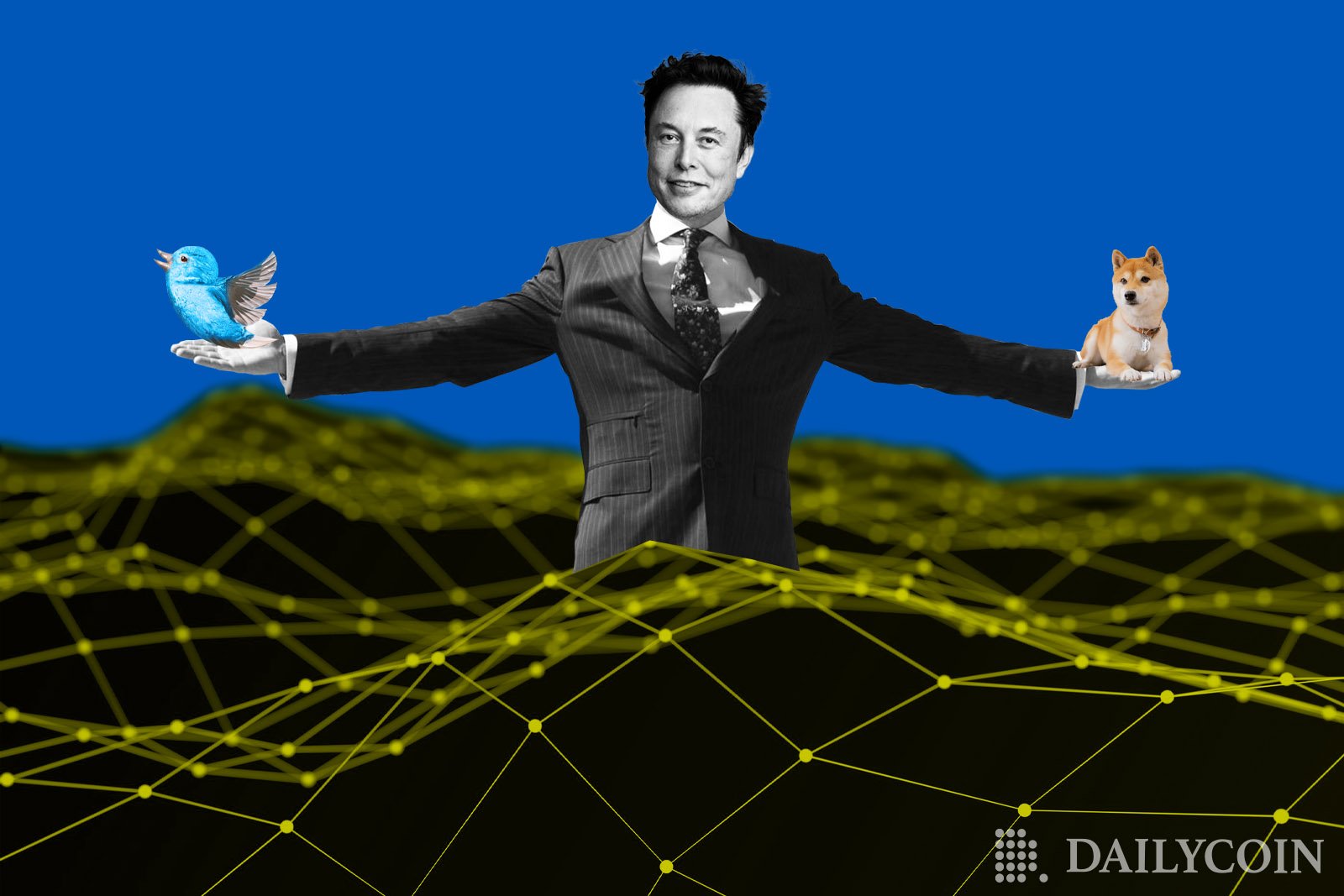 Elon Musk's Twitter acquisition was finally sealed at $54.20 per share, totaling a value of $44 billion. 
The Twitter deal was highly anticipated, both by fans of Musk and virtual assets alike.
Elon Musk's relationship with cryptocurrency dates back to February 2021, when Tesla acquired 1.5 billion BTC. 
Musk's frequent tweets about Dogecoin and photos of his pet dog Floki played a significant role in the meme coin phenomenon. 
Twitter boss Jack Dorsey played his part in incorporating cryptocurrencies into the Twitter platform.
Many expect Elon Musk's presence at the head of Twitter's affairs to lend more of a voice to cryptocurrency.
After numerous controversies surrounding Elon Musk's takeover of Twitter, the deal has finally been sealed. According to emerging reports, the Tesla CEO concluded the takeover at $54.20 per share, totaling an equivalent value of $44 billion. 
Reports of the deal's completion started circulating earlier this month after Musk's legal team filed paperwork to Twitter's lawyers and the Securities and Exchange Commission (SEC).
The takeover deal has initially struggled to cross the finish line after suffering numerous setbacks, with Elon Musk eventually looking to pull the plug on the agreement. Explaining his decision to back out, the Tesla CEO cited the number of bots on the micro-blogging app. 
It's noteworthy that the Twitter deal was long-anticipated, not only by Musk's avid fans, but also by those hopeful of what it could mean for the future of virtual assets.
Elon Musk and Twitter's Relationship with Digital Assets
Elon Musk's relationship with cryptocurrency can be traced back to February 2021, when a filing revealed that Tesla had acquired 1.5 billion bitcoins. In March 2021, Elon Musk announced that Tesla would accept BTC as a means of payment. 
The billionaire's approach to crypto hasn't all been positive though, as bitcoin payments were ditched during the downturn that followed some months later; Musk cited the environmental effect of BTC mining as one of the main reasons for the change. 
Consequently, in January 2022, the business mogul announced that Tesla had included DOGE as a means of payment. The move came after comments from Musk which suggested that Doge works better than BTC as a means of payment. 
It is worth noting that Musk had a significant contribution to the meme coin phenomenon with his frequent tweets and memes about Dogecoin, and photos of his pet dog Floki, ultimately resulting in the birth of widely popular meme coins such as BabyDoge, Floki, and Dogelon Mars.
Meanwhile, Twitter's relationship with digital assets was strengthened under former CEO Jack Dorsey, who is also a well-known Bitcoin advocate. 
Under Dorsey's watch, the micro-blogging platform incorporated Bitcoin tipping—a feature that allows users to tip influencers in BTC for their content.
Earlier this year, Twitter expanded this feature to include Ethereum payments. The social media giant's efforts to integrate virtual assets also saw collaboration with Stripe to facilitate payments in USDC on the platform through Polygon.
How Could the Takeover Benefit Cryptocurrency?
Many enthusiasts believe that with Elon Musk at the helm, Twitter's efforts to further include crypto can only improve. It seems that part of the Tesla CEO's plans involve pursuing a more decentralized Twitter in order to increase trust and eliminate spam bots. This goal is generally seen to align with the "Libertarian gospel" of cryptocurrency. 
Elon Musk has previously mulled the possibility of incorporating Dogecoin for payments on Twitter, particularly as part of his plans to eliminate bot and spam accounts.
Undoubtedly, the presence of Elon Musk at the helm of Twitter's affairs is likely to give the cryptocurrency sphere more of a voice on the social media site—a voice that could position the industry to demonstrate exactly why it's the future of money and payments. Musk could well be the herald that fulfils Jack Dorsey's prophecy of BTC becoming the currency of the internet.
It is clear that the cryptocurrency space will eventually dominate the internet as a payment method. Whether it be Bitcoin or Dogecoin, the journey must first tackle the mainstream adoption of cryptocurrency around the world.
Despite claims that the recent acquisition may be good news for cryptocurrencies, Musk has not yet disclosed any plans for digital assets, but stated that he seeks to "increase trust", make Twitter "algorithms open source," defeat spam bots, and "authenticate all humans" after he secures the deal.