Despite the positive correlation between traditional and digital gold, the latter regained its value quicker than the metal one.
The average monthly correlation among Bitcoin and gold approached the highs of 70% on August 7. However, it fell down by 20% within a week due to the gold price drop and currently is around 48% compared with the yearly one, according to the cryptocurrency data analytics Skew.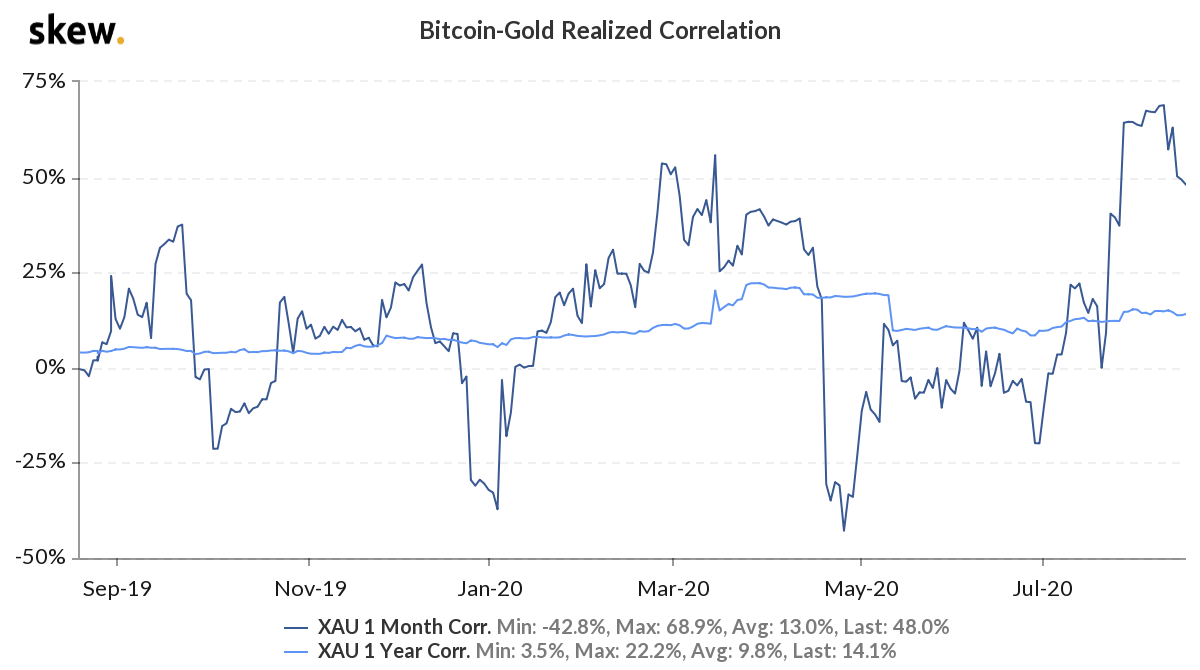 Both Bitcoin and traditional gold have been in a constantly growing correlation since the first days of June. From then on traditional gold started to steadily climb up, reaching its peak on August 6, when the ounce of the precious metal crossed the historic $2.000 mark and reached the all-time high of $2.070 per ounce, according to GoldPrice statistics.
Meanwhile, the digital gold kept lingering below the $10.000 mark until July 27, when the sudden spurt brought the leading cryptocurrency over $11.000 overnight. Since then the price of Bitcoin is testing the levels of $12.000 and at the time of publishing  costs $12.019 according to CoinMarketCap.
According to Skew, the positive correlation among Bitcoin and gold supports the narrative of the both assets being the store of value in the times of economic uncertainty and the US Treasury stimulating the market with massive multi-trillion dollar bailouts.
Gold down, Bitcoin stable
Although both assets were said to move in the same direction, with Bitcoin benefiting from the traditional gold, the opposite trend appeared on August 8, when the gold price started to drop.
The precious metal's price decreased sharply on August 7 on global markets. The biggest decline in seven years came after lots of investors took profits from the gold price rally, which brought the safe-haven asset price to historic highs.
The gold price fell by nearly 8% since then and reached $1.921 on August 12. It is trading at $1.951 at the time of publishing, meaning five days later after the fall to the lowest point.
In the meantime, the price of Bitcoin continued to float around $11.800 within the same period of time, one day testing the $12.000 mark or falling to $11.300. However, the charts from Skew show that both assets are in a lower correlation now.
Hashrate at all-time highs
However, the positive correlation with gold is not the only parameter illustrating the strengthening of Bitcoin. Another positive signal comes from Blockchain.com statistics, which reveals that Bitcoin's 30 days average hash rate reached the record highs of 122.9 terahashes per second (TH/s) on August 16.
The hash rate refers to the computing power the Bitcoin miners generate in order to confirm the transaction block. Since the higher hash rate indicates there are more computers working to mine Bitcoin blocks as miners find it profitable, the growing parameter also suggests the world's leading cryptocurrency is strengthening its position.