Most of the Bitcoins are held by those who treat it as digital gold, meanwhile, the rest 19% is moving across the market, says blockchain analysis firm Chainalysis.
The report that studies the circulation of the world's dominant crypto asset, claims that the total amount of Bitcoins mined by June 2020 is roughly 18.6 million. While, the major part of them is held as a long-term investment, the other two parts of traded and lost Bitcoin float at similar levels.
The major part (60%) of Bitcoins – 11.4 million – are held by individuals or companies as a long-term investment. According to the report, these investors "have never sold more than 25% of Bitcoin they've ever received, and have often held on to that Bitcoin for many years".
The report excludes 3.7 million or 20% of BTC as lost assets, that have not been moved from their current addresses for over 5 years.
In the meantime, only the smallest part of 3.5 million Bitcoin is used for trading. This means only 19% of all mined Bitcoins are frequently moving between the exchanges. Reportedly, this amount supplies the market and determines the Bitcoin's price.
The same amount of 3.5 million Bitcoins is mostly traded by retail traders. Following the report, the vast majority – even 96% of transactions – are made by market participants, that deposit less than $10.000 worth of BTC on exchange at a time.
Professional traders, meanwhile, form only 4% of 340.000 total active Bitcoin traders on a weekly basis. Despite the fact of being a minority, institutional traders are the ones that control the liquidity of the market. According to Chainalysis, they "account for 85% of all the USD value of Bitcoin value sent to exchanges".
Crypto-to-fiat exchanges most popular
Furthermore, the report reveals that four major exchanges – Binance, Huobi, Coinbase, and Bitfinex – process 40% of all Bitcoins that entered the exchange in 2020. The next 10 top exchanges received 36% of Bitcoins this year, however, the tendency shows that their share is narrowing since 2018.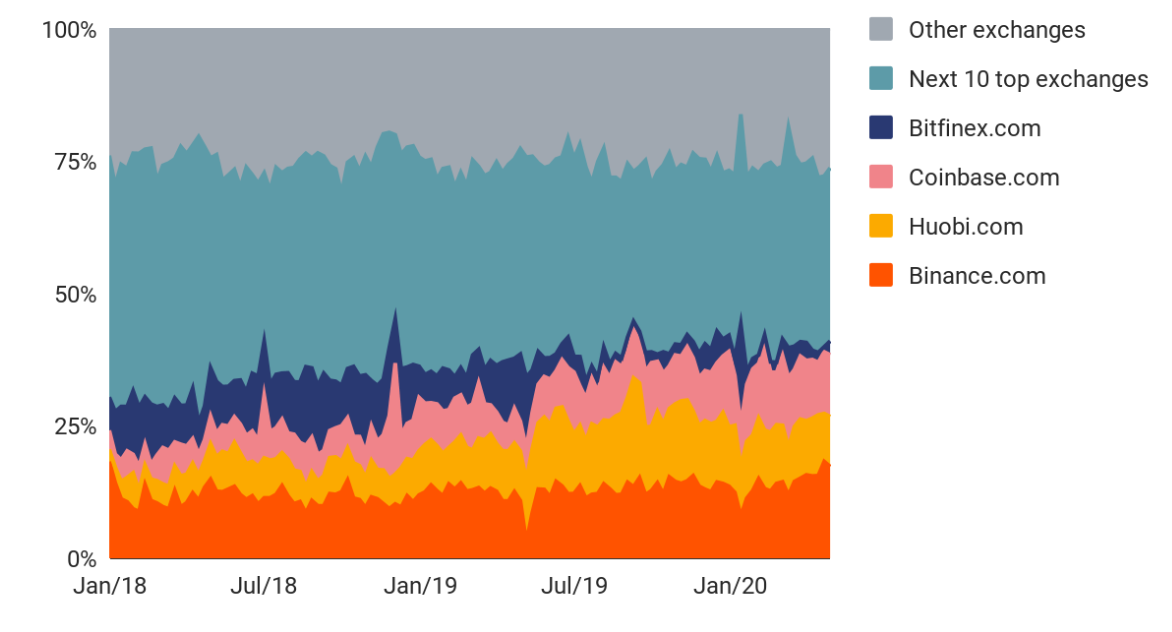 Moreover, within the various types of exchanges, the crypto-to-fiat (C2F) on-chain trading dominates the market by generating 42% of activity. To explain that Chainalysis brings out the hypothesis that C2F exchanges are a source of new demand (first purchased cryptocurrency) and thus have greater liquidity. Furthermore, they are also used to cash out a Bitcoin.