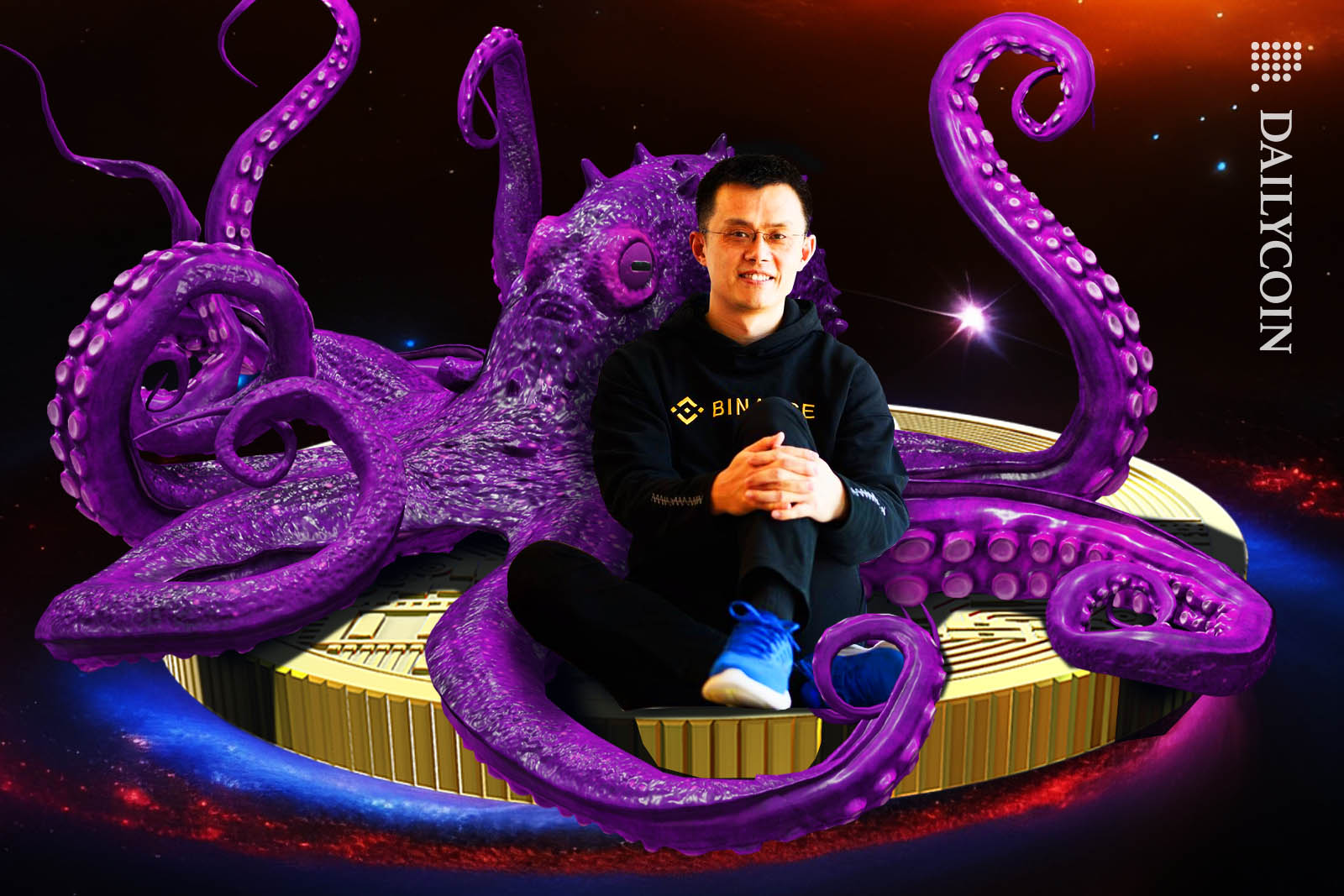 While the cryptocurrency market is still recovering from the devastating crash, it's showing signs of recovery. With over 420 million people – or 4.2% of the world's population – investing in Bitcoin (BTC), Ethereum (ETH), Cardano (ADA), Litecoin (LTC), Tether (USDT), and Dogecoin (DOGE), it's just a matter of time before things return to what they used to be.
When discussing the best crypto exchanges, two names always seem to come up: Binance and Kraken. And it's easy to see why. 
Both cryptocurrency exchanges have millions of users, are among the Top Ten largest exchanges in volume, and have helped people earn millions of dollars. Whether an advanced trader or a beginner, these two crypto exchanges got something for you.
But which one is better? And which one would suit your sensibilities, trading style, and, most importantly, budget? When choosing between Binance and Kraken, there are several important factors that you should consider.
Important Things to Keep in Mind When Comparing Exchanges
Did you know that between 2015 and 2023, the price of Bitcoin increased by 170,000%? Naturally, this attracted millions of people to the crypto market and resulted in dozens – if not hundreds – of crypto exchanges launching.
Nowadays, trading and investing in digital assets like cryptocurrencies and NFTs is straightforward. You just need to pick a cryptocurrency exchange, create an account, and start buying/selling/trading cryptocurrencies.
But with so many options, selecting an exchange can be more challenging than actually making a trade. Of course, some factors help you determine whether a particular crypto exchange is the right one for you:
Features: Different exchanges offer varying features, such as the ability to trade a wide range of cryptocurrencies, margin trading, staking, and decentralized trading options. You should evaluate your required features and find an exchange that provides them.
Security: The crypto market can be a gold mine for cybercriminals. That's why you must select a cryptocurrency platform with advanced features. Look for SSL encryption, cold storage, 2FA authentication, and insurance against losses.
Pricing: Every crypto exchange on the market has its own fee structure. These structures can vary significantly. Compare the trading, deposit, withdrawal, and other fees to find the most cost-effective option for your budget.
Payment Methods: Crypto exchanges accept different payment methods, such as bank account transfers, credit cards/debit cards, and cryptocurrency deposits. Ensure that the exchange you choose accepts the payment method that you prefer.
Customer Support: In the event of any issues, you want to reach customer support quickly and efficiently. Look for an exchange with responsive and helpful customer support through multiple channels.
Overview
Many people will recommend Binance as the best cryptocurrency exchange. Others swear by Kraken. Who's right? Let's look at both crypto exchanges to help you discover which one will fit you better.
Binance
People looking to save on crypto trading fees should check out Binance.US. The basic fees for buying, selling, and trading crypto start low for all investors. As your trading volume increases, you can qualify for further discounts.
It's also a user-friendly platform. It takes just a couple of minutes to set up a Binance account. Not to mention that the platform provides educational resources such as courses that help users earn crypto rewards. 
Binance provides many crypto-related products like its NFT exchange and crypto wallet. Lost but not least, the Blockchain brokerage also offers the Binance Coin (BNB), which you can use to pay to trade and withdraw fees or trade for altcoins and stablecoins.
Pros
The fees are some of the lowest on the market
It accepts deposits via credit card/debit card and ACH
There's a great choice of cryptocurrencies
Cons
The security measures could be more transparent
The user interface might be too complicated for beginners
Limited trading options for US users
Kraken
Kraken is a highly recommended cryptocurrency exchange for advanced traders seeking a comprehensive cryptocurrency platform. Its advanced features include many cryptocurrency options, flexible staking choices, and accessible customer support with 24/7 phone service. 
While Kraken's fees may seem expensive, its more advanced Kraken Pro platform offers more reasonable pricing. As your 30-day trading volume increases, you will benefit from lower trading fees, making it an excellent choice for high-volume traders.
Overall, Kraken is a platform that provides advanced traders with the tools and support they need to take advantage of the dynamic cryptocurrency market.
Pros
95% of Kraken crypto assets are kept in cloud storage
It's accessible to users in 96% of American territory
The verification process is simple, and ease of use is high
Cons
Can't deposit or withdraw funds via ACH
It doesn't come with a standalone crypto wallet
A relatively steep learning curve for beginners
In-depth Side-by-Side Comparisons
We will give you an in-depth overview of both cryptocurrency exchanges to understand the Kraken vs. Binance debate better.
Stat Comparison
First, let's look at some of the statistics of both crypto exchanges and compare them. All of these numbers have been taken from CoinMarketCap.
Binance
24-Hour Trading Volume: Over $10,100,000,000
Average Liquidity: Nearly 900
Weekly Visits: Over 13.7 million
Number of Markets: Over 1,600
Number of Coins: Over 380
Kraken
24-Hour Trading Volume: Over $553,000,000
Average Liquidity: Over 750
Weekly Visits: Over 1.2 million
Number of Markets: Over 700
Number of Coins: Over 220
User Reviews/Ratings
Let's see how users and online reviews rate these cryptocurrency exchanges.
Binance
2.0 out of 5.0 stars on Trustpilot
4 out of 5 stars based on 149 G2 reviews
4.4 out of 5.0 stars on Investopedia
Kraken
2.7 out of 5.0 stars on Trustpilot
4 out 5 stars based on 19 G2 reviews
4.2 out of 5.0 stars on Investopedia
Feature Comparison
A crypto exchange is only as good as its features. Luckily, both Binance and Kraken come with some unique and strong features. 
Binance
Binance comes with analytical tools and a handy mobile app
There are features for social trading
Comes with excellent educational material
Kraken
Kraken also comes with a set of analytical tools
The mobile app has iOS and Android versions
No copy or social trading features
Security Comparison
With the cost of cybercrime topping $8 trillion in 2023, staying safe pays off. Here are some of the safety features of these two crypto exchanges.
Binance
Kraken
Has never been hacked in its long history
Cold storage, servers protected by guards
API key permission control, two-factor authentication, SSL encryption
Pricing Comparison
Kraken and Binance have competitive fee structures. But which one will pay off more?
Binance
0.02% to 0.10% fee per trade
3% to 4.5% for credit card/debit card purchases
Free SEPA transfer to $15 per US wire transfer
Kraken
Between 0% and 0.26% fee per trade
0.5% + 0.9% or 1.5% for ACH purchases
3.75% + €0.25 for credit/debit card purchases
Payment Methods Offered
To use a crypto exchange, you need to be able to deposit and withdraw funds quickly. Here are some of the payment methods offered by each exchange.
Binance
Supports over 350 crypto and fiat currencies
USD, EUR, GBP, CAD, JPY
MasterCard, Wire Transfer, Visa
Kraken
Supports over 150 crypto and fiat currencies
USD, EUR, GBP, CAD, JPY
MasterCard, Wire Transfer, Visa
Customer Support Comparison
How convenient are customer support agents at Binance and Kraken?
Binance
24/7 email support
Live chat on the exchange during certain hours of the day
Kraken
24/7 phone support
24/7 live chat on the exchange
24/7 email support
Company Info
Let's round things up by looking at the company information of each platform.
Binance
Company Name: Binance
Year of Origin: 2017
Headquarters: Malta
CEO: Changpeng Zhao
Subsidiaries: Sakura Exchange; Trust Wallet; Binance Charity
Availability: Over 220 countries
Maximum deposit: $50,000
Maximum Withdraw: $1 million
Kraken
Company Name: Kraken
Year of Origin: 2011
Headquarters: United States
CEO: Dave Ripley
Owner: Payward, Inc.
Availability: Over 190 countries
Maximum Deposit: Unlimited
Maximum Withdraw: Unlimited ($5,000daily limit)
On the Flipside
Both crypto exchanges have significantly low scores on user-generated review websites like Trustpilot.
There are less complicated options for beginners and weekend traders than Binance and Kraken.
Why This Matters
Selecting the suitable crypto exchange is essential for crypto investors. Security needs to be at a high level so your money remains safe. Low trading fees should help you make a good profit. And customer support needs to be on point so you can get help if anything happens.
Conclusion
What should be the perfect choice for you? If you want to withdraw money with PayPal and are new to crypto trading, Binance is your pick. On the other hand, Kraken has better security and more features. In the end, the choice of a cryptocurrency exchange is entirely up to you. Assess your needs well and pick.
FAQs