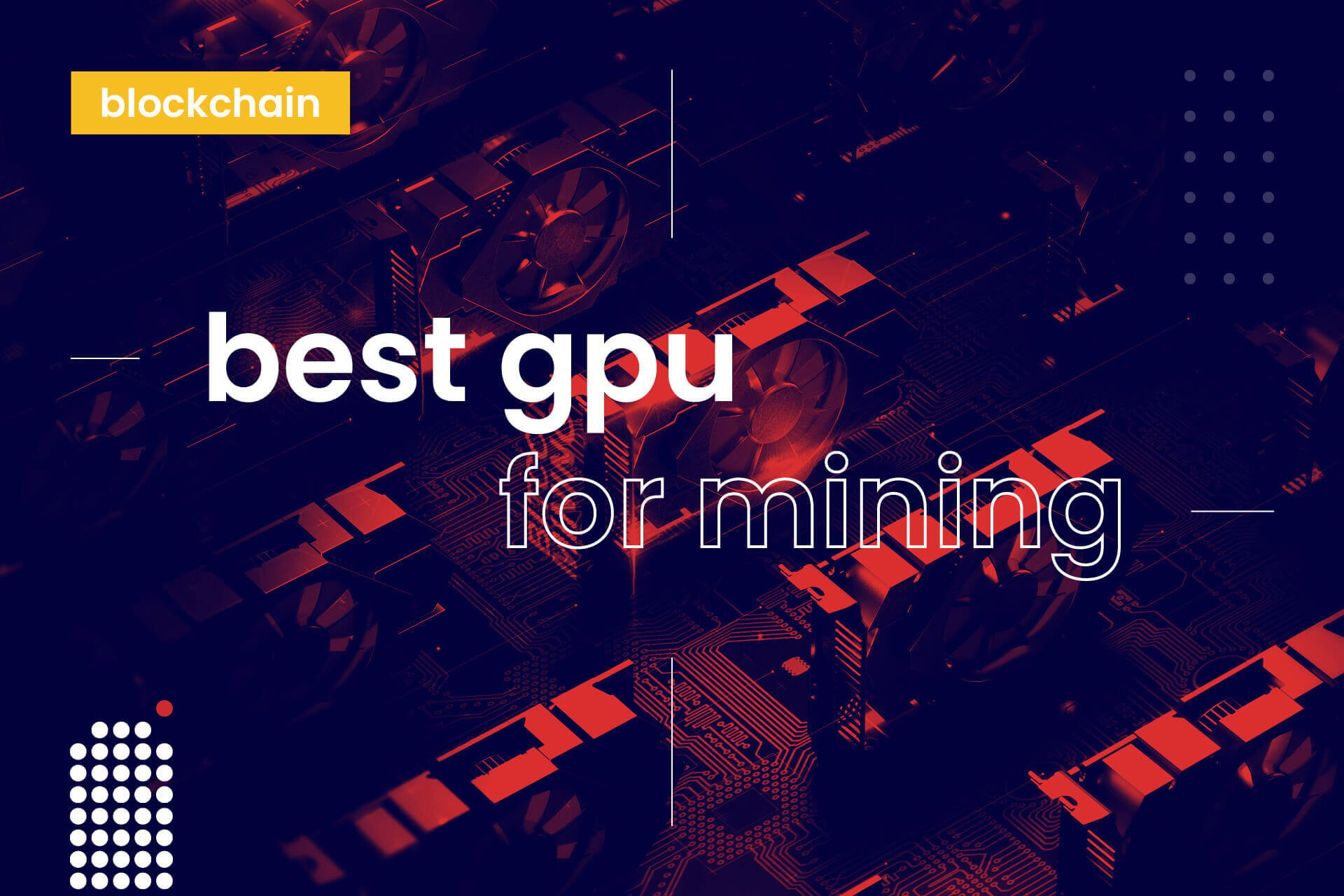 Mining with a Graphics Processing Unit (GPU) is considered a cheaper cryptocurrency mining option compared to specialized ASIC mining.
It enables the efficient mining of multiple altcoins.
Choosing a GPU mining hardware depends on a variety of factors like your skills, goals, and budget.
The cryptocurrency industry does not sit still. New coins emerge and evolve, and the prices of the leading ones are greening again. The demand for digital coins hasn't disappeared anywhere.
The cryptocurrency industry has gone a long way in the past few years. And despite massive shifting to a specialized and powerful ASIC mining hardware, generating new coins with graphics cards is still in demand. But can it be profitable? And what is the best GPU for mining? Follow this guide for answers on what hardware to choose for minting new coins.
5 best GPUs for crypto mining:
Nvidia GeForce RTX 2080 Ti
Nvidia GeForce GTX 1080 Ti
Nvidia GeForce GTX 1660 Ti
AMD Radeon RX 5700 XT
AMD Radeon RX 580
What is cryptocurrency mining?
Cryptocurrency mining refers to a process when you get rewarded for confirming blockchain transaction blocks. Newly mined cryptocurrencies are like "commissions" for miners who make blockchain's smart contract blocks valid and legitimate.
The argumentation is simple. Mining (or confirming blocks) requires a huge amount of computational power (hashrate) and respectively the electric power. Since the latter comes at its price, participating in blockchain needs to be compensated. Otherwise, it is non-profit and pointless.
The important thing here is the hashrate, the measure of the computational power of a certain device (node). The more miners compete for the block, the more difficult it becomes to solve mathematical puzzles and win it. The increased competition helps to pick the ones with the highest hashrate to win a block and get a reward.
GPU mining means cryptocurrency mining with graphics cards (GPU). Despite the fact that GPU mining is considered less efficient and powerful than ASIC mining, it has the indisputable advantage: flexibility.
Mining with GPUs allows efficient mining of multiple altcoins (especially Ethereum). Meanwhile, ASICs are built for a single mining algorithm, which requires the adoption of various types of expensive hardware for different currencies.
Furthermore, GPU mining is considered a cheaper mining option. The hardware itself is more affordable and requires less energy. On the other hand, the GPU does not perform alone. Keep in mind that you'll have to invest in additional hardware like CPU, RAM, or SSD to have a completed and operating crypto mining rig.
Finally, the GPUs market is diverse. The choice of your mining hardware depends on a variety of factors like your skills, goals and budget.
How to choose the proper GPU
Mining with GPU means only using the external graphics cards, that are much more powerful, efficient, and practical compared to the integrated ones. Besides that, keep in mind the following factors to make your investment pay off faster.
The most important feature to evaluate is the mining power that the GPU card generates. Expressed as a number of hashes per second, the hashrate depends on the GPU you are using. It also might differ according to which cryptocurrency it is mining.
The amount of Video Random Access Memory (VRAM) is important. Some digital currencies require different amounts of memory. For example, lower memory may be enough for mining Monero (XMR), meanwhile, Ethereum (ETH) mining will require higher GPU memory.
Power consumption means expenses. This is why the lower it is, the more profit you keep to yourself. Despite that, the GPUs with the lower power consumption do not heat up so fast, meaning that they also don't require a special cooler. It is also possible to reduce the GPU power consumption slightly depending on which coins you're mining.
Price is as well an important factor. Evaluate the ratio of price to other features like hashrate or power consumption in order to meet your needs and mine cryptocurrencies profitably.
Navigating through the graphics cards might be an exhausting task when choosing the best GPU for mining. There are different selection criteria to evaluate, like the novelty, the efficiency and also the price.
Indeed it might be worth looking for the new GPUs. The used graphics cards are cheaper, but they do wear out by regular usage too. Such graphic cards do come with the risk, so you should evaluate this aspect as well.
The newer GPUs tend to be more efficient and thus are better choices for cryptocurrency miners. On the other hand, they are more expensive than older-generation ones. Here you'll find the range of graphic cards, from high-end to budget ones.
1. Nvidia GeForce RTX 2080Ti
Worth the money for extra hashrate
Hashrate: ~ 50 Mh/s
Memory: 11 GB
Price: ~ $1.900 at Amazon
NVIDIA is one of the leading GPU manufacturers. Its Nvidia GeForce RTX 2080 Ti is one of the best crypto mining graphic cards, although released back in 2018. RTX 2080 Ti has 11GB of GDDR6 memory and 14 Gbps memory speed, which allows mining any cryptocurrency on various algorithms.
According to the manufacturer, Nvidia GeForce RTX 2080 Ti supports the advanced Turing architecture (enabling the real-time ray tracing) and the RTX platform, which gives up to 6 times faster performance of previous-generation graphics cards.
This GPU from Nvidia might work up to 50 Mh/s hashrate, however, it requires a high amount of energy with 250W power consumption. Despite this fact, it can be a productive choice for mining crypto coins.
2. Nvidia GeForce GTX 1080 Ti
Few generations old, but still a top-notch
Hashrate: ~35 Mh/s
Memory: 11 GB
Price: ~ $800 at Amazon
The GeForce GTX 1080 Ti is Nvidia's flagship GPU of 10 series, based on the NVIDIA Pascal architecture to deliver up to 3 times faster performance of previous-generation graphics cards. A popular GPU model, first announced in 2014. Despite being a few generations old, it is still one of the top-tier options in 2020.
The card comes with 11 Gbps GDDR5X memory and can reach over 35 Mh/s hashrate on the Ethash (Claymore) algorithm. The GDDR5 memory has long been the acknowledged standard of the fastest graphics card memory. Meanwhile, the next-generation GDDR5X comes with significantly (even up to 14Gbp/s) increased speed.
Nvidia GeForce GTX 1080 Ti requires 250W of electricity, which shows it is a highly powerful graphics card. Keep in mind your local electricity prices to mine coins profitably.
3. Nvidia GeForce GTX 1660 Ti
Hashrate: ~30 Mh/s
Memory: 6 GB
Price: ~ $300 on Amazon
The Nvidia GeForce GTX 1660 Ti is the 16 series graphics card based on the Turing architecture. Released back in 2019 it is one of the best budget GPUs for mining.
With 12 Gbps memory speed and 6GB GDDR6 memory Nvidia GeForce GTX 1660 Ti can work with the most of cryptocurrency mining algorithms and is able to reach around 30 Mh/s hashrate on Ethash.
Compared with the later generation graphic cards, Nvidia GeForce GTX 1660 Ti comes with almost twice lower power consumption (around 120W) that also helps to keep the profits higher.
A go-to option for budget miners
Hashrate: ~40 Mh/s
Memory: 8 GB
Price: ~ $400 on Amazon
AMD is another big name in GPU's manufacturing industry offering more affordable prices compared to high-end Nvidia. The company celebrated its 50th anniversary in 2019 and introduced its Radeon RX 5700 XT for the same occasion.
Radeon RX 5700 XT is an 8 GB graphics card built on a new architecture, that allows delivering more performance and consumes less power than its predecessors.
Nevertheless, the graphics card with the newer and faster GDDR6 graphics memory supports up to 448 GB/s memory bandwidth, which is necessary for the fast GPU performance. The RX 5700 XT can reach over 40Mh/s hashrate on the Ethereum mining algorithms. The power consumption though could be higher as the card requires 225W of electricity.
Retro, but still one of the best in the low-price category
Hashrate: ~29 Mh/s
Memory: 8 GB
Price: ~$220 on Amazon
Radeon RX 580 is one of the best performing and crypto miners' favorable GPU. It can reach up to 29 Mh/s hashrate on the Ethereum mining algorithm at the power consumption of around 150 W.
With 8 Gbps memory speed and 8 GB GDDR5 memory Radeon RX 580 is a good GPU option for cryptocurrency miners, who seek the balance between speed and effectiveness. The biggest disadvantage, however, AMD Radeon RX 580 can be a little too noisy graphics card.
Best GPU for mining: comparison chart
Here is a comparison chart showing key specifications for the above-mentioned cryptocurrency mining GPUs.
In summary, cryptocurrency mining is the act of balancing. To mine profitably you need to find a perfect balance between mining the most profitable coin, having the most computational power, and using the right amount of electric power, that would not exceed the possible profit.
GPU mining is not the most powerful hardware for cryptocurrency mining. But it can still help you earn coins if you choose the best GPU for mining. There is a wide range of options from high-end to budget ones to fit your needs.