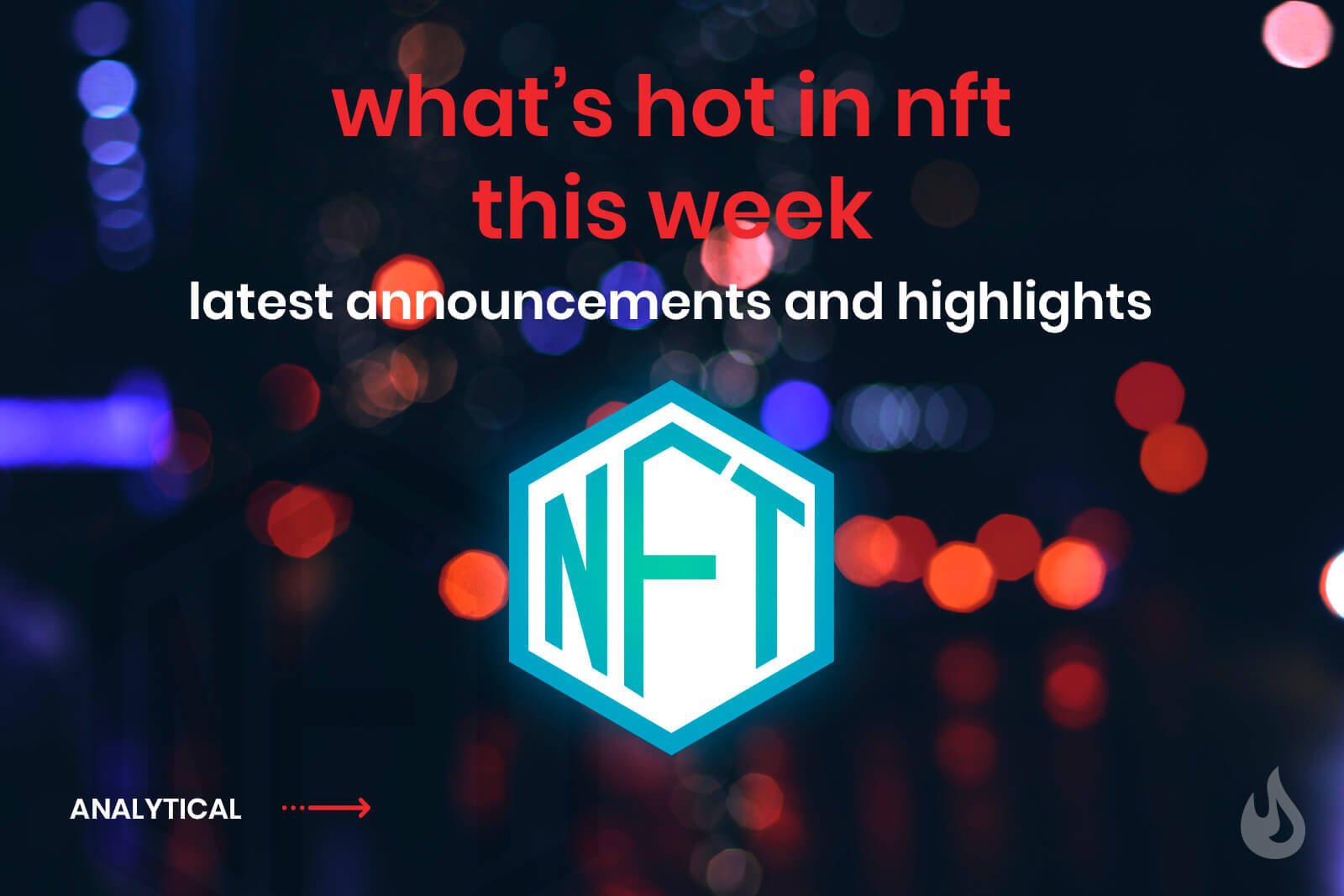 This was an action-packed week in NFT-land filled with exciting releases, events and partnerships. Let's take a quick look at recent developments that highlight the long way that NFT technology has come and how close it is to going mainstream-
Brave Introduces Support for NFT Purchases on the Brave Swag Store
Today, Brave introduced support for NFT purchases on the Brave Swag Store. The new implementation allows customers to purchase NFTs, such as limited-edition digital collectibles tokenized on the blockchain. The move was announced along with their first-ever NFT sale that will include a total of 30 collectible tokens + physical stickers based on the three winning submissions in their Community Meme Competition.
First NFT auctions on Tezos (XTZ) is a stellar success with tzcolors sale fetching high prices
Unique colour shade NFTs were auctioned on Kalamint, the first community-owned public NFT marketplace on Tezos. There are 1680 TzColors up for sale in three classes: Commonplace (1530 colours), Epic (128 colours) and Legendary (32 colours). The sale was attractive for Ethereum based NFT-users since auctioning on Tezos costs only 0.01 USD, while the costs on Ethereum are almost 20 USD per offer.
Seascape Network NFT Store is Unveiled
Seascape Network, NFT and DeFi gaming platform supported by Binance, has unveiled its native NFT Store with their NFTs named Scapes, complete with minting and staking capabilities. Users are now able to mint or stake Seascape NFTs on their currently released games, or collect the NFTs as collector's items.
IOI Creates a Revolutionary NFT Gaming Platform
Trade Race Manager that used IOI token is now coming to the Polygon Network Blockchain, bringing NFTs, 3D models on Polygon. The car trading and racing game will use ERC-1155 that can offer unique digital NFTs that allow batch transfers of multiple tokens at once and faster than an ERC-721.
First major auction house to test NFT market Potential with launch on NFT art project
Christie's will soon be auctioning "Everydays — The First 5000 Days", an NFT-based artwork by Beeple. This will be the first time that a major auction house offers a purely digital artwork.
Beeple set out in May 2007 to create and post a new work of art every day and has not missed a single day in the last 13 years, creating a new digital picture every day, individually known as Everydays. These pieces are now compiled into a single composition, entitled Everydays — The First 5000 Days, which Christie's describes as "one of the most unique bodies of work to emerge in the history of digital art."
The beginning of completely anonymous NFT auctions?
SecretSwap, the first cross-chain and front-running resistant decentralized exchange, launched on Secret Network mainnet on February 17, 2021. Using the SNIP-20 secret token standard and Secret Ethereum bridge, the networks launched the Secret Auction web3 app, a crypto auction platform with privacy for DeFi by default. Bids are completely secret: Bidders can't see if there are any other bids, and sellers can only know if there have been any bids, but not how many and until the auction is closed, no price info about any bids is known by anyone, and after the auction is closed the only information revealed is the winning bid, without the involvement of any third party.
Acclaimed Musician 3LAU Launches First NFT Album on Origin's Dshop
Top blockchain influencer and renowned musician 3LAU has partnered with Origin for the three-year commemoration of his Ultraviolet album, making it the first to be sold as an NFT. Starting February 25 at 10 pm ET, 3LAU fans will place bids on one of 33 NFTs for the next 72 hours. After February 28, winners will be able to redeem these for special edition vinyls, unreleased music, unique experiences, and bonus song NFTs.
Lohan on Rarible opened a competition for anyone to purchase at least one of her NFT tokens. The holders would stand a chance to randomly win the prize of 5.995 Ether, or around $10k that she deposited for the winner, with the rest of the proceeds from the token sale going to charity.
Pioneer DeFi and NFT Game Platform AnRKey X Integrates Chainlink VRF on Mainnet
AnRKey X, the pioneering decentralized finance gaming platform, announced a new mainnet integration with the industry's most widely-used oracle solution, Chainlink. The integration involves AnRKey leveraging the Chainlink Verifiable Random Function to randomly select weekly prize winners of AnRKey X's Rare and APY power boosted Non-Fungible Tokens.
Capcom launches collectible tokens of the legendary game Street Fighter on the WAX blockchain
The fighting game Street Fighter is turning 30 years since it was released in the arcade version and to celebrate the anniversary of its most awarded work, the Japanese developer Capcom is bringing its characters to the Worldwide Asset eXchange blockchain.
The official launch of Street Fighter's collectible digital cards or non-fungible tokens took place on February 18. The sale of the 262 unique cards will be for a limited time so it will close on February 19 at 12 pm.