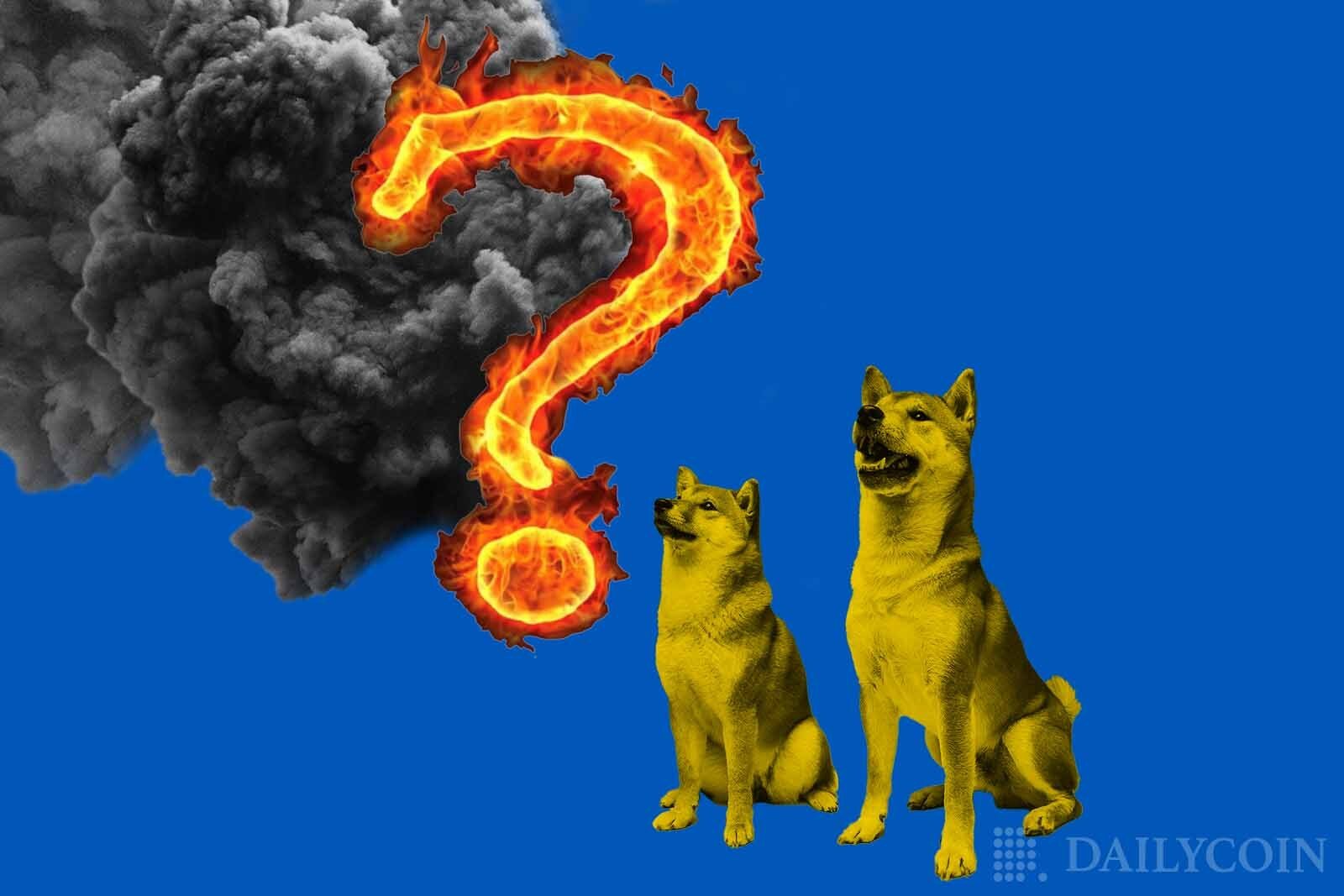 Although coin burning is not a new practice in the cryptocurrency space, only a few people understand what it means, how it works, and what role it plays in a crypto asset's supply. In this article, we'll explain crypto burning by using popular meme tokens Shiba Inu and Dogecoin as case studies.
To understand what happens to the likes of SHIB or DOGE tokens when they see burning records, one must first understand what crypto burning is and how it works. So what is crypto burning?
Understanding Crypto Burning
In simple terms, "burning" in crypto refers to the process by which a portion of crypto assets is permanently removed from circulation. In other words, by burning a crypto asset, one is technically withdrawing a specified amount of crypto units from a crypto asset's overall market supply, and subsequently transferring them into what is described as a burn address (i.e a dead wallet).
The burn address, on the other hand, is a dedicated wallet address that is customized to only receive crypto-assets but cannot send or spend them. As a result, crypto-assets that are sent to this address cannot be retrieved and are automatically rendered useless, or "burnt." So why do crypto projects do this?
What's the Point of Crypto Burning and How Does It Work?
To begin with, it's important to dispel the widespread misconception that crypto burning is limited to specific crypto assets. On the contrary, any cryptocurrency in circulation, including the likes of Bitcoin (BTC), Ethereum (ETH), and Cardano (ADA), can be burned. And as you may know, there are various reasons why crypto assets are being burned.
One of the most common motives for crypto burning is to reduce a crypto asset's overall market supply. Typically, this is done in the hopes of triggering a "deflationary" event, in which scarcity occurs as a result of the decrease in circulating supply; hence, increasing the value of the crypto asset.
However, while most cryptocurrencies are burned mainly to achieve deflation and stability, the process of doing so varies across different types of crypto assets. For instance, the above process may not be applicable to stablecoins for unique reasons.
In order to maintain a stable value that is proportional to the value of their underlying (i.e. pegged) asset, algorithmic stablecoins frequently result in manufacturing new tokens and burning them afterwards. 
As a result, if the stablecoin's price surges above its pegged asset's value, the protocol's smart contract will automatically issue several new tokens as required to stabilize the asset's value (i.e., bring the price back down, and vice-versa). That said, how is this applicable to meme tokens like Shiba Inu (SHIB) and Dogecoin (DOGE)?
What Does It Mean When SHIB/DOGE Hit Burning Records?
Another important thing to understand in crypto burning is that for every crypto asset with a fixed circulation supply, there is a limit to the number of its token units that can be burned. And this is exactly the case for SHIB and DOGE tokens.
When the limit to which an asset can be burned has been reached then, logically, that means that further burning cannot be achieved, except for private holdings. 
Usually, some crypto projects have regular burning activities programmed into their code, such that the event is scheduled to take place periodically. Interestingly, this automated event will continue to take place until a predetermined limit is achieved.
More so, at the end of each burning, the token value normally experiences a surge in value, although in some cases, this may last a while, while in others, the market might readjust back to its previous state. However, once a burning limit has been reached, the entire asset value is determined solely as a result of utility.
For instance, Shiba Inu's native token, SHIB, reportedly has a total supply of one quadrillion, although only around half of that, or 549,063,278,876,302 SHIB, is in circulation. While a token with this much circulating supply may struggle to stay valuable, burning a proportion of its circulating supply will help boost its value as a deflationary token. 
Up until April 2022, before the launch of its new "burn portal," SHIBABURN, only about 410 trillion SHIB, or approximately 41% of the overall token supply, had been burned. However, with the latest development, more SHIB tokens can be burned by private holders, thereby plunging the asset's market value.
Notably, the recently-announced platform reportedly recorded a record burn of $288 million in less than 24 hours and approximately 25 billion SHIB tokens in the first two weeks of launch. As a result of this, the token burn rate reportedly went as high as 6,700%. Sadly, the supply is still going up, however, but it is expected to subside after a while.
By all indications, the newly dedicated facility is supposed to drive the burn rate of the SHIB token, mostly by private holders who will now be incentivized for helping to effectively reduce the token circulating supply. In the long run, the move will ultimately boost the value of the token, thereby making it more valuable than it is currently.
Dogecoin, on the other hand, has a total and circulating supply of 132,670,764,300 DOGE, however, no burning mechanism has been put in place yet. While the total supply of DOGE is not as high as SHIB, it may require less burning activities compared to assets with massive supplies.
Regardless, the Dogecoin community has been pushing for a burning mechanism that many believe will ultimately limit maximum supply. When this is done, DOGE may also witness a surge in its overall value in the long run.
Ultimately, crypto burning is a measure taken by crypto projects to reduce the overall token supply, usually after a period of active trading in the market. Unfortunately, it does not always guarantee the success of a crypto asset in the trade market.