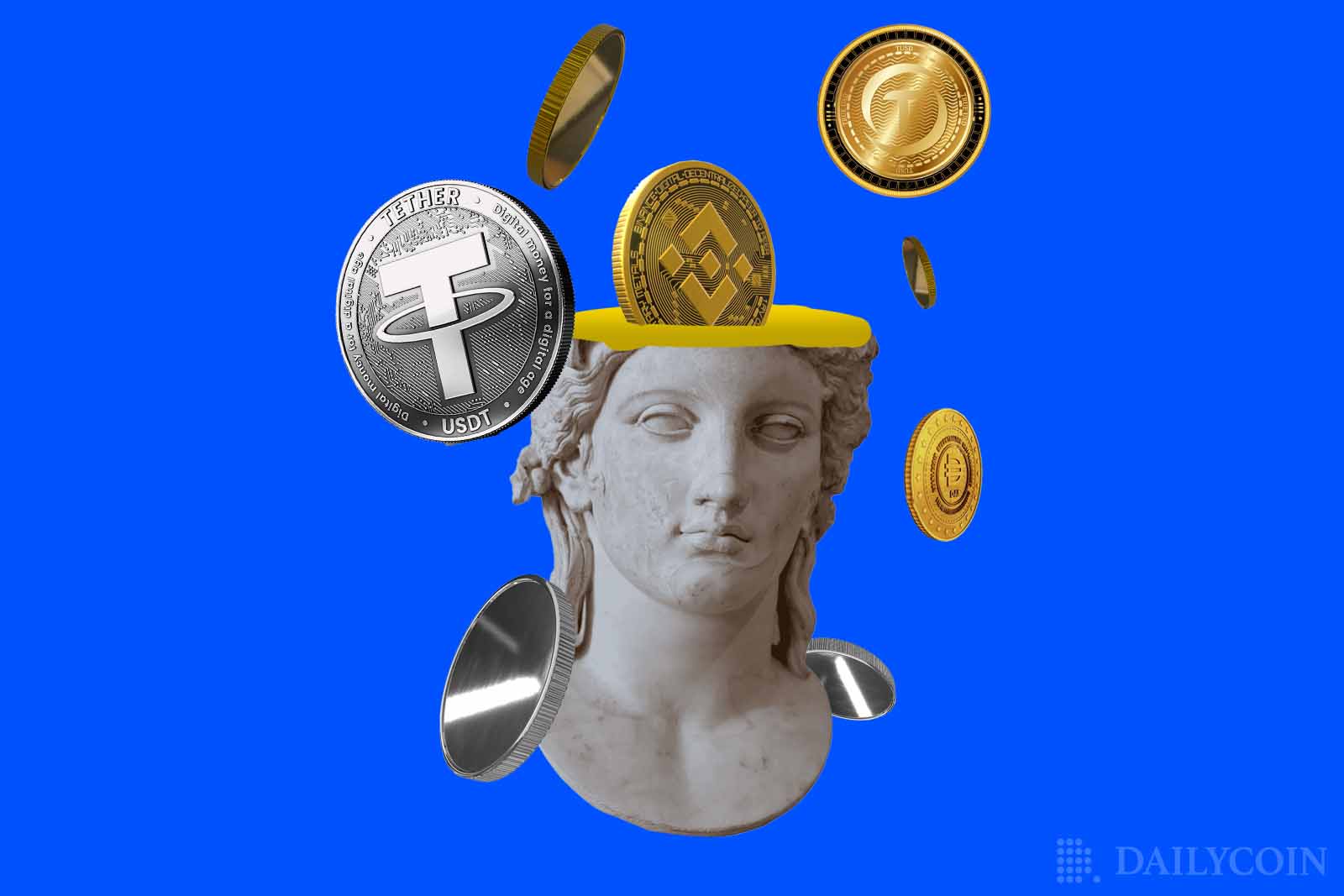 Stablecoins are rescuing many investors from the almost inevitable volatility of the crypto market. Every day, investors get a stake in stablecoins, as they offer greater protection against crypto volatility. These coins are designed to maintain a fixed value while pegged to a less volatile asset, like fiat currency such as the U.S. dollar, euro, or British Pound.
Nowadays, stablecoins are an increasingly popular avenue for investors and companies interested in cryptocurrencies. What's even more exciting for investors is that the Stablecoins' market cap has risen to $153 Billion and has a 13.5% share of the total crypto market cap.
Stablecoins are a promising technology that comes with different benefits, implementation strategies, liquidity risks, and potential acceptance barriers. However, as a potential investor, you are probably wondering about the safest and best stablecoins to dig your fork into. Well, that's why we wrote this piece. Without further ado, let's get to it.
At the top of the list is the USDD algorithm stablecoin launched in May 2022 by Tron on Tron, BNB Chain, and Ethereum blockchains. It is pegged to the U.S. dollar in a 1:1 ratio, meaning that USDD maintains its value at a fixed exchange rate to the U.S. dollar.
USDD is the first over-collateralized stablecoin with multiple mainstream digital assets (e.g. TRX, BTC, and USDT). The USDD protocol provides the blockchain industry with the most stable, decentralized, tamper-proof, and freeze-free stablecoin system, a perpetual system independent from any centralized entity.
This stablecoin circulates on TRON, Ethereum, BSC, and other networks via the cross-chain protocol BitTorrent Chain. Similar to TRC20-USDT, it caters to users' needs by offering them a fast and affordable experience on TRON. It has a market cap of $724.75M.
Neutrino USD is an algorithmic asset fixing protocol that enables the development of stablecoins tied to real-world assets or cryptocurrency. The Neutrino protocol is a set of interacting smart contracts written in the Ride programming language and deployed on the Waves blockchain. Neutrino system is based on three main tokens: WAVES, USDN, and NSBT.
Backed by the US dollar, this stablecoin involves applications like issuance, staking, collateralization, and reward payouts. It is also important to note that these applications are transparent, and their governance system is secured by smart contracts.
It is used as a payment token in various decentralized programs. In addition, it can be traded in various markets. Waves state that the token moves between 8% and 15% a year at stake. Neutrino USD has a market cap of $729.83M.
Paxos hypes the Pax Dollar as the "world's leading regulated stablecoin" on its website. Launched as Paxos Standard (PAX) in 2018, stablecoin Pax Dollar (USDP) emerged in August 2021. Paxos redubbed the coin to more closely identify its name and ticker with the U.S. dollar. 
The USDP is the sixth-largest stablecoin by market cap and is also regulated by the New York State Department of Financial Services, which is one major plus that investors look out for. 
What this means is that there is basically no risk that the funds will be unavailable when you go to redeem your crypto dollars for fiat dollars. Your Pax Dollars are always redeemable at a one-to-one ratio to the US Dollar. USDP has a market cap of $946.23M.
TrueUSD is another reputable stablecoin known to investors and the crypto community at large. It is the first regulated stablecoin fully backed by the US Dollar.
TrueUSD, launched by TrustToken to give crypto traders a non-volatile alternative to Bitcoin (BTC) and free-floating tokens, has made regular auditing a focus since its inception, so it appears prepared for a more regulatory climate.
It offers low transaction fees compared to the wire transfers of fiat funds, and you can trade TrueUSD on 70+ exchanges, 160+ markets, and 20+ OTC desks across five continents. Boasting $1.19B in market cap, TrueUSD is primarily used for earning returns with Luna, Terra's staking and governance reward token system. Other uses include earning returns through arbitrage opportunities across the crypto market. 
Launched by MakerDAO, DAI is a stablecoin without any centralized issuing authority like other stablecoins, thereby guarding against censorship. 
DAI is pegged to the U.S. dollar and uses collateralized debt in the form of Ether (ETH), the native cryptocurrency of the Ethereum blockchain. 
It is unique among stablecoins in that it does not rely on collateral held by a company. Instead, the process is controlled via smart contracts relating to Collateral Debt Positions taken out with MakerDAO.
Among the many benefits of DAI stablecoin is Dai Savings Rate (DSR), which enables Dai holders to earn interest automatically by simply locking their Dai into a DSR contract. The stablecoin has a market cap of $7.46B.
The Binance USD (BUSD) was launched in collaboration with Paxos in 2019. It is a highly regulated 1:1 USD-backed crypto stablecoin. These are digitised US Dollars and are always purchased and redeemed at 1 BUSD for 1 US dollar.
One great thing about BUSD is that you can use it in almost any case that is compatible with the ERC-20 Ethereum platform. Another is BUSD is regulated by the New York State Department of Financial Services, making it highly reliable and secure. 
You can also use this platform for sending money worldwide as their tokens are issued as ERC-20. So, whether you trade short term or are planning to invest for the long term, this stablecoin is great for preserving wealth and stabilizing the value of your portfolio. It allows fast and low-cost anywhere in minutes on the blockchain and has a market cap of $17.86B.
USD Coin (USDC) is a trusted, widely accepted, and highly liquid digital dollar backed by Circle and Coinbase. The stablecoin is based on the Centre technology, built on the Ethereum blockchain, and fully compatible with DeFi solutions applications. 
Known as a fully-reserved stablecoin, every digital dollar of USDC on the internet is 100% backed by cash and short-dated U.S. treasuries so that it's always redeemable 1:1 for U.S. dollars.
To put your mind at ease, USDC reserves are held in the custody and management of leading U.S. financial institutions, including BlackRock and BNY Mellon. You can access USDC liquidity to trade, borrow, lend, and invest across crypto capital markets. The USD Coin stablecoin has a market cap of $54.45B.
Tether (USDT) is one of the oldest stablecoins in the crypto market, having been around since 2014. The stablecoin is pegged 1 to 1 to the USD, meaning that the value of one Tether USDT equals USD 1. Tether claims to have reserves of cash and cash equivalents to back every USDT on the market. 
Tether stablecoin perfectly defines low-risk trading and anti-market manipulation in the digital space and is among the most traded tokens in terms of daily volume.
Investors easily want to go all in with the stablecoin because it maintains world-class standardised compliance measures for anti-money laundering (AML), countering the financing of terrorism (CFT), sanctions, and know your customer (KYC) laws and regulations. Tether has grown in popularity over the past few years, with a market cap of $66.22B.
Stablecoins are widely pegged to assets like fiat currencies, precious metals, and other cryptocurrencies. They are known to be far more stable than regular cryptocurrencies like Bitcoin, Ethereum, and others.
If you're looking for a secure and tight place in the uncertainty of cryptocurrency investments, stablecoins can give you peace of mind and predictable interest rates. All the stablecoins on the list above are top choices and the commonly accepted ones for stablecoin investment. They also offer a good passive income through short-term lending and investing in blockchain technology that hastens up peer-to-peer payments and transactions.
Read more about Tether's proposed GBP-backed Stablecoin: