While the time is still full of uncertainty for the cryptocurrency markets, Tether (USDT) mints millions of new coins.
Yesterday the Tether Treasury, responsible for managing the supply of the world's leading stablecoin, has minted an additional $60 million worth of USDT coins. The minting of new coins was spotted by the WhaleAlert, the tracker of large value cryptocurrency transactions.
A similar scenario occurred a day before when Tether Treasury issued $60 and $50 million worth of USDT coins, minted on the Ethereum blockchain. To sum up, all the mintings from the biggest stablecoin within the past three months, exceed the amount of over $620 million.
The experts from crypto industry have different opinions about the fact. The Bitfinex and Tether CTO, Paolo Ardoino claims the new issuances to be "inventory replenish". He also notes, that:
This is a authorized but not issued transaction, meaning that this amount will be used as inventory for next period issuance requests.
However, he also retweeted the post of crypto trader John Brown, who assumes the unprecedented amounts of newly printed stablecoins might predict the new age of crypto:
Stablecoins are printed in unprecedented amounts. I am sure the same is true for fiat inflow to onramp exchanges. Expect big moves once the sentiment shifts. The crypto age is about to start. pic.twitter.com/IPTpaamQDG

— John Brown (@john_j_brown) March 17, 2020
Positive correlation with Bitcoin
The fact of the USDT issuance seems to have an immediate effect on the Bitcoin (BTC) price on the cryptocurrency exchanges. Nearly at the same time when the fact was revealed, the Bitcoin price surged up around 5% within an hour and continues to grow (at press time).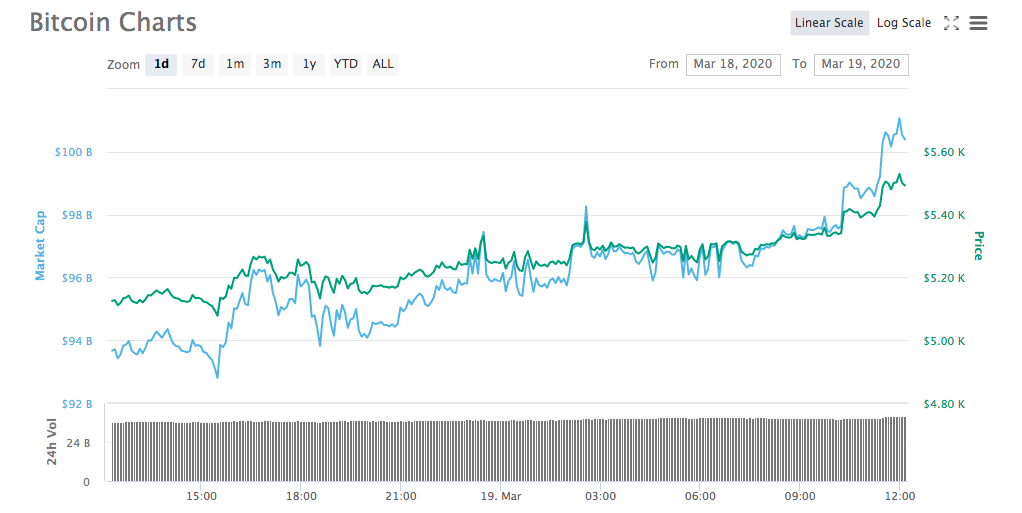 The price uptrend shows the signs of a positive correlation between both digital currencies. Although such parallels seem to suggest that this is a bullish sign to the Bitcoin, there are examples and controversies about the relative movements of two leading currencies.
In the near past cryptocurrency exchange Bitfinex, and it's subsidiary firm Tether have been accused of possible attempts to manipulate the Bitcoin market. The industry has seen cases when whales used massive amounts of Tether to artificially inflate the price of the BTC. Although the company behind Tether declared, that USDT tokens have never been used for the market manipulations, the lawsuit is still in progress.
It is still early to assume that the newly minted millions of stablecoins could have a massive impact on the whole cryptocurrency market, but it is also worth the attention as the recent signs already show the impact on prices.