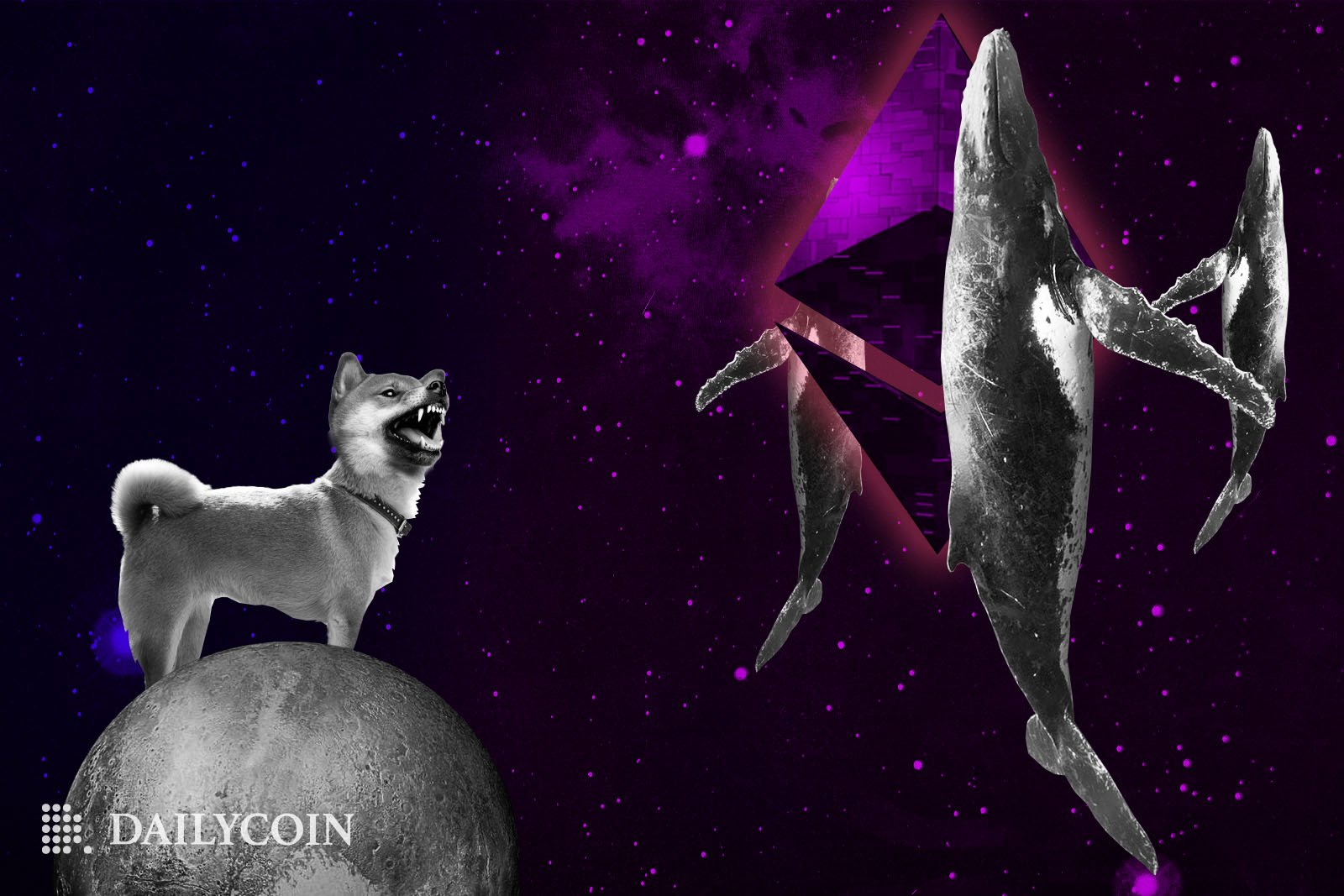 Popular dog-themed meme coin Shiba Inu (SHIB) is seemingly back to fighting off bloodthirsty bears, with the canine coin's market price showing signs of double digit decline over the last 7 days. Nonetheless, the sudden bearish sentiment hasn't stopped the top 5,000 Ethereum whales from accumulating additional Shiba Inu tokens. According to WhaleStats, Shiba Inu (SHIB) is still the top dog, if you'll pardon the pun, amongst the largest whales.
🐳 The top 5000 #ETH whales are hodling

$92,743,696 $SHIB
$65,176,188 $MKR
$62,018,616 $LOCUS
$57,484,632 $BIT
$54,376,230 $UNI
$51,254,083 $LINK
$39,624,020 $MATIC
$38,139,496 $MOC

Whale leaderboard 👇https://t.co/kOhHprRmd1 pic.twitter.com/WhgpdznNqN

— WhaleStats (tracking crypto whales) (@WhaleStats) November 8, 2022
Sleeping Whale Wakes up for the Loot
Interestingly, one Ethereum whale ranked among the TOP 100 was asleep for nearly half a year, until it was spurred into action today. According to Etherscan, over the last 24 hours alone, the sleepy whale has scooped up a voluminous amount of more than 1 trillion Shiba Inu (SHIB) tokens in just three transactions. The Ethereum whale splashed out $11,006,405 on the canine token, which in turn enabled Shiba Inu to hold onto the top spot amongst Ethereum's (ETH) top 100 whales.
In contrast, Shiba Inu's (SHIB) trade volume on the Ethereum blockchain has dropped substantially, resulting in Shiba Inu (SHIB) sliding two positions among cryptos ranked by total market capitalization, with both Polygon (MATIC) & Polkadot (DOT) recently surpassing the SHIB Army's beloved token. That being said, the accumulation of Shiba Inu (SHIB) by Ethereum whales has given indications that crypto giants are adopting a long-term strategy for the Japanese dog themed crypto.
Facts! 😏👊$Shib's still a top held, but NOT top traded token by the biggest Ethereum whales. That's good stuff!

They're not sticking with #shibainu by accident.
Check that data, Shib Army! 💪

— HaleyHiDeF(i) (@haleyhidef) November 8, 2022
Shiba Inu (SHIB) Dips in the Wake of Shibarium
The recent technical developments taking place in the Shiba Inu ecosystem suggest that Shibarium is just around the corner. The Layer-2 upgrade now has a dedicated social & informational hub on Twitter, and lead developer Shytoshi Kusama has been tirelessly working on Shibarium's documentation, marking the first step towards Shibarium's launch.
At press time, the canine cryptocurrency trades at $0.00001100, according to CoinGecko. After recording an 8.2% deficit for the last 24 hours, Shiba Inu (SHIB) is simply soaking in red ink, with a 12% loss in value in the last seven days. Even so, the Shiba Army anticipates Shibarium to be a game-changer for Shiba Inu's (SHIB) market price.
Despite loyalty shown by Ethereum (ETH) whales, Shiba Inu's (SHIB) burn rate continues to fall.
Shiba Inu's (SHIB) total market cap has dropped by an eye-watering $1.5B in the last 7 days.
Having amassed more than $92 million worth of Shiba Inu (SHIB) tokens, Ethereum (ETH) whales can potentially play a huge role in the meme token's transition to becoming a self-sufficient ecosystem.