EMCD, an industry-leading mining pool and mining-oriented ecosystem, has revealed their 2021 results via a dedicated annual report published the previous week. Despite significant market fluctuations and a series of regulatory hurdles that occurred in China throughout 2021, EMCD has straightened its positions and shown tremendous growth in terms of vital product metrics.
The team stated that during the year, their services showed no signs of downtime, making the pool and other services accessible 24/7 for the whole cryptocurrency world. A zero-incident track record was possible thanks to the wisely-structured system architecture and constant monitoring.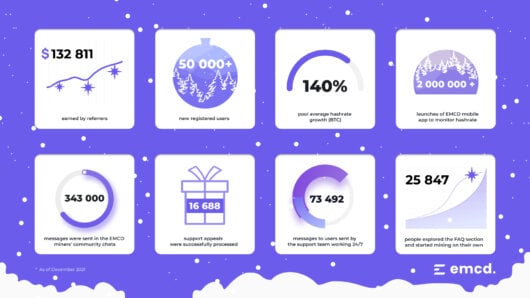 EMCD pool has shown considerable growth in terms of user acquisition with more than 50,000 users registered throughout 2021. This resulted in a subsequent increase in the pool's average hashrate (BTC) by 140% compared to the previous year, allowing EMCD to enter the list of the top 10 mining pools around the globe.
Other vital metrics followed the general growth trend. The EMCD support team successfully processed 16.5k support appeals with a total of 73k+ messages sent by the support team in total. The team also underlined that more than 343k messages were written in the EMCD miners' community, which details considerable community engagement.
The referral program has also shown all signs of sufficiency, resulting in more than $132,000 earned by EMCD users as a reward for introducing new clients to the pool. That was in particular achieved due to significant updates introduced for the referral program. From then on, all EMCD clients accessed the extended commission fee discounts amounting up to 30%. It's also worth noticing that users checked the pool's hashrate more than 2,000,000 times through the official mobile application.
When reached, Mikhael Jerlis, CEO and Founder of EMCD, shared his thoughts on the results of 2021:
"We couldn't be more proud of the results achieved this year. I would like to thank the whole team for their contribution and all our users for their continued support. We've got more ambitious plans to deliver in the upcoming months, sculpting EMCD into a mining ecosystem suitable for both retail users and enterprises, and I'm sure that our strategic approaches should pay off."

EMCD warmly welcomes crypto miners with a 30% reduction in fees by entering NEWYEAR22 promo code or via the link. With the discount applied, end users will be pleased by fees as low as 1.05% for three starting months.