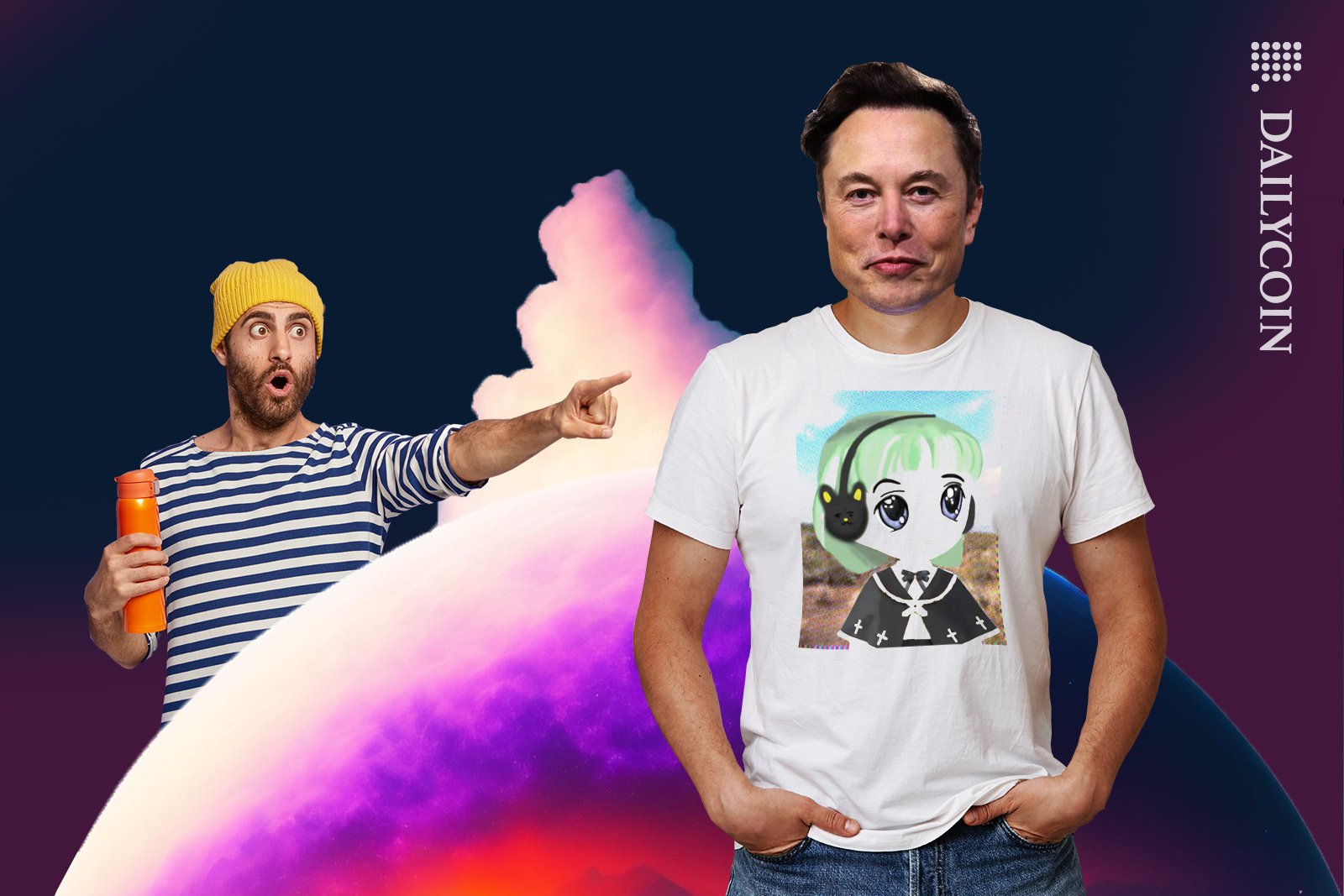 Twitter is buzzing with Milady speculations as Bybit lists the token.
Milady Maker profile picture NFT collection reaches an all-time high.
Milady Meme Coin (LADYS) catapulted by 11,632% after Musk's meme.
Twitter and SpaceX CEO Elon Musk has done it again – the Chief Twit's recent post echoed in the cryptosphere, instantaneously sending the emerging out-of-the-blue memecoin Milady Meme Coin (LADYS) up by a whopping 11260.5%. 'The Dogefather' posted the trademark Milady meme with the upper line saying "There is no meme." The lower tag concludes: "I Love You."
Right after the message, the Milady Maker NFT collection NFT floor price soared to 4.91 Ethereum (ETH), which equals $8,969. Instantly topping its all-time high (ATH), the popular yet controversial project has been around since August 2021 but quadrupled in NFT floor price since March 30, 2023.
Out of Nowhere: Milady Meme Coin Inks 11,632%
Besides the NFT price skyrocketing, the recent meme tweet by Elon ignited a massive daily bull run for a previously unknown memecoin. Inspired by the Milady NFT collection, the token soared to the TOP 250.
At press time, Milady Meme Coin (LADYS) trades at $0.000000113138, according to CoinGecko. Capped at a max supply of 888,000,888,000,888, the neo-chibi aesthetic-inspired street-style memecoin has already been welcomed by Bybit, a major crypto exchange headquartered in Dubai.
Mysterious Wallet Created an Hour Before the Stunt
Interestingly, Blockchain data analytics firm LookOnChain detected one new wallet address on the Ethereum network created just one hour before Elon Musk's stunt.
According to on-chain data, the mysterious investor bought eight trillion LADYS tokens after withdrawing 25 ETH from Binance. They were the only two transactions made by the account, raising eyebrows for crypto investors.
On The Flipside
Milady imagery is tied to a Nazi cult, allegedly responsible for the suicide of an underage girl.
Milady NFTs openly use concentration camp names, while the founder is notorious for hate speech.
Originating from 4chan.org, Remilia are self-proclaimed "art extremists," referring to their far-right views.
Why You Should Care
The memecoin frenzy presents many opportunities for crypto investors and generates social mentions for crypto and blockchain tech.
Delve into the latest cryptocurrency news:
How Is Circle Reducing Its Exposure to U.S. Debt Default Risk?
Tether Beats Stablecoin Turbulence with $16B Market Cap Rise