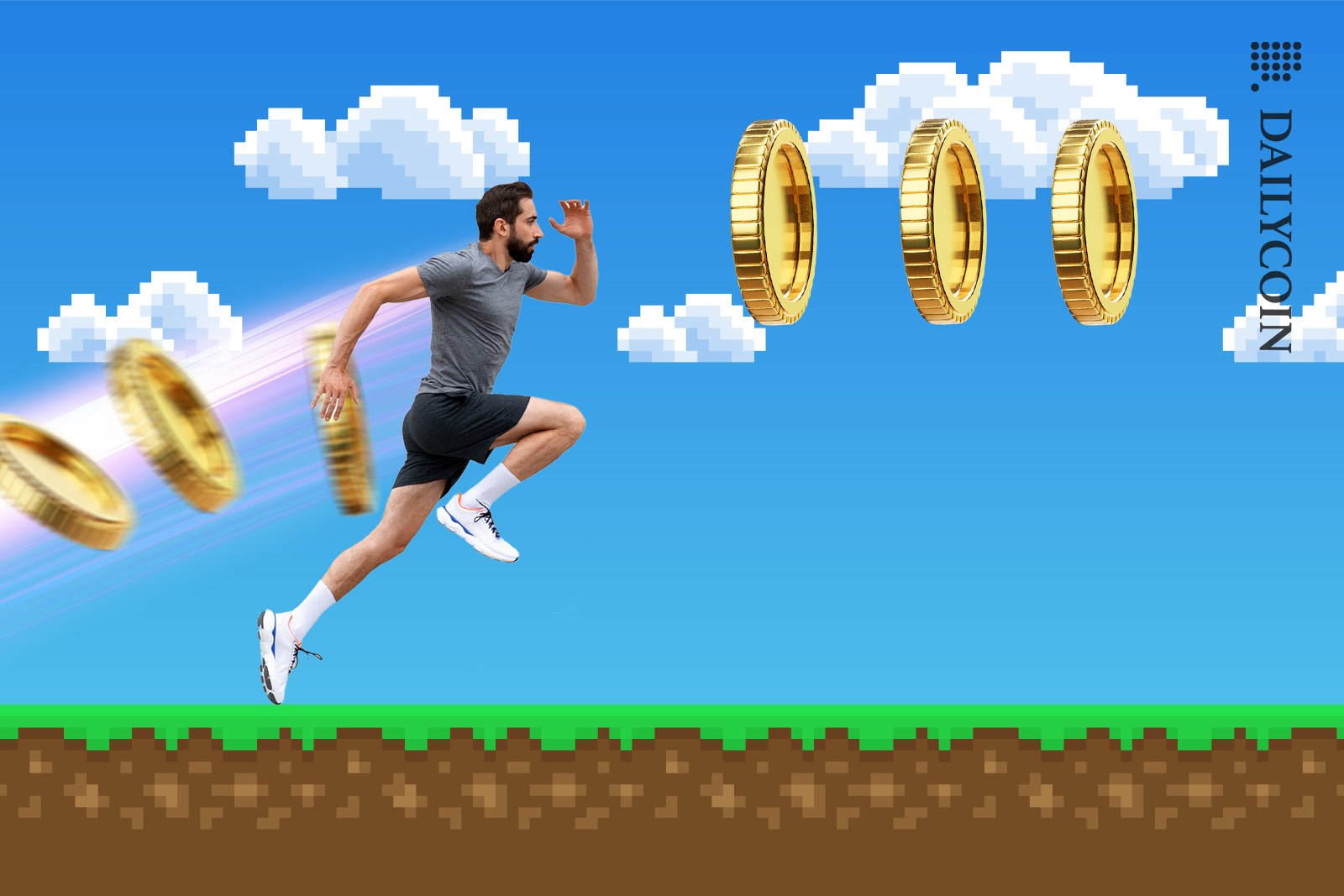 How would you like to get paid for basic fitness challenges like walking?
Move-to-earn projects offer financial rewards for physical activity. After the success of Genopets and Dotmoovs, we're seeing a surge in these kinds of earn crypto game apps. 
In this article, we'll list five of the best move to earn games in 2023. Then, we'll discuss their unique features and list their pros and cons. So grab your workout gear and get ready.
We've chosen the platforms that fulfill one or all of the following criteria: a low barrier to entry, early in their development phase, and available to different types of users (for example, support different types of workouts or work on multiple operating systems (such as Android, browser, and iOS)).
The Niche Is Still in Its Infancy, With the Potential for Incredible Growth
We know that fitness trackers can be addictive because they provide the perfect dose of motivation by showing the number of steps or calories and placing you on virtual leaderboards or setting personal milestones.
Move-to-earn apps offer a better incentive to move: financial reward. Hence, these projects can replace fitness trackers or merge with them.
That presents an opportunity for giants in the health and fitness niche, such as Nike and Adidas, to gamify fitness, link their apps with crypto tokens, and increase their value.
There are opportunities for virtual reality (VR) and augmented reality (AR) experts to do their magic to set their projects apart.
Open to Everyone
Move-to-earn games generally don't have a learning curve. Hence, they are welcoming to a large audience. More participants mean more demand for the tokens and increased value.
Move-to-earn apps are the perfect blend of the physical and digital worlds. These innovative ways promote a healthier lifestyle and physical activity, attracting health-conscious demographics.
In addition to financial rewards, these projects also offer health and community benefits.
The Best Move-to-Earn Platforms With a Low Barrier to Entry
You're probably eager to get started. So here are the best platforms to help you get in shape and earn cryptocurrency simultaneously.
Some of them are simple exercises, while others are complete workouts. Check them all out and see which ones work for you.
1. Sweatcoin (SWEAT)
Sweatcoin is one of the top move-to-earn games in 2023. This is the second-highest move-to-earn project by market cap (approximately $38.66M) as of April 2023.
The token was bullish at the start of this year, where it saw a 36.7% gain in the first two months. You can earn one Sweatcoin (SWEAT) for every 1,000 steps, then exchange the token on the platform's marketplace and get high-tech shoes, iPhones, anti-gravity yoga classes, and more.
However, the reward will decrease as the move to earn game ages to retain the token's value.
Pros
You have to walk to earn coins. Anyone can do that. Hence, it has a low barrier to entry.
The project will keep burning SWEAT, thus ensuring its value remains high.
You can explore several investment features in the new Sweat Wallet app and stake your tokens there.
Your SWEAT coin is good for purchasing NFTs and donating to chosen causes.
Available for Android and iOS.
Cons
The monetary value of the rewards is relatively insignificant as of now, 1 SWEAT=$ 0.0091803.
2. Step App (FITFI)
Another top move-to-earn project for 2023 is Step App. Olympic champion Usain Bolt is an ambassador for the app, which speaks to the popularity and public confidence in the app. The app's development team is highly experienced in blockchain and web3.
FITFI is the governance token. KCAL is the ecosystem token you can earn if you complete fitness challenges or personal milestones, then use to mint new sneakers (SNEAK), which are move-to-earn NFTs.
Pros
Available on Android and iOS. There's also a web version.
The app has a feature to make running or walking a group activity to earn tokens with friends.
The app has social and competitive experiences to keep the users engaged and excited to exercise.
Cons
You must buy a sneaker NFT to earn crypto after the 7-day trial period.
The token isn't listed on major centralized exchanges.
3. Ezzy (EZY)
Ezzy is an up-and-coming move-to-earn app in 2023. You can install the app and earn tokens by setting up your account quickly and getting in-app sneakers.
Different workouts are compatible with the Ezzy app. You can exercise outdoors or indoors to earn EZY tokens.
Additionally, you can play games in the app without physically moving in the real world and make money through that.
There are specific minimum requirements to earn rewards, such as moving for at least 10 minutes daily at 2–20 km/hour.
Pros
Available on Google Play, iOS App Store, and Huawei AppGallery.
Easy to use interface. There are no complex GameFi components, such as sneaker repairs or extra avatar attributes. You also don't need advanced strategies to win prizes.
You can use a particular pair of sneakers for a specific limit (called durability parameters). That prevents an oversupply of EZY tokens and ensures its value.
Cons
Minting or buying sneakers with EZY can cost money. However, you get trial sneakers for free for a limited period and can earn money with them.
The Best Move to Earn Apps Early in Their Roadmap
Not all apps are equally far ahead in the game, but that doesn't mean you should dismiss them. Here are some apps you should keep tabs on to prepare when they roll out.
Check them out, consider joining their waitlist, and get ready to rumble with them when they launch.
4. Fight Out (FGHT)
Fight Out is a Web3 move-to-earn app that completed its presale in early 2023 and raised $6.2m. Some of the top MMA fighters and fitness influencers are ambassadors of this app, which has contributed to its popularity.
$FGHT is the project's native token, which you can buy from their website or earn in the game.
Your avatar is linked to your real-world fitness. REPS is the in-app currency that you can earn through real-life training. You can then use it for in-game purchases to upgrade your avatar.
The stronger your avatar is, the more fights you can win in the game and the more rewards you can get. You earn $FGHT by in-app competing and fighting.
Pros
You can exchange $FGHT for FIAT on many centralized crypto exchanges.
Interactive app that links your real-life fitness to your in-app avatar's fitness.
You can socialize with other avatars in the Fight Out metaverse.
Cons
You must mint your NFT avatar when opening an account.
Your avatar can't be sold or transferred.
You may have to pay entry fees with $FGHT for competing in certain in-game tournaments.
5. MetaGym (MGCN)
MetaGym is a move-to-earn game, which converts your heart rate to money, even when you sleep. You must create or mint an avatar (MetaGym Buddies) and then connect your heart rate monitor to the app.
This project is built on the Polygon blockchain and has a Polygon-based cryptocurrency. MetaGym Coin ($MGCN) is the governance token, and the heart rate token ($HRT) is the in-game utility token.
To earn heart rate tokens, you must log health behaviors and complete weekly and monthly challenges.
The app is similar to a traditional fitness tracker. You can view your heart rate stats and the earnings generated from them, then share the progress on social media.
Pros
Super easy to get started. You can link your heart rate monitor to the app via Bluetooth.
A wide range of exercise types and modalities to choose from.
Can exchange for USDC.
The app has a smartwatch integration.
Cons
Creating an avatar is costly; your wallet needs Polygon (MATIC).
You can swap $MGCN on only a few platforms, including Pancake Swap and Any Swap.
On the Flipside
Move-to-earn crypto coins have a relatively low market cap compared to the more significant coins such as BTC, ETH, and XRP. Hence, they are susceptible to pump-and-dump schemes.
Many move-to-earn projects and their coins underperformed in 2022 despite launching with a bang. So we recommend you err on the side of caution when earning, storing, or predicting their value in 2023.
Why You Should Care
Rewarding users and providing extra motivation to stay healthy is awesome. But as mentioned, the niche is still new and has huge growth potential. It's easy to learn, and everyone can participate.
FAQs