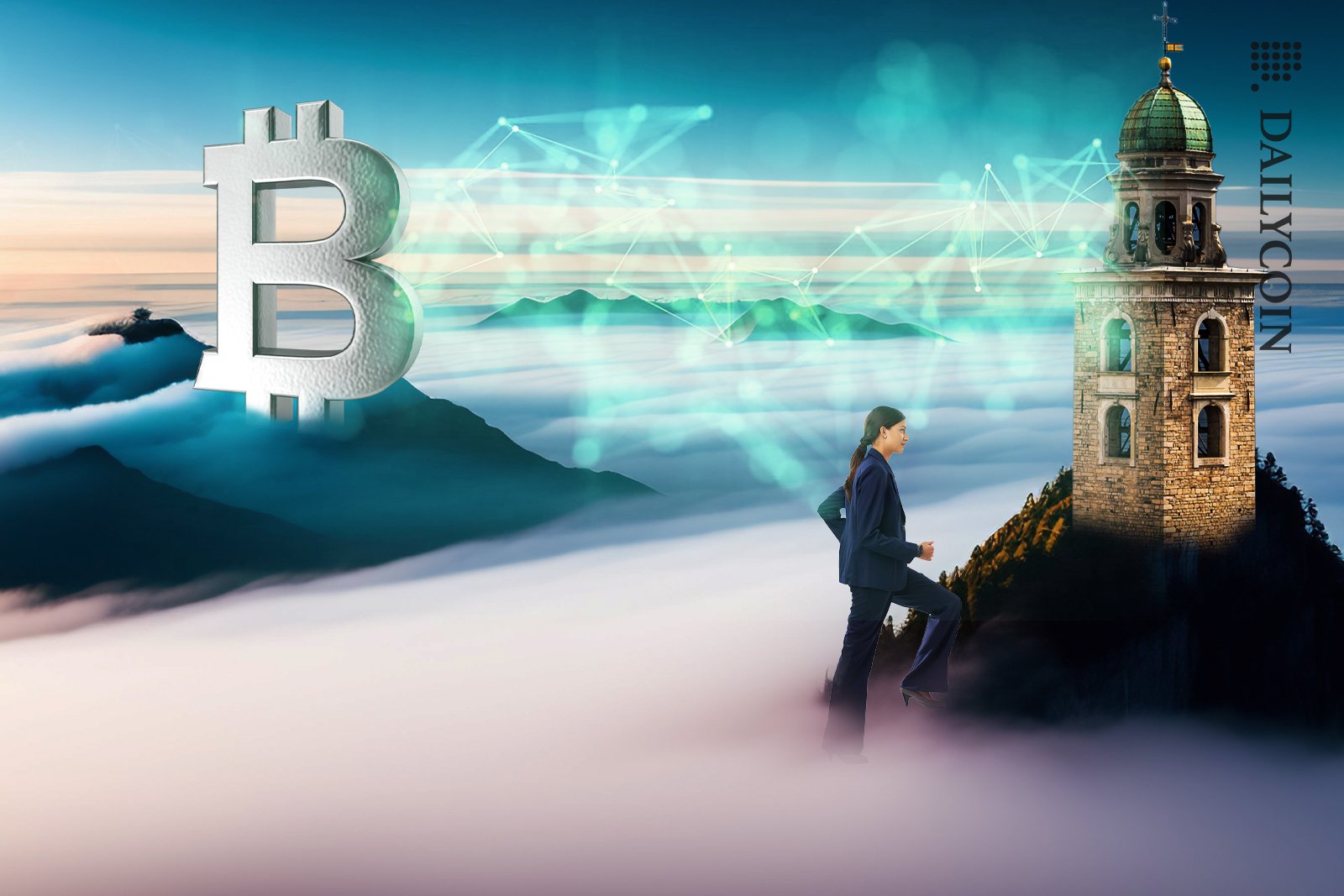 "You can spend a ten-day vacation in Lugano on Bitcoin, Tether, or LVGA," says Michele Foletti, the mayor of the picturesque Swiss city, which announced its ambition to become the European Capital of Bitcoin last year.
DailyCoin traveled to Lugano to find out what this vision looks like today and how Switzerland's third most important financial center paves a path to its cryptocurrency dream.
Lugano's Plan B: Initiative for the Crypto Capital
Walking down the narrow old town streets of Italian-speaking Lugano, it is impossible not to notice Bitcoin stickers on the windows of local businesses. They pop up everywhere: on cafes and restaurant entrances, on the windows of art galleries and boutiques, at the barbershops, or even beside the counters of cafes serving morning paninis.
Nearly 350 merchants across the city accept Bitcoin, Tether, or Lugano's own stablecoin Luga (LVGA).
It's the fifteenth month since one of the most popular tourist destinations in Switzerland announced its Plan B, a joint initiative with Tether to make Lugano a hub of cryptocurrency innovation.
Crypto-friendly City: What Does It Mean?
In March 2022, the city and Tether, the company behind the world's most widely used stablecoin, signed a strategic agreement to foster the international positioning of Lugano as the European hub of blockchain and cryptocurrencies.
They came up with the Lugano Plan B. The initiative focused on integrating the world's dominant crypto, Bitcoin, into city life and making it a crypto-friendly economy.
Why? Perhaps to diversify the business environment currently dominated by finance, legal services, and retail trades. Or to attract new young industry minds to the picture-perfect city where 61% of the 65,000 inhabitants are currently over 40 years. Or simply because innovation and enthusiasm are among the city's core values, officially written on the inner walls of Lugano's municipality.
There might be different reasons, but the city officially made blockchain adoption its priority policy. Establishing the Plan B foundation with private partners opened the doors for international cryptocurrency businesses, encouraging them to make Lugano the home of their headquarters.
Then partnered with three regional universities to integrate blockchain studies into their programs. Organized numerous crypto events and is preparing to open a co-working space for the crypto community later this autumn.
"We want to work as a bridge between traditional finance and new fintech. We aim to create an experience for the crypto community to come to Lugano to live with Bitcoin or cryptos," myor Foletti has noted.
To achieve that, the ninth-biggest Swiss city made a further step toward transforming its financial system and embracing Bitcoin as a legal tender on the municipality level. This means citizens of Lugano should not only be able to pay for food, drinks, clothes, or real estate in Bitcoins but also for public services and their municipal taxes.
Friendly Swiss Regulation, Pandemic, and Tether
But how did all of this come so easily possible, one may ask? Well, maybe because several circumstances have come together, Lugano mayor Michele Foletti told DailyCoin.
First of all, the Swiss Confederation has a friendly legal framework for digital assets. As one of the world's top banking and financial centers, the country has been at the forefront of promoting the use of digital currencies for financial payments since 2016.
The Swiss Financial Market Supervisory Authority (FINMA) determined the differences between security, payment, or service tokens. And in 2021, the country updated 40 laws and regulations to provide a legal basis for trading digital currencies, considering them private assets.
"Our legal framework is open and clear. A blockchain company knows what it can or can't do. There are no huge gray zones," the city mayor has stated.
Secondly, Lugano was not a newbie in crypto before adopting Bitcoin. The city has its own LVGA stablecoin circulating around since 2020, and the 3AChain Proof of Authority blockchain operated together with 40 private partners.
Pegged 1:1 to the Swiss Franc (CHF) and guaranteed by the city, LVGA came up as a way to help revive the city's economy after a lockdown paralyzed the region during the first months of the severe pandemic in Europe.
"When we reopened the economy in June 2020, nobody came to the city center. People were scared, so we invented LVGA to attract the citizens back to the city," mayor Foletti has recalled.
Then the pandemic passed by, and the LVGA has stayed. But in late 2021, Lugano discovered that Tether's team, including its CTO Paolo Ardoino, resides in the region near Lugano.
"We were really advanced. They were the creators of the first stablecoin in history, which is actually the biggest one. So we got together, and Lugano Plan B was born after a couple of months of discussion," revealed the Lugano mayor.
According to him, both parties, joined by Polygon and other private partners, agreed on establishing the Lugano Plan B Foundation and set a goal for the city to become crypto capital in four years since the start in 2022.
Adoption Rate: More than One Merchant per Day
Fifteen months after the Plan B memorandum was signed, the situation in Lugano changed, especially for the merchants.
Over 350 local businesses, mainly in the city center, adopted digital currencies and accept payments in BTC and USDT today. This is 1.2 merchants per day, or a 3.5% adoption rate, compared to the 10,000 businesses the city officially plans to onboard.
Numbers may look seemingly low, but they come with the city's unique context, explains mayor Foletti.
"Lugano is the second-largest city by territory in Switzerland. So we start (adopting Bitcoin – DailyCoin's note) from the center and then expand to the periphery. We onboard businesses one by one. With all the Know Your Business (KYB) procedures, this is a long process."
Last year local businesses started receiving new kind of physical Point of Sale (POS) terminals that accept traditional credit cards but at the same time are linked with Bitcoin, Tether, and LVGA.
Over 1,000 crypto-friendly POS devices were bought and are now waiting for businesses to fully onboard. All of them are financed by Tether, a private partner of Plan B, which has set up a fund of 3 million CHF ($3.3 million) to assist Lugano shops and businesses with crypto adoption.
Paying Your Taxes in Bitcoin? Not Quite Yet
But as local businesses continue transitioning into crypto, the municipality of Lugano has halted the acceptance of Bitcoin and Tether for tax purposes.
Although it was for a short period possible to pay with digital currencies for some services on the local e-government website, for residents, it is not possible to pay in Bitcoins for city taxes, as the municipality lawyers are polishing up the bank-level details on how to proceed with due diligence and AML compliance rules.
"We want to go unlimited with BTC payments for taxes. There are some limits now that you can't cross. For instance, Zug is accepting Bitcoins for taxation up to 100,000 CHF. We want to go in unlimited, which means we have to be 150% sure that we comply with the regulation," Paolo Bortolin, the Deputy Chief Financial Officer of Lugano Municipality, has said.
According to him, the technical integration of invoicing systems also requires time. Sending QR codes is not enough for the city, which aims to entirely modify cash registers software to integrate Bitcoin payments instantly and avoid manual registrations in everyday life.
"We have a vision in few ears to use Bitcoin payments like a credit card. So the merchants do not even think how to accept it."
Tourists Choose Bitcoin. Locals Love LVGA More
Although Lugano works intensely on digital transformation, local merchants reveal that Bitcoin is still not a common payment method across their shops.
"LVGA is the more dominant currency here. We receive payment in it every day, but it's mostly tourists or young people who pay with Bitcoin or Tether. Such transactions do not happen often," Lorenza Sommaruga, the owner of local "Bijoux io" boutiques and the president of the Federation of Commerce of Ticino region, told DailyCoin.
Her family business has run elegant gift boutiques for nearly 50 years and was among the first to join the Plan B initiative.
"It's a beautiful evolution. The world is changing, and we, businesses, have to adapt and go with it the same way. We have to try."
She says the transition into accepting cryptocurrency payments was easy, as the only thing necessary was an education on digital currencies and how they work. The local merchants received comprehensive support from the city, as they were provided with educational resources and offered free cashier software updates, along with the Point of Sale (POS) terminals that are compatible with cryptocurrencies.
Madam Sommaruga shows the POS terminal, which her boutique uses to accept Bitcoins or USDTs. It looks like a regular credit card terminal, where the seller enters the requested amount in Swiss Francs.
The equal amount is automatically converted into Bitcoin satoshis, which are then displayed as a QR code. Scanning the code, confirming the transaction, and using a Bitcoin Lightning Network wallet promptly transfers the funds from the buyer to the seller. As tangible evidence of the purchase, the terminal generates a physical receipt, providing real-world documentation.
The President of the commerce federation explains that local merchants have the flexibility to decide whether they want to retain the received Bitcoins in their wallets or promptly convert them into conventional currencies. However, she notes that the majority of businesses opt for the latter approach, primarily to mitigate the impact of Bitcoin's price volatility.
So, Can You Live in Lugano on Bitcoin for Ten Days?
With the Plan B initiative and the full support of city administration, Lugano aims to fully integrate digital currencies into daily life over the coming few years. The city has already witnessed approximately 9,000 residents, accounting for nearly 15% of the population, loyally utilizing the city's proprietary stablecoin, LVGA.
As you stroll through the historic streets of Lugano, it becomes evident how unique it is compared to other European cities that are less crypto-friendly. Lugano stands out by providing numerous opportunities to make payments with Bitcoins. Whether you're dining at restaurants, staying in hotels, exploring museums and galleries, shopping at boutiques, getting a haircut, or even enjoying a swim at the pool, Lugano has embraced Bitcoin as a viable payment option across various places.
Still, if you happen to come with only Bitcoins in your wallet, Lugano's main shopping street, Via Nassa, and the luxury brands like Cartier, Louis Vuitton, and Prada might be out of reach. Likewise, you'll miss out on iconic Swiss chocolate delights or the chance to experience a scenic boat trip on Lake Lugano without bringing cash or a credit card.
But even if your request to pay in Bitcoins causes mild panic for the local bartender, who suddenly realizes she has entirely forgotten how to use the Bitcoin POS, you will certainly find plenty of cozy and welcoming places to spend digital currencies. Whether it's for your morning espresso, pasta, holiday cocktail, or perhaps even a luxury house in Lugano, the options are generous.
Read out more about:
Crypto Regulation Doubles UK Ownership