Optimism (OP) saw record-breaking growth in total transactions and daily active users since the start of the year.
Activity numbers plummeted after Optimism ended its Optimism Quests program, which allowed users to earn commemorative badges for completing tasks, sparking airdrop speculation.
OP has increased by over 150% since the start of the year. This growth might be unsustainable since only 200,000 out of the 4.29 million tokens are in circulation.
Ethereum Layer-2 scaling solution Optimism (OP) has been perhaps the most popular crypto project since the start of the new year. 
The optimistic rollup-based project saw record-high activity on its blockchain. On top of that, Optimism's native token OP has also seen incredible growth during the last few weeks. 
But what is pushing Optimism to such enormous growth? And is it sustainable in the long term?
Optimism Airdrop Hunters Flood the Network
Optimism's recent growth has made many industry players raise their eyebrows.
At one point, Optimism even overtook Arbitrum – its Layer-2 competitor – in terms of transaction volumes and daily active addresses. On January 12, Optimism processed over 800,000 transactions and, together with Arbitrum, flipped the Ethereum mainnet in combined transactions.
Optimism saw a few big spikes over the last month in terms of daily active addresses. On December 22, over 110,000 addresses were transacting on Optimism. The number fell to around 80,000 in the coming weeks but was still significantly larger than Arbitrum's.
But activity on Optimism fell off a cliff last week. It was all related to Optimism Quests – various tasks aimed at educating users on how to use Optimism and its ecosystem projects.
Users were rewarded with a commemorative badge for every quest they completed. This sparked speculation that completing these activities might be one of the requirements for the second Optimism airdrop (the first one was done last year). This might have also contributed to the increase in OP's price.
Unsustainable OP Price Increase
Since the start of the year, OP has been one of the best-performing tokens. It has increased over 150% and reached an all-time high of $2.46 a few days ago. It's currently trading at $2.36, according to data from CoinGecko.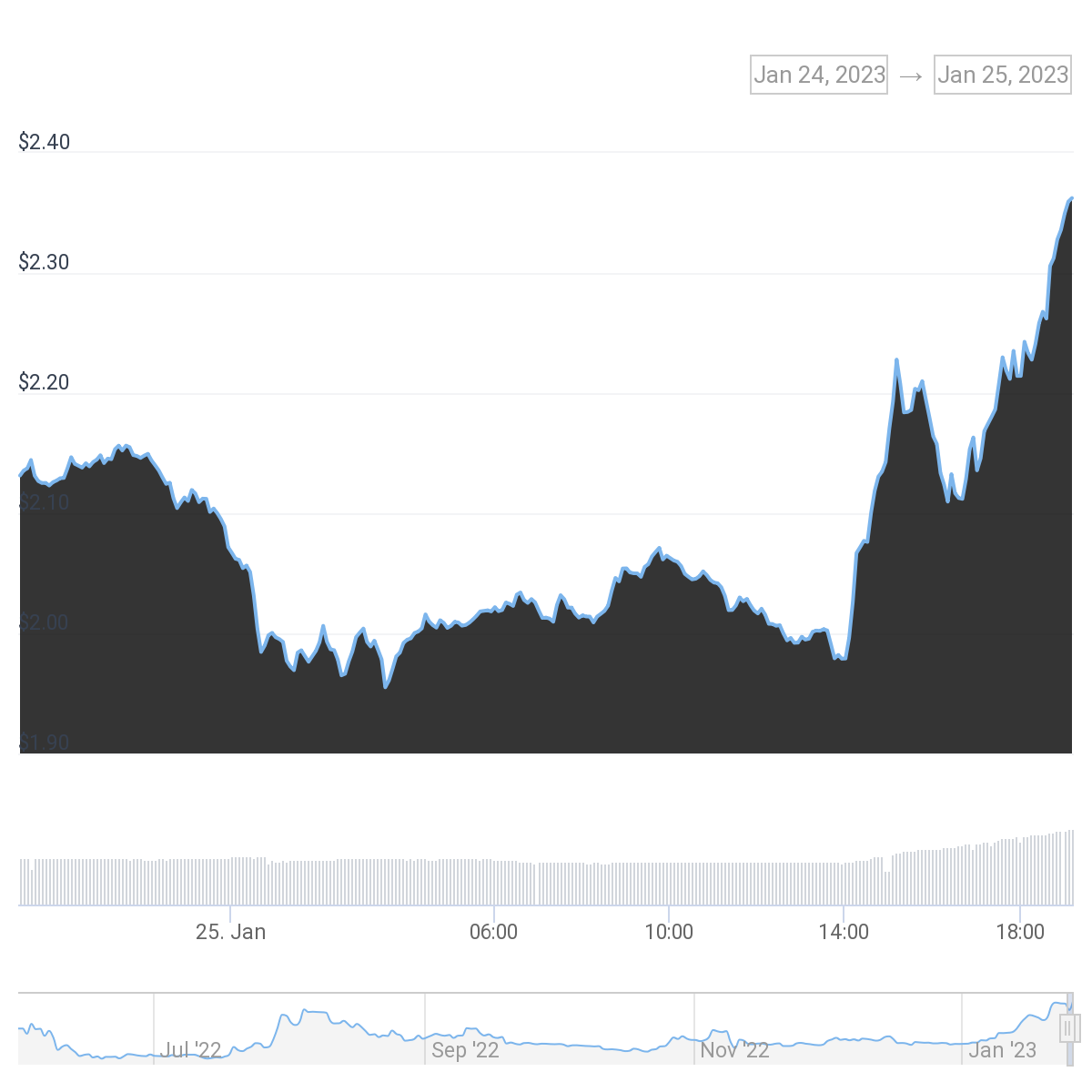 However, it seems that this sudden growth in the price of OP is unsustainable and speculation-driven. According to TokenUnlocks, there are only 200,000 of the 4.29 million OP in total in circulation, meaning many tokens are waiting to be released.
On top of that, $5.1 million worth of OP is emitted daily, further diluting the token's value.
It's also worth mentioning that OP is a governance token. There's also no OP staking mechanism implemented.
OP is one of the few Layer-2 tokens available for investors. Some of them are definitely long-term investors wanting to get exposure to the Layer-2 space.
Optimism is one of the two leading Ethereum Layer-2 scaling solutions. While most of the activity on the network has been driven by airdrop hunters, it's still encouraging to see such attention given to a Layer-2 project.