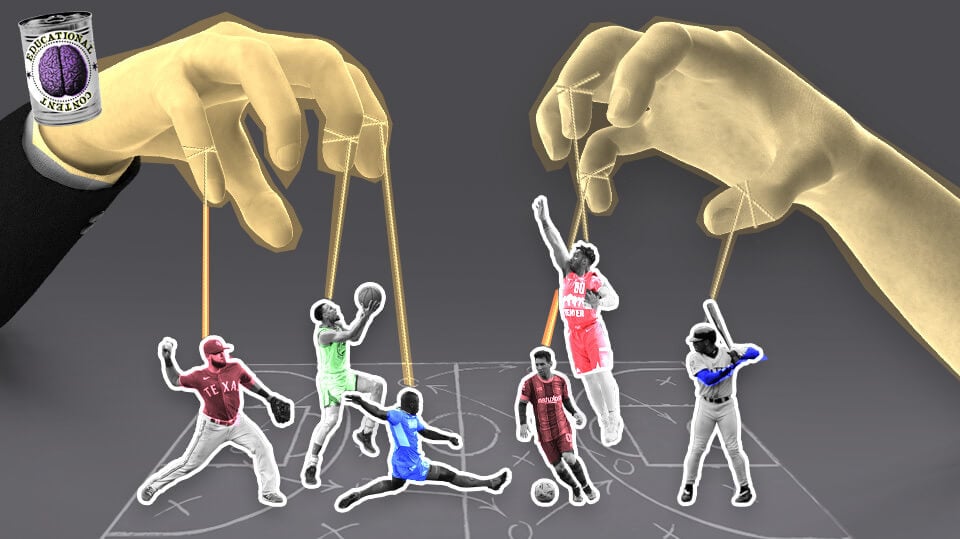 Almost one in every five Americans are engaged in some kind of fantasy sports league, the game concept that was born six decades ago. Just as digitalization once played a key role in its rise in popularity, now it's the tokenization that brings in new mass excitement and innovations.
The massive wave of non-fungible token (NFT) adoption has stormed into the fantasy sports industry too. NFT-based fantasy soccer platform Sorare raised hundreds of millions in 2021 to expand into other fantasy sports, and new audiences discovered a new type of tokenized investment.
Let's take a look at how fantasy sport NFTs are changing the industry.
Fantasy Sports: You've Got the Power
Fantasy sports took hold of the world quite a while ago with its powerful merge of real and fantasy worlds. The highly popular gaming model gives players the opportunity to step into the shoes of a powerful sports team owner.
The key mechanic here is the ability to build a virtual fantasy team of real-life sports professionals from prominent leagues of football, baseball, basketball and multiple other sports.
The fantasy game then tracks the real life performance of the sports players and converts their statistics into in-game points. This is how fantasy sport team owners compete with each other to win the league or the championship. Not to mention the fact that they can apply their own tactics, while trading or swapping players to keep on winning.
The working model is simple. Users sign up to a chosen fantasy sports platform (like ESPN, NFL or Fanduel), choose the league, select the match, and create a virtual team, followed by the starting lineup. Users then compete on a daily, weekly, or seasonal basis. If their analytical skills and tactics win, they earn money.
Fantasy sports platforms collect funds from partnerships, advertising, and fees, which players pay to enter a certain league or a certain match. There are some games that players may enter for free, but the jackpot is then mediocre. If a player is aiming to win a considerable prize of money, they must pay an entrance fee, or choose a private league with membership fees.
Bright and Dark Sides of Fantasy Sports
No doubt, fantasy sports act as an engaging hobby for sports enthusiasts. Furthermore, it acts like a sandbox to train one's analytical skills or test one's prediction insights and strategies. But under the shiny facade, the dark side of fantasy sports has enough room to revel in all its glory.
From this perspective, the biggest issue is the personalities behind a platform or a fantasy league. The managers of the platform or fantasy league are the ones with the power to convert athletes' statistics into points. Unfortunately, they are often anonymous, so players can't check up on their reputation, and only rely on their own faith.
The unregulated environment creates opportunities for conflict of interests and fraud in fantasy sports. This typically comes in the form of data manipulation, faking statistics, or artificially inflating liquidity in the fantasy league.
In the last year of global pandemic, and the massive hype of decentralized non-fungible tokens (NFTs), fantasy sports faced changes to their traditional working models. Blockchain-based NFTs entered the multi-billion industry, offering transparency and new possibilities.
What Are Fantasy Sport NFTs?
As you may already know, NFTs are non-fungible digital tokens that are built on blockchain and can represent anything digital; artwork, music, sports videos, anything.
Each NFT is absolutely unique with its ownership authenticity recorded on the blockchain. This means that blockchain holds the transaction history of each and every NFT, so ownership is easily verifiable. They are transparent and stored on the blockchain, and thus can not be destroyed, replicated, or exchanged without a change in their value.
NFTs first entered the world of professional sports with the NBA's Golden State Warriors, who released an NFT collection featuring filmed moments of the championship rings. Soon afterwards, fantasy sports platforms like Sorare stepped into the game with fantasy sport NFTs.
They created blockchain-based collectible digital cards that represent real-life professional sports players. As issued on the blockchain, each of the cards became tokenized and non-fungible (NFT).
New Possibilities for Fantasy Sports Players
The appearance of NFTs expanded possibilities and monetization options for fantasy sports players who gained the right to own unique tokenized digital cards (NFTs) of their chosen athletes. This means that fantasy sports players gained the ability to purchase, trade and collect digital cards, instead of only choosing athletes from a list. Next to the opportunity to earn points based on an athlete's real-life performance, players got additional ways of benefiting from their sports passion.
As with any other collectible asset, unique fantasy sport NFTs became in-demand on the secondary market. Since these NFT are built on the blockchain and not related to specific fantasy sports platforms, their owners could easily trade them on various NFT marketplaces like OpenSea or Rarible.
Keeping in mind that the general NFT market increased to over $760 billion in value over the past year, such massive interest is huge. As the market sees the potential for such NFT prices to grow, they establish a new class of speculative assets.
Blockchain-based fantasy sports platforms further keep the evolution of fantasy sport NFTs rolling. For instance, one such platform, TradeStars, launched fractionalized non-fungible tokens.
This signifies another important shift in the history of NFTs, as fractionalized non-fungible tokens come with the ability to divide an existing unique NFT into myriads of smaller fractions, that can later can be exchanged into fungible ERC-20 tokens, and thus traded as cryptocurrencies.
This new possibility expands player opportunities to play, and their chances to win. These gamers are able to invest in fractions of multiple athlete NFTs at the same time and trade on sportsman performance increases. Not to mention the fact that they have full control and ownership of these tokenized assets.
What Changes with Fantasy Sports Tokenization?
NFTzation not only affects the experience for fantasy sports players, it also brings changes to the whole fantasy sports industry, which is often accused of insider games and data manipulation.
Being a decentralized distributed ledger technology, blockchain stores all transaction records in blocks that are connected and protected by cryptography. No central authority is behind it, nobody can unanimously intercept, change or delete the stored data. It's impossible to change the existing records without leaving traces, thus every transaction ever made on the blockchain is easily traceable. This makes blockchain transparent and trusted.
For fantasy sports, immutable and interchangeable records mean that no intermediaries are able to affect and fake data. In this case, tokenized fantasy sports become less vulnerable to manipulation and financial fraud.
NFTs became a booming market due in large part to their speculative nature. Supposedly as unique collectible assets, they are expected to rise in value over time. Tokenization made more asset classes tradable online, generated a lot of buzz and high demand, and wherever there is demand, there are price increases, and potentially high profits.
As a rule, the regiments of speculators and profit hunters flock to booming markets to explore promising assets. They are not necessarily fans, or experts of fantasy sports. But they invest in fantasy sport NFTs because of profit hunting, and in such a way they increase the liquidity of the fantasy sports market.
The legal definition of fantasy sports is still unclear. Some define it as a game of skill, while others think it's a game of chance, which makes it closer to gambling, and thus falls under stricter regulatory rules across different jurisdictions.
Sorare, a fantasy sports blockchain gaming platform, recently raised $680 million and signed deals with 180 soccer organizations, including the biggest star clubs, to issue collectible NFTs of their players. The concentration of rights in one hand could lead to the risk of fantasy sport market monopolization, and thus fewer opportunities for end-users.
Fantasy sport NFTs bring the multi-billion dollar valued sports industry onto blockchain. Tokenization sets new standards for how sports clubs and athletes connect with their fans. Furthermore, NFT-based fantasy sports allow sports clubs and leagues to expand beyond sports communities, and the digital asset market attains yet another promising speculative asset class to explore and invest in.