The Cardano network is recording an influx of whale activity.
Developer activity on Cardano is reflecting a similar optimistic trend.
The price of ADA has yet to align with the whale and developer volume increases.
Cryptocurrency analytics firm Santiment has revealed a spike in high-volume transactions on Cardano (ADA), indicating some "major interest" from the whales on the network.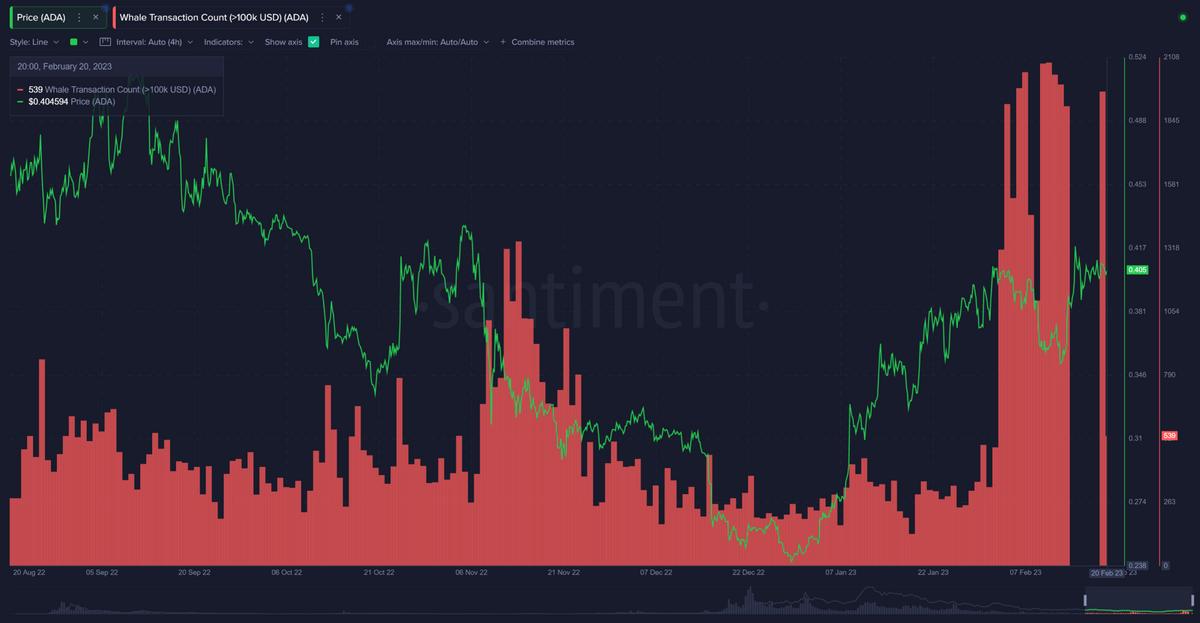 Source: Santiment
As per the graphic, Cardano whale transactions rocketed to 539 transactions above $100,000, as reported on February 20th. According to Santiment, there has been a five-day anomaly gap in data for Cardano. Still, the upward trajectory of the asset has been demanding a spotlight since February 2023 kicked off.
A notable increase in whale activity and high-volume transactions continues a bullish streak for the Cardano whales. A considerable sea of whales have been displaying a positive market sentiment, recently boosting the market capitalization of Cardano to flip Binance (BUSD) for the #7 rank.
In Terms of Development
Cardano has ranked third for cryptocurrency asset development activity, recording a noteworthy 506.37 developer volume in the past thirty days. The volume represents a spike compared to Cardano's former on-chain statistics for January after blowing Ethereum (ETH) out of the water for developer activity in 2022.
The network is surpassed only by Polkadot (DOT), claiming the first rank with 558.07 developers, and Kusama (KSM) in second place with the same developer activity numbers as Polkadot.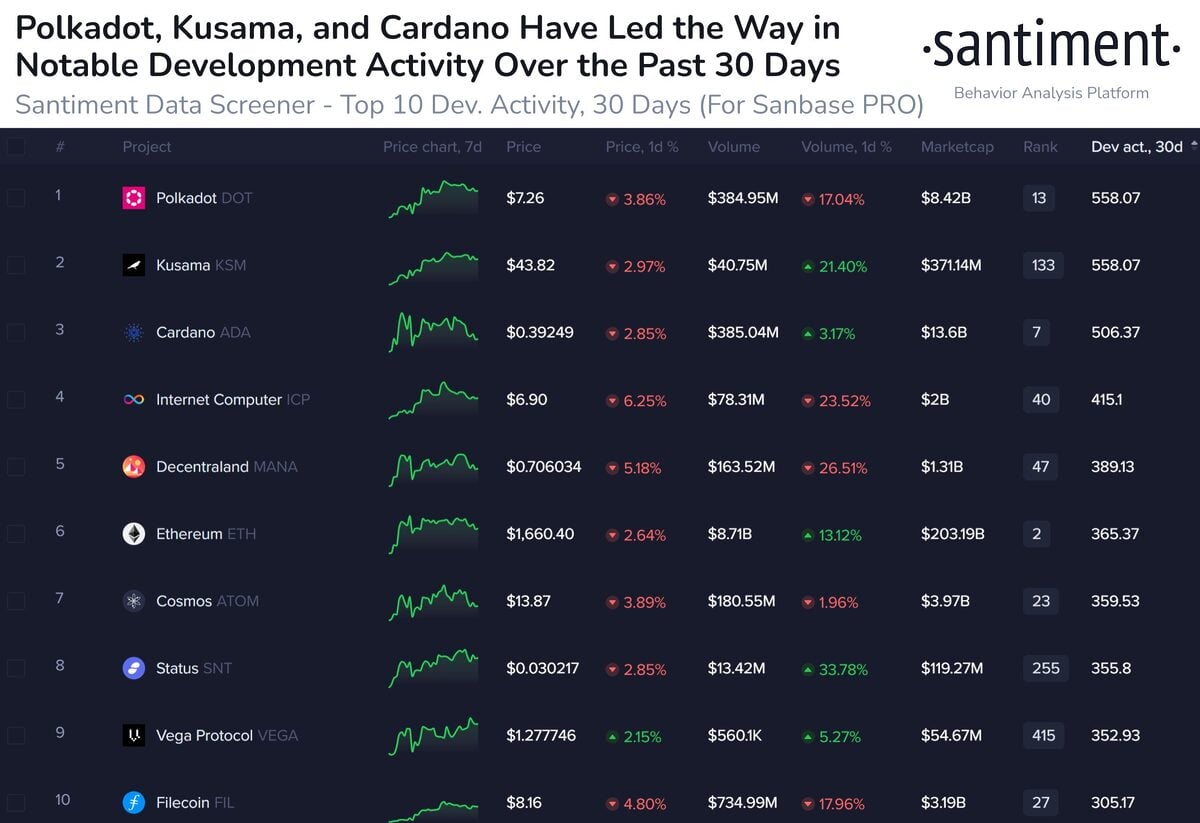 Source: Santiment
Cardano's pièce de résistance has yet to reveal itself amidst increasing whale interest, developer activity, and network developments, as the price of ADA is currently trending in the opposite direction.
Beyond the Sea of Whales
The Ethereum killer has faced an embellished February thus far in pursuit of "positive global change." Beyond the increase of whale interest, the Cardano network has launched the SECP or Valentine's upgrade, enabling developers to "easily create cross-chain dApps that are secure, reliable, and cost-effective.
Among other events, Cardano is actively upping its dev game with Working Groups to empower the community and propel the development of the blockchain, further establishing Cardano as a community-centric ecosystem.
However, at the time of writing, the price of ADA is trading at $0.38, a 9.36% decrease from its seven-day high of $0.41 on February 18th. The Altcoin appears to be stuck in the doldrums rather than aligning with the evolution of the Cardano ecosystem beyond the price of ADA.
On the Flipside
Whale activity picked up on The Sandbox ($SAND) on February 20th.
Hex ($HEX) recorded one of the highest surges of whale transactions on February 20th before a mid-sized correction.
The trend is allegedly attributed to a market shift attempt where whale spikes are the driving force.
Why You Should Care
ADA's resistance aligning with whale sentiment calls into question the viability of the Cardano network for community members who do not fit into the optimistic developer and whale boxes.
Cardano is branching out with Working Groups for developers; read more:
Cardano (ADA) Dev Working Groups to 'Empower' the Community
Cardano recently climbed to the #7 rank by market cap; read more:
Cardano (ADA) Climbs to #7 by Market Cap Amidst "Cult" Criticism