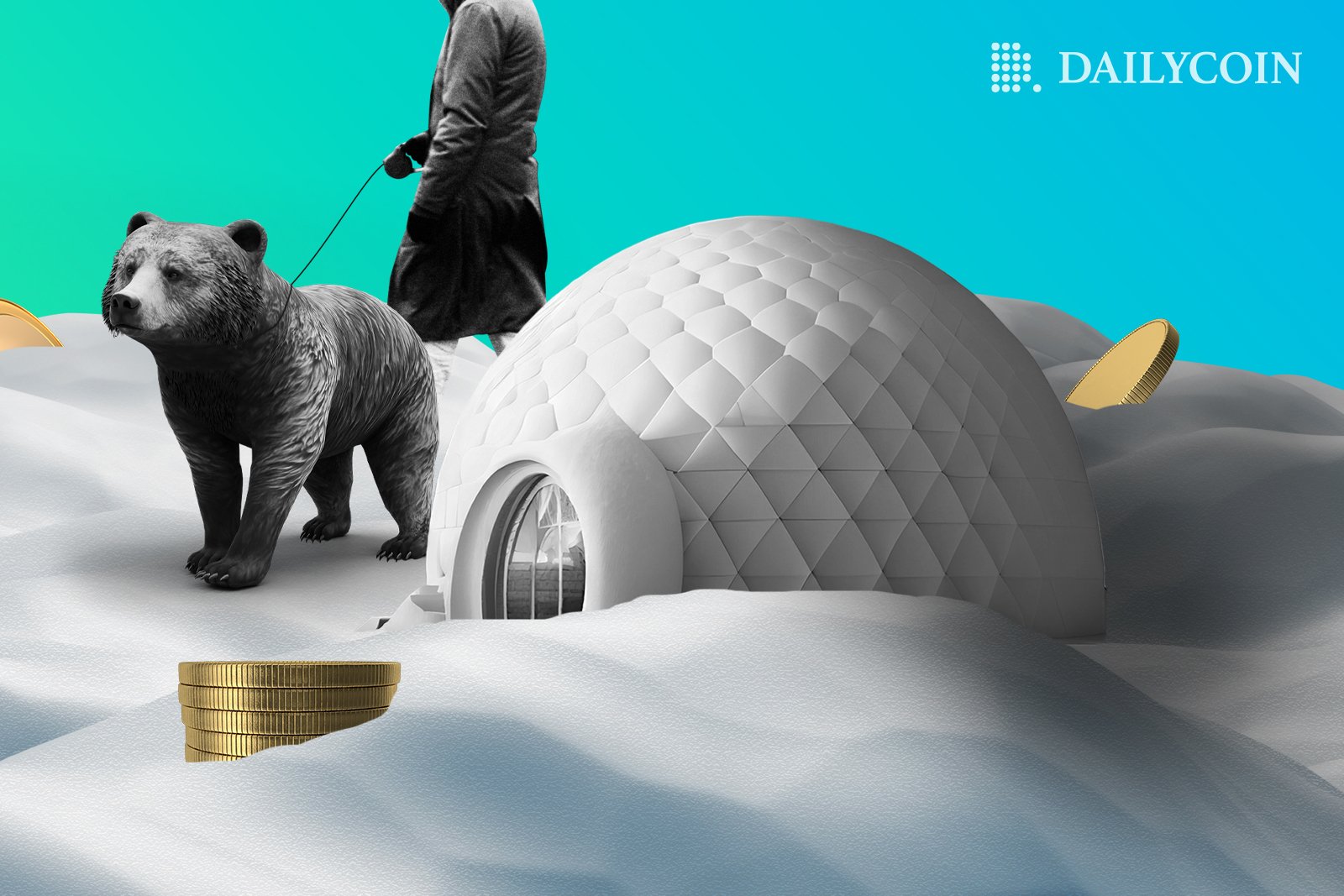 While potentially a disruptive force, DeFi is still just 1.2% of the crypto market cap. 
DeFi adoption won't stop in the crypto winter, says Lunar Strategy CEO. 
DeFi projects should focus on building a community, creating user value, and offering transparency.
Decentralized finance (DeFi) is a potentially disruptive force in finance. This is especially true after the recent failures of centralized exchanges like FTX. More crypto users than ever are now aware of the benefits of decentralized, self-custodial solutions. 
This led to the growth of DeFi in an otherwise unfavorable environment. In January, trading volumes on decentralized exchanges (DEX) were up 27% compared to December. However, DeFi is still a long way from a mainstream appeal. In January, DeFi dominance, which compares DeFi token market caps to the crypto market cap, was at just 1.2%.
Moreover, trading volume is increasingly concentrated on a few major DEXs that provide the most comprehensive service. This consolidation could be a sign that DeFi is maturing. 
The share of five exchanges in trading volume on Ethereum rose 91%. In particular, Uniswap's dominance rose to 58% as the exchange spread into more networks. On the other hand, the consolidation might result from the crypto winter taking a toll on the smaller projects. 
Crypto Winter Won't Stop DeFi: Lunar Strategy CEO
The ongoing crypto winter has put many projects to the test. With less capital, developers are forced to build their protocols and communities differently. 
Tim Haldorsson, CEO of Lunar Strategy, says that the crypto winter won't stop the growth of DeFi. Instead, it will create an opportunity for smaller players with great products to compete for users. 
Lunar Strategy is a Web3-native marketing agency helping decentralized protocols attract followers and build communities. 
Haldorsson shared his insights on the growth potential of DeFi and on building and promoting projects during a bear market with DailyCoin. 
What makes DeFi so important, in your opinion? Where do you see DeFi in 2-5 years?
"DeFi is important because it offers financial inclusion to everyone on the planet with a phone and gives access to hundreds of millions of new users to be able to take part in the financial system.
In 2-5 years, I see DeFi continuing to grow and mature, with more innovative products and greater adoption by mainstream users. I also see DeFi taking a larger part of the trading volume from centralized crypto companies, as the financial system moves more towards trusting code instead of trusting a company."
'Web3 and DeFi Marketing Is About Building a Community'
How is promoting a Web3 or DeFi project different than marketing in different industries?
"Promoting a Web3 or DeFi project requires a deep understanding of building digital communities and co-creating the future of the projects together with the community. In most other industries, you are marketing to customers. However, in Web3 & DeFi, you are marketing to attract loyal community members."
Your company, Lunar Strategy, is one of the largest players in Web3 marketing. Why is marketing important for crypto, and DeFi in particular?
"Marketing is important for crypto because it helps to raise awareness and build credibility for a new project. In particular, DeFi needs marketing to help bridge the gap between early adopters and mainstream users. Large parts of the marketing are focused on educational content in the form of videos, articles, and guides for the DeFi project."
Some would say that marketing is about storytelling. How are the stories you tell different from those in some other, more traditional industries?
"In some traditional industries, marketing is about creating a brand image or promoting a lifestyle. In DeFi, our stories focus on the mission and its potential to revolutionize finance. We aim to educate and inspire our community rather than just sell a product or lifestyle. In most successful projects, each community member is treated as a partner in the project."
'Crypto Winter Won't Stop DeFi'
In 2022, we saw token prices drop across the board. Small caps fared particularly poorly. As a result, we also saw marketing budgets drop significantly. For example, there were three crypto exchanges with Super Bowl ads in 2022. This year, there were none. How has this decline impacted the industry?
"The decline in marketing budgets has had a significant impact on the industry, with fewer high-profile campaigns and less exposure for some projects. However, we see this as an opportunity to focus on more targeted and effective marketing strategies that build trust and loyalty with our client communities. In this bear market, the prices for articles, and influencer collaborations have also dropped, which opens opportunities to reach the same audience with a smaller marketing budget."
Blockchain firms, particularly crypto exchanges, have been hoping to push crypto into the mainstream with massive campaigns, sports partnerships etc. How do you think the declining marketing budget will affect crypto adoption?
"The declining marketing budget will slow the adoption of crypto in the mainstream in the short term, but it will not stop it. The best market that crypto has is the Word-of-Mouth marketing between friends and crypto enthusiasts that are driving crypto forward." 
'Building in a Bear Market: Focus on Community, Transparency and Value'
You recently wrote a Marketing Guide for the Bear Market, with the headline "Why Your Web3 Project is Irrelevant." How did you land on that headline?
"The headline "Why Your Web3 Project is Irrelevant" was meant to grab attention and provoke critical thinking. The guide itself is focused on providing practical advice for projects to succeed in a bear market, by focusing on community-building, product development, and effective communication with your marketing campaigns."
Can you share some key insights from that guide for people trying to build projects and grow their communities? How do they do it in a bear market?
"In a bear market, it is more important than ever to focus on building a strong community, delivering value to users, and communicating transparently about your progress and plans. This will help your project to survive and thrive in the long term.
For one project, then we managed to raise 2 million euros and build a community of around 50,000 people for a DeFi project on Cosmos. We succeeded with this because we teamed up with leading key opinion leaders within the Cosmos community and then had the founders of the project do AMAs & Twitter spaces talking about the vision and the DeFi products that they we building. This created massive trust in a market where many felt like they had been betrayed by exchanges and crypto lenders."
How To Invest in DeFi in a Bear Market
Many of our readers are crypto investors hurt by the bear market. Naturally, they want to know how to find promising DeFi projects or how to find projects that will survive the crypto winter. Do you have any insights for them?
"To find promising DeFi projects, investors should look for teams with strong technical expertise, a clear value proposition, and a solid community of users and supporters. 
It's also important to do your own research and due diligence to ensure that the project is legitimate and has a sustainable business model. So many projects have risky business models that rely on raising new funds from current investors."
Despite the challenges, decentralized finance (DeFi) still has great potential to disrupt traditional finance. While market volatility can make life difficult for DeFi developers, that is still possible to do. Successful builders can leverage the DeFi community, transparency, and innovation to thrive during the crypto winter. For investors, bear markets are a time to focus on projects that create real value rather than hype.