The news that MicroStrategy Inc. co-Founder and CEO Michael Saylor has stepped down from his position drew a spectrum of reactions from the crypto community.
Crypto Community Mocks Saylor
CryptoWhale, an account sharing crypto insights, and followed by 533K Twitter users, was harsh in their opinion on Saylor's actions:
Michael Saylor gambled all his company's funds on Bitcoin, resulting in them losing over $2 Billion, and then ditched them all by quitting as the bear market starts.

These maxis are shameless. 🤣

— CryptoWhale (@CryptoWhale) August 2, 2022
Entrepreneur and investor Jason A. Williams, the author of the book "Bitcoin: Hard Money You Can't F*ck With," shared a satirical video:
Just leaving Michael Saylor's retirement party from MicroStrategy. Early feedback. BudLight was cold. Michael Jackson impersonator was very aggressive. Music was solid. First time hanging with Toxic Maxis. Overall 7/10. Should have jumped on the yacht. @saylor – congrats bro! pic.twitter.com/jXdnGrirc2

— Jason A. Williams ⚡️ (@GoingParabolic) August 2, 2022
Editor-in-Chief at Swan Bitcoin, a crypto trading app, Tomer Strolight, wrote ironically:

WallStreetPro account, covering investment news, was not lacking humour:
Most likely, WallStreetPro's comment comes as a response to Saylor's esoteric tweets regarding Bitcoin:
#Bitcoin is a swarm of cyber hornets serving the goddess of wisdom, feeding on the fire of truth, exponentially growing ever smarter, faster, and stronger behind a wall of encrypted energy.

— Michael Saylor⚡️ (@saylor) September 18, 2020
Another crypto news account CryptoHub mocked Saylor in their tweet. The tweet was later deleted.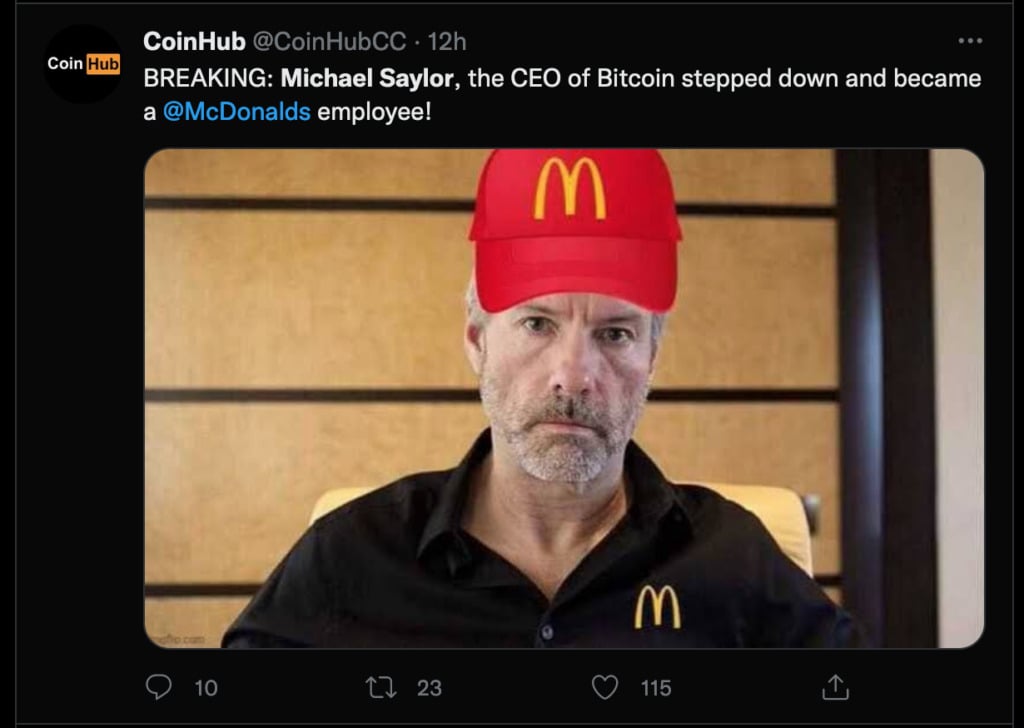 XRP the Standard Productions, the creator behind "Crypto Town Crier," and followed by 82.6K followers, had another proposal for Saylor's future career:
A retail trader and investor, co-founder of "Trade Rade" known on Twitter as "HorseloverFat," ironically congratulated Saylor with his new achievement:
Dear Michael @saylor,

Losing $94.01 PER SHARE is so batshit crazy that it's actually impressive. Congratulations on this historical achievement.

Your Biggest Fan,

Horse

— Horselover Fat 🧙‍♂️ (@Michigandolf) August 3, 2022
The CIO at Novi Loren fund joked that if she would pursue her true passion of buying Bitcoin, her family would hold an intervention.
It's so messed up that if Michael saylor retires to pursue his true passion of degenerately buying bitcoin he's a visionary and when I do it my family holds an intervention

— Lily (@nope_its_lily) August 2, 2022
Some of the comments referred to the intervention done to Saylor by his company:
The Board of Directors just held an intervention. He was fired as a result.

— Alejandro Vergara (@avjbc) August 2, 2022
Apart from mockery, there were more moderate responses. Some voices in the crypto world see Saylor's resignation as an opportunity. Ben Armstrong, coach and investor, who has a massive army of 867.6K followers, sees Saylor's resignation as an "interesting turn of events," and calls it a "fascinating time to be holding Bitcoin."
Michael @saylor stepping down from $MSTR is quite an interesting turn of events. Fascinating time to be holding #Bitcoin.

Could be a lot of implications and we will discuss one HUGE possible effect tmrw

— Ben Armstrong (@Bitboy_Crypto) August 3, 2022
Crypto news U.today tweeted that Saylor's resignation might have a positive impact on the crypto industry.
The resignation comes after MicroStrategy reported losses of $1.062 billion in its second-quarter earnings.
Bitcoin has contributed to MicroStrategy's stock price dropping by more than 48 percent so far in 2022,
Despite holding more than $1.98 billion in the troubled Bitcoin, Michael Saylor remains bullish about the investment.
This article is for information purposes only and should not be considered trading or investment advice. Nothing herein shall be construed as financial, legal, or tax advice. Trading forex, cryptocurrencies, and CFDs pose a considerable risk of loss.