More than $3 billion worth of Bitcoins (BTC) from the notorious Mt Gox hack will be returned to investors starting the next week.
Once a key player, responsible for 80% of all Bitcoin transactions worldwide, Mt Gox cryptocurrency exchange was hacked in 2014. Reportedly, nearly 850,000 Bitcoins — of which about 90% belonged to 24,000 Mt Gox customers – were stolen. They were worth $473 million at the time. Today that would be worth more than $18.2 billion.
Soon after Mt Gox recovered 200,000 Bitcoins from its old wallet. Some of them, or 137,000 BTC to be precise, are set to be released to the market after more than 8 years. The crypto space worries that this could be a Black Swan event that shakes up the whole cryptocurrency market. To this extent, what scenarios should we expect?
A Black Swan event is a common concept in crypto as well as in financial markets. First introduced by essayist, statistician, and trader Nassim Nicholas Taleb in 2008, a Black Swan event represents the extremely rare and unexpected event that usually comes with negative consequences.
So, if 137,000 Bitcoins, or more than $3 billion worth of digital assets, return to investors, the risk of the Bitcoin price falling notably increases. Why? Psychology may play a key role in urging investors to redeem their Bitcoin repayments for cash. Keeping in mind that the majority of them bought Bitcoins for less than $1,000 back at the end of 2013, they might have a motive to take their so-long-awaited profit. 
What if the selling gets massive? Remember Bitcoin's performance during the Terra (LUNA) collapse. The value of LUNA nosedived to a fraction of a cent, and the collapse sparked panic across the crypto market, causing large investors to sell their bitcoin holdings. Around 80,000 bitcoins were on sale, leading the bitcoin price to drop from nearly $40K in early May to $19K a month after.
And as the principle of supply and demand says, when there is a higher supply of the asset, there is a drop in demand and vice versa. Thus the more Bitcoins circulate on exchanges, the more significant becomes the pressure for demand to decrease, consequently converting to falling prices.
Currently, crypto trading platforms do not report the increased inflows of Bitcoins. Actually, they do not report the growth of Bitcoin outflow either. As seen from the data of crypto market analytics from Glassnode, Bitcoin inflows to crypto exchanges are low and even lower than outflows.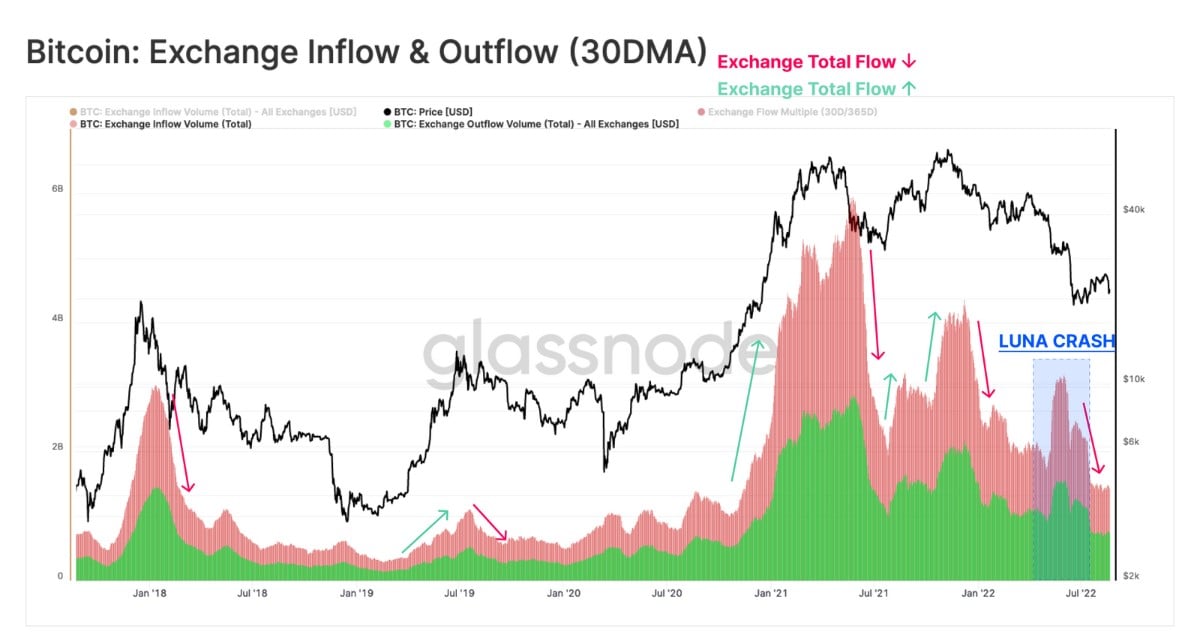 Neutralized Black Swan Scenario
On the other hand, there is always a chance that a black swan will turn into a white swan, or at least into grey one. In other words, there is always a chance that the Black Swan event may be neutralized and thus not strike in its full force.
Such a scenario may be possible if Mt Gox creditors decide to continue holding the Bitcoins that will be returned to them. In the eight years since the collapse of Mt Gox, they have seen the cycles of the Bitcoin market and are well aware of BTC's potential to reach new all-time highs.
Which Scenario Is More Realistic?
The scenario of the neutralized black swan seems to be more expected. But the main risk for it coming true is the macroeconomic winter that the world's economies and financial markets are experiencing. 
High energy prices run rampant and keep catalyzing inflation, although central banks hike their interest rates to fight it. The United States is currently the leader here compared to the European Union countries, which means that interest hikes in the European continent will not stop anytime soon to catch up with the US's rate levels. 
In fact, right now, central bankers, policymakers, economists, and other influential minds are discussing the future interest rate policies at the annual Fed summit in Jackson Hole, Wyoming.
The news could turn financial markets into dark red or green, which is why everyone is waiting for the signal from Jackson Hole by holding their breath. The sky, however, will probably remain cloudy. The market experts expect central banks to tighten their policies on fighting inflation, which means no slower paces in hiking the interest rates.
With this in mind, the odds are that financial markets will see a decline. As the crypto market is in a high correlation with stocks, there is little doubt that it will follow the direction of equities, with or without the contribution of Mt Gox Bitcoins.
Nevertheless, we should not ignore the threat of the latter. We should not forget that people, who waited for 8 years might be hungry for profit.  
If you had bought bitcoin for $500 and had the opportunity to sell it now for 40 times as much, especially knowing that the price could fall soon, what would you choose?