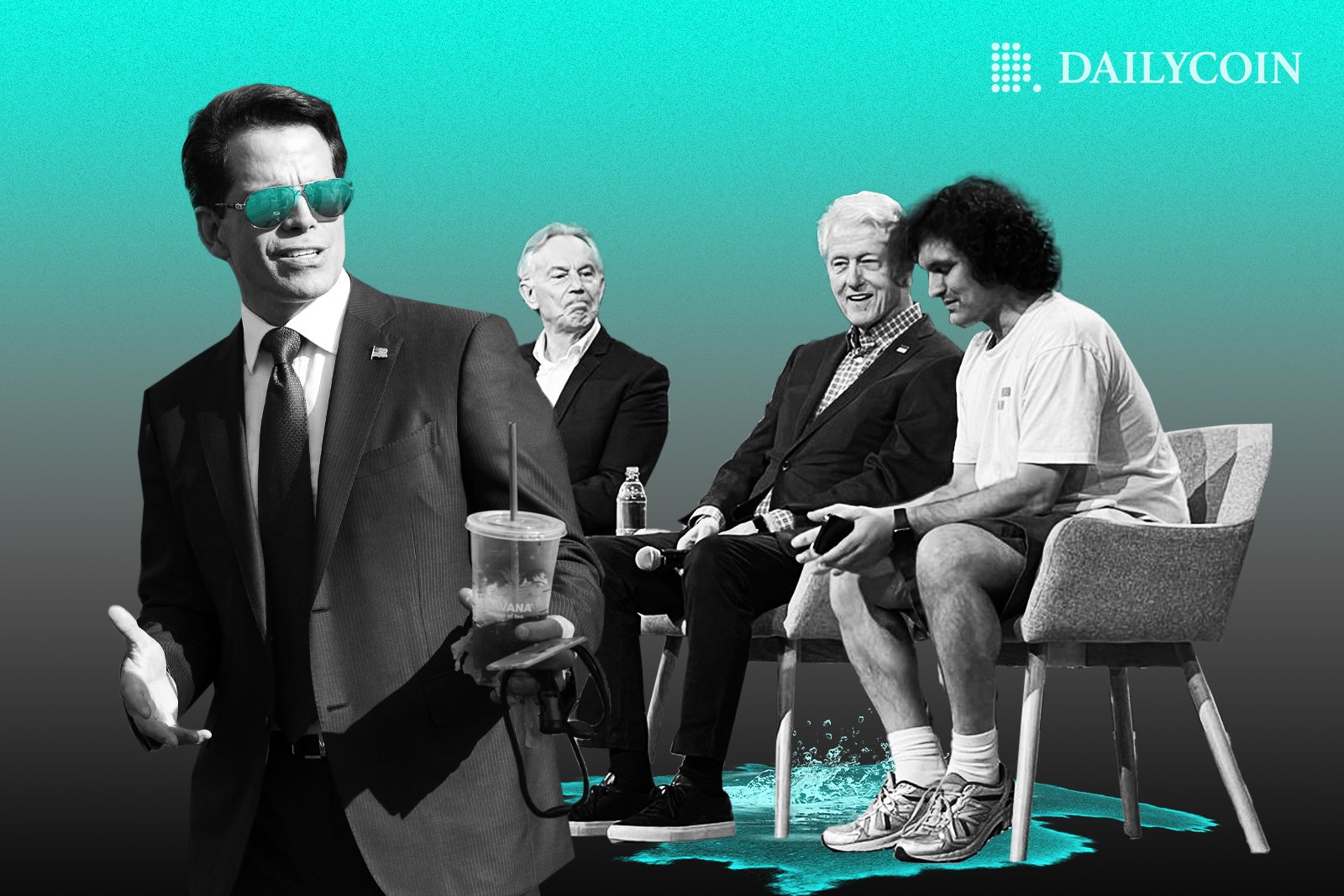 Financier and ex-Trump staffer Scaramucci will invest in a crypto startup by former FTX US President, who resigned weeks before the FTX collapse. 
Earlier, FTX Ventures bought 30% of Scaramucci's SkyBridge Capital for $40 million.
FTX also sponsored Scarammucci's SALT leadership forum, which brought Bill Clinton and Tony Blair to the 2022 Crypto Bahamas event. 
FTX courted well-known investors, including Shark Tank's Kevin O'Leary, and donated billions to politicians. 
Scaramucci, at first reluctant, now says it's "very clear" that there was fraud in FTX. 
FTX's influence, both in the crypto space and outside it, was vast. Information about the extent of its influence is still coming out. One of the key figures in FTX's rise to prominence may have been financier and ex-Trump staffer Anthony Scaramucci. 
Scaramucci recently announced investing in the former FTX US president's crypto venture. This investment raised eyebrows, as FTX Ventures made a $40 million investment in Scaramucci's company, SkyBridge. 
However, his ties to FTX don't stop there. In 2022, FTX partnered with Scaramucci's SALT leadership forum. SALT was the main organizer behind the Crypto Bahamas Forum, an invite-only event featuring speakers like Bill Clinton and Tony Blair. 
FTX signed its deals with Scaramucci when the exchange allegedly started its efforts to sway regulators and opinion leaders to its vision of crypto. 
The company paid billions to politicians and investors to lobby for favorable regulation and gain legitimacy among policymakers. Scaramucci may have been a key figure in that effort. 
How Scaramucci and Bankman-Fried Crossed Paths
Financier and former Trump staffer Anthony Scaramucci is influential in politics and business. 
While his tenure as a White House Communications Director was brief, his influence remains. A long-time Republican donor, Scaramucci often boasts of his globe-spanning connections.
In 2020, Scaramucci started investing in crypto. His firm, SkyBridge Capital, bought $25 million in Bitcoin and reportedly allocated 5% of its portfolio to crypto assets. Scaramucci said that an interview with Bitcoin maximalist Michael Saylor swayed his decision. 
Reportedly, the fund's performance was lackluster at the time. That may have been why in September 2021, Scaramucci signed a $40 million deal with FTX Ventures. 
The venture arm of Sam Bankman-Fried's FTX Empire would obtain 30% of SkyBridge, and an option to buy 85% of the company. But his deals with FTX don't end here.
Scaramucci Brings Clinton and Blair to Talk About Crypto 
In 2021, former FTX CEO Sam Bankman-Fried went on a massive campaign to sway key opinion leaders in politics and business. FTX was pushing for "sensible regulation" for the crypto space. Others have a different take. For instance, Binance's CEO Changpeng Zhao said that he used these connections to attack his competitors. 
In any case, Scaramucci's influence may have been just what Bankman-Fried was looking for at the time. 
According to Forbes, the partnership with Scaramucci opened "a network of global finance relationships at a time when TradFi institutions are planning their digital asset strategies."
"I've been doing this longer than Sam has been alive, so I have a lot of relationships over there," Scaramucci said about his relationship with Bankman-Fried. 
To further their collaboration, FTX signed a deal with the SALT Leadership Forum in January 2022, of which Scaramucci is the founder and chairman. FTX was a longtime sponsor of the SALT New York Conference. 
Moreover, SALT helped organize the Crypto Bahamas event. The invite-only event featured guests such as former US President Bill Clinton and former UK prime minister Tony Blair. Other illustrious guests included NFL star Tom Brady, as well as his wife Giselle Bundchen. In June 2021, the pair signed a long-term partnership to promote FTX. 
"You want to do right by it in the regulatory space," Clinton said during his paid attendance at the event. He also referenced his administration's efforts to deregulate financial markets in the 1990s. 
Scaramucci: It's 'Very Clear' That There Was Fraud in FTX
Scaramucci is not the only high-profile businessman with connections to FTX. Just one month before FTX's deal with SkyBridge, Kevin O'Leary became a paid spokesperson for the exchange.
However, unlike O'Leary, who still speaks favorably of Bankman-Fried, Scaramucci now thinks it's "very clear" that there was fraud in FTX. 
"I think it's very clear now that there was fraud. We'll of course have to let the legal system determine all of those things," he said.
In addition to his work in finance, Scaramucci briefly served as White House Communications Director in 2017 under President Donald Trump. His tenure lasted only ten days and was mired in conflict with other Trump appointees.
He remained loyal to Trump until 2019 when he revealed that he no longer supported his reelection. He cited Trump's "racially charged comments" and "divisive tweeting."
Apparently, Scaramucci takes loyalty seriously. On January 15, 2023, he revealed that he would invest in a startup headed by former FTX US President Brett Harris. The company, which does not yet have a name, is raising money to build crypto trading software for large investors.
Harrison, who knew Sam Bankman-Fried before he founded FTX, resigned eight weeks before FTX declared bankruptcy. 
"It's important to pick up and fight for your friends especially when they have had setbacks. Don't walk away; be there and they will never forget," Scaramucci tweeted shortly after announcing the investment. 
Despite the collapse of FTX and his falling out with Bankman-Fried, Scaramucci is still a believer in crypto, especially Bitcoin. He sees the digital asset at $50,000 in 2-3 years
Anthony Scaramucci's involvement with FTX highlights the importance of connections and influence in business. It gives a glimpse into how business deals are made behind the scenes and how powerful influencers can have a major impact on the success of companies.