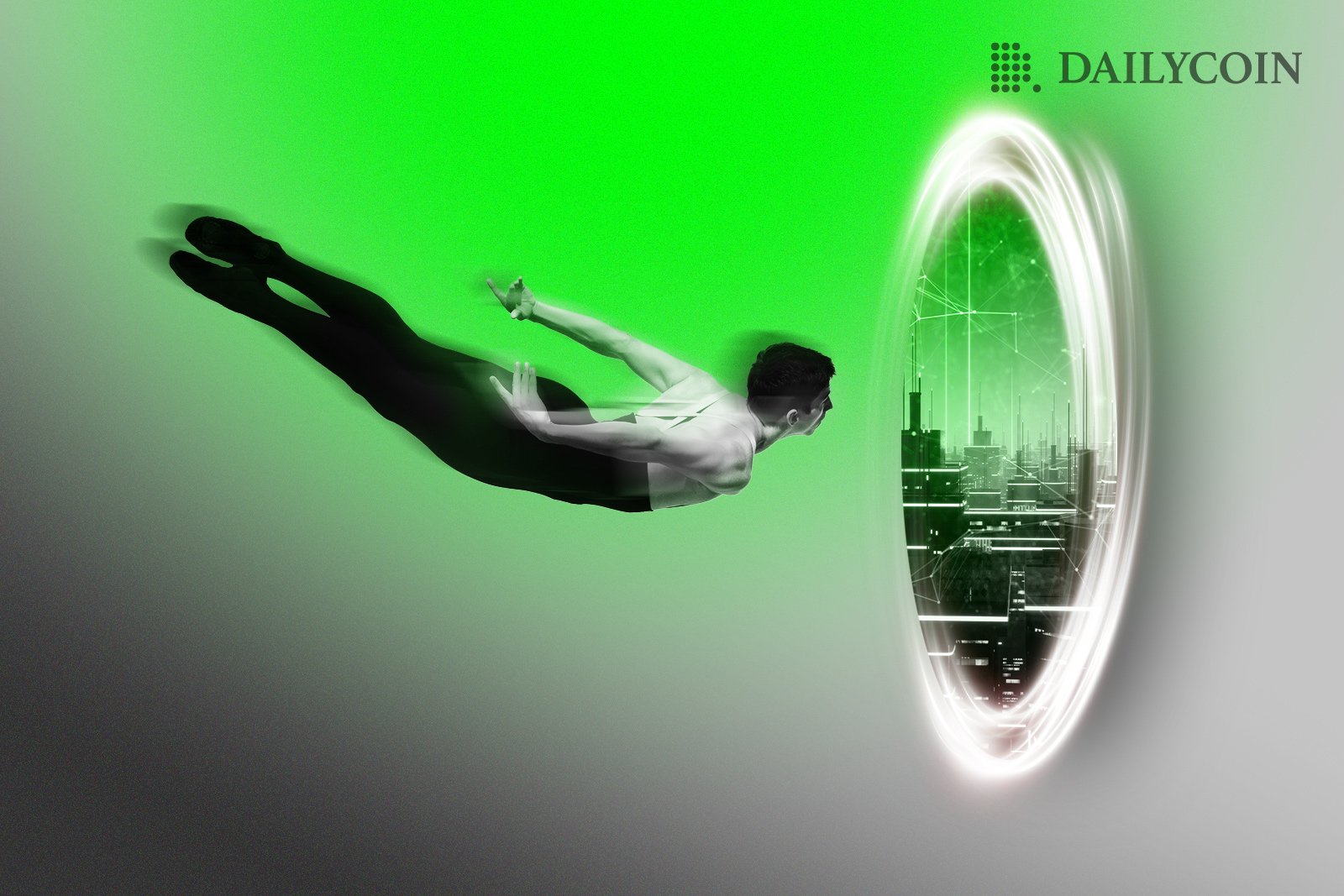 Web3 is still like a Schrödinger's cat. It exists in a superposition, and we don't know what consequences await. With a different volume of decentralization, regulations, blockchain implementation, and NFT art – the final form of the beast may be something we can not yet imagine.
The Web3: Impact the Future summit, held on December 7 in Vilnius, tried to give a sneak peek inside Schrödinger's Box.
The event gathered professionals in the field who tried to shed some light on the future of Web3. Those included the representatives of such industry giants as Binance and Chainanalysis and the highest government officials of the Republic of Lithuania.
The summit ran for the whole day on two stages simultaneously. The main hall discussed innovation and Web3 visions, while the second room focused on compliance and regulations.
Metaverse's Gimmicks and Tricks
To begin with, the summit spawned a funny meme that could be called "coming from the metaverse." During a panel about the metaverse's openness and accessibility, the AI background wallpaper started to "absorb" one of the speakers, René Schulte from Valorem Reply, who was connected via video call. Other panel participants said René already lived in the "true metaverse."
As there's a grain of truth in every joke, let's admit the metaverse is full of quirks and gimmicks. These are not limited to the absence of legs in Meta's 'Horizon Worlds.' Some of them are practical and beneficial.
Aragorn Meulendijks, also known as ItsMrMetaverse, commenced his speech by showing the software pre-installation license agreement page. The audience kept silent when he asked whether many people had read it. Indeed, there's one important point in every software agreement: everything created inside the game world is owned by the game's publisher or the development studio.
In decentralized metaverses, you own anything that you have created or bought. You also obtain royalties via smart contracts if somebody uses your creation or resells your NFTs.
Some speakers even admitted that creators and designers will play the same important role as developers in Web3. For example, metaverse fashion journalist and creator Lina Survila said,
'Even though there's a lot of technology involved, artists are those who make it accessible for users, building their NFTs on it."
Moreover, art can be a dealbreaker if the metaverse shifts into an AR direction. Meulendijks provided an interesting assumption. He supposed that wallpapers could disappear in the future because everybody could select a virtual wallpaper. This would not only provide more jobs for artists but would also reduce carbon footprints.
"What we going to see is a true manifestation of imagination," he summed up. 
That's why the wallpaper gimmick meme became such a hit in the room!
Speaking of more metaverse gimmicks, another fashion-tech expert, Odeta Jacė from Storyfounders, asked people to scan a QR code that claimed their proof of attendance at the event. It turned out to work as a location check-in on a blockchain. That's quite handy!
Seeing these examples, an average reader may feel that the vision and innovations stage was appropriately full of dreamers and visionaries. However, some more serious topics concerning regulation were discussed too.
Meulendijks answered the question of regulations in quite a radical way.
"By the end of the century, we won't have countries anymore. Jurisdictions are linked to particular territories. In the future, people will be connecting to the metaverse from all over the world."
Are You Ready to Regulate, Europe?
While countries still exist, the regulation issue stays important.
After the recent FTX fiasco, the question of security arose again. Regulating Web3 is like walking on thin ice: it's important not to let scammers in while also keeping the space decentralized. That's why half of the conference discussions were dedicated to this dilemma.
On the other hand, the question wasn't definitively answered, as different people had various opinions on how to do it properly. I'd like to highlight a few interesting thoughts shared at the conference.
First of all, Martin Bruncko, Binance's Executive Vice President for Europe, expressed his opinion in this way:
"Regulations cannot be good or bad. It's like a marriage. Everything depends on both partners and how they cooperate." 
In other words, the number of regulations should be equal to the amount of need for them in the sphere. Moreover, the head of business development at Dusk.Network, Ryan King, mentioned,
"Welcoming regulation is a sign of maturity."  
He admitted that mass media overused the 'Wild West' portrayal of crypto. However, he did urge for taming of this very Wild West, as was done in the past to create the USA of today.
On the other hand, some governmental officials didn't have such a radical stance on strict regulations. Karolis Žemaitis, the Vice-Minister of the Economy and Innovation of the Republic of Lithuania, said,
"I see us as not policy makers but accelerators. We are here to accelerate the process, to help web3. But of course, at some point, we do set the rules."
He used the quote from Alice's Adventures in Wonderland to describe his job:
"...here we must run as fast as we can, just to stay in place. And if you wish to go anywhere you must run twice as fast as that."
Therefore, regulations are not only about restrictions. They need to encourage businesses to experiment while keeping people safe.
The Web3: Impact the Future summit was intense and diverse. Indeed, it tried to cover various aspects of Web3 to shed light on such a futuristic topic as the metaverse. The 45 invited speakers touched on Web3 economies, CBDCs, crypto gaming, metaverse hype, fashion, regulations, cybersecurity, and more. The field is expanding exponentially. Let's hope that the next summit will take more than one day to encompass the new peculiarities of the future we will live in quite soon.