On Thursday afternoon, Twitter launched its new "Tipping" feature, which enables free, instant  payments globally for its users. This tipping feature is made possible due to Twitter's collaboration with Strike using the latter's API offering. The scalable Strike API runs on Bitcoin's Lighting network, a layer two solution on that blockchain, enabling instant funds transfers anywhere in the world.
Strike CEO, Jack Mallers, made the official announcement during a demonstration video of the payment feature he posted to Twitter on Thursday. Shortly after Mallers' tweet went out, Twitter CEO Jack Dorsey confirmed the launch with a simple "100%" emoji stamp as he retweeted Mallers video.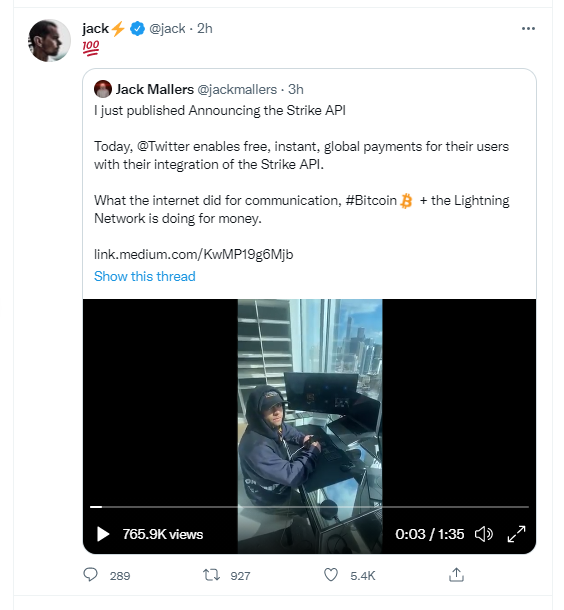 In the video, Mallers verbally attacked all wire transfer services and banking wire desks saying their days were numbered.
"Boom. We just made an instant, free remittance payment from Chicago, Illinois, U.S.A. to San Salvador, El Salvador over Twitter. Why would anyone ever use Western Union again!?! When you take one of the world's largest social media networks [Twitter] and you combine it with the world's best open monetary network [Bitcoin], Twitter accidentally becomes one of the best remitting experiences in the world. This one single payment standard, in this one single global monetary network is dematerializing all existing monetary networks,"
said Mallers.
While many mainstream media outlets seemingly downplayed the "tipping" service as a social media novelty, Mallers noted in follow-up tweaks the world-changing implications of this tech.
Twitter confirmed that its new tipping feature has already started worldwide implementation this week for Apple iOS users. Over the next couple of weeks, the payment feature will be available to Android users as well. Twitter also confirmed that it will not impose any fee or withhold a transaction percentage of any kind on any Bitcoin tip transfers.
This could be a fatalistic disrupter innovation for wire transfer companies such as MoneyGram, Western Union, Skrill, WorldRemit, XE…etc., all of which make money by taking a percentage of the total amount of every wire transaction ranging from 0.5% to 5% depending on what service you use. Assuming you want to send a wire transfer amount of $5,000 the percentage fee range would be between $25-$250 for a single transaction.
Twitter now does it for $0.00 per transaction.
Most major banks make money with wire transfer fees as well. This table from Finder.com shows the flat rate wire fees charged by the top-10 U.S. banks for every wire transaction.
Again, Twitter now offers these services for free. We'll see how "Big Banking" responds.
This announcement has completely caught the banking and financial services industries off guard. Otherwise they would have lobbied hard to block it with regulation.
This simple, elegant solution for free, instant global payments will cost banking interests millions in lost revenue over time as Bitcoin gains adoption.
While many are dismissing this as just another social media "add-on," it's truly revolutionary. Twitter has more than 300 million active users per month. It's network effect will spur rapid adoption for this free remittance option, exposing millions of potential users to Bitcoin.