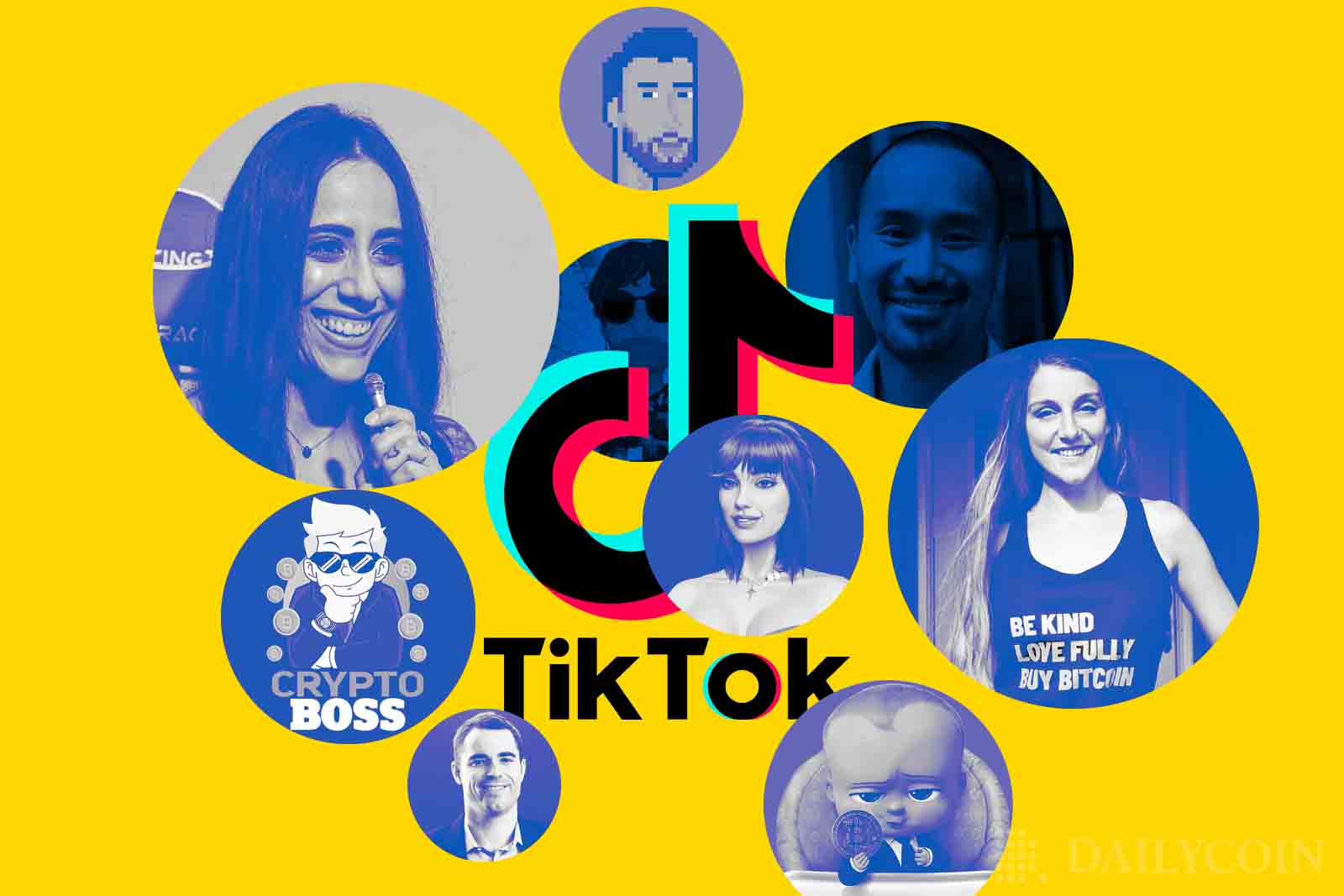 It is not surprising that TikTok is one of the most well-known social media sites globally right now, with approximately one billion active users per month (roughly ⅛ of the human population). It started merely as a way to distribute content largely for entertainment purposes, but today it's used for other purposes such as education and community-building.
Today, millions of videos containing simple parenting advice, academic lessons, did-you-knows, and DIY projects are added to the platform daily. Not only that, TikTok is also helpful in crypto marketing; besides being used for community-building, some channels serve as a source of information for crypto lovers. 
That said, this listicle highlights our top 12 TikTok crypto influencers you should consider following this year to learn more about cryptocurrency, stay current on trends, and obtain expert guidance on the market.
RW Crypto (@rw_crypto) may appear to be simply another crypto enthusiast looking to share his enthusiasm for cryptocurrency, but he provides much more to his audience. This crypto influencer assists others in delving deeper into the cryptocurrency realm and becoming more actively involved in shaping its future.
His material includes the most recent crypto news, information on new crypto projects, and NFT updates. He also posts witty memes about current events.
Do you need some advice on whether to buy or sell? Want to know what you'll be up against if you take the plunge into the crypto world? The CryptoWeatherMan (@cryptoweatherman) can provide you with forecasts.
He's not claiming to be the AccuWeather of the crypto world, but he has a lot of insightful commentary on what's going on. His videos are a lovely blend of fun and solid instruction.
The complexities of cryptocurrencies are exaggerated. Essentially, this is the message Cryptowendyo (@cryptowendyo) wishes her audience to remember. She obviously knows how to target the crypto audience with her message as a digital marketing guru.
Cryptowendyo goes into great depth about Bitcoin and other cryptocurrencies. She also provides cryptocurrency technical analysis and trading tips. She delivers daily crypto and NFT news so you don't miss out on what's going on in the market.
The Wolf of Bitcoins (@thewolfofbitcoins) is recognized as being the first Bitcoin influencer on TikTok to create a viral post on the network. One of his flicks received 160K likes and thousands of comments within hours of its release. On the site, he continues to provide entertaining yet informative content.
He educates and advises his audience about Bitcoin, Ethereum, and other cryptocurrencies. He also gives an update on what is going on in the cryptocurrency world. Do you want to know what goes into a Bitcoin miner or how to use an instacoin ATM? Check out his TikTok channel.
Are you new to cryptocurrency? Dennis Liu of Virtual Bacon can educate you about the foundations and make you aware of the industry's complexities. Virtual Bacon (@virtualbacon) provides both in-depth perspectives on crypto analytics and a wealth of educational content geared at novices.
Liu is an experienced financial analyst and investor who knows what he's talking about. His ability to use simple language to convey complex topics so that the average person can understand them is what makes his videos good for beginners. After seeing and digesting the material in his videos, you'll be more qualified to judge bitcoin trends.
NFTs and cryptocurrencies complement each other like peas in a pod. If you're a cryptocurrency enthusiast, you should stay up to date on the latest developments in the NFT market. Follow NFT Whale Media (@nftwhalemedia) on TikTok to stay up to date on the newest news. This media marketing firm creates fantastic stories regarding NFT activities worldwide.
Cryptokang (@cryptokang.reborn) has expanded his massive TikTok and Instagram followings. His cryptocurrency-related videos are among the most popular on the network, and he rapidly attracts new followers.
Watch his videos on the newest currencies and protocols to diversify your cryptocurrency holdings. He also creates a lot of material concerning obscure tokens. Unwrapping his current video library is like cracking open a surprise egg; there's always something new you haven't heard before.
The variety of wit you're sure to love is another aspect that makes Cryptokang worthwhile to follow. He will have you laughing with his humor, whether he is discussing important cryptocurrency investments or a ridiculous subject completely unrelated to cryptocurrency.
Alina Pak, popularly known as Cryptocita (@cryptocita), is growing in popularity among her audience by offering funny yet incisive comments on crypto industry happenings. Although she also teaches the principles of cryptocurrencies, her work is mostly centred on bitcoin mining and trading.
If you're new to cryptocurrencies, Alina's videos are engaging and easy to understand. If you're an experienced investor or crypto fanatic, you'll also get a lot of sound advice on investing in cryptocurrencies and the most current market developments.
Short, and to the point. Through no-frills TikTok movies, Crypto Review (@crypto.review TikTok) provides you a sneak peek at the hottest cryptocurrency and NFT initiatives. The Baby Luna Project, Topioca Town NFT, the RAND Network, and Shib SpaceX INU are among his most recent projects. His channel is centered on marketing, therefore any suggestions should be taken with a grain of salt.
NFT Degen (@nft.degen) provides an example of how to make money in the crypto world. This account is worth following if you're a crypto enthusiast who wants to learn more about the NFT space.
On Discord and TikTok, NFT Degen is a well-known Bitcoin influencer. So follow him on TikTok, as you won't see him on other social media platforms. His films cover a wide spectrum of new crypto and NFT activities, some of which are just getting started and others of which have had tremendous success.
You won't miss anything in the crypto sector if you follow Mason Versulis on TikTok. He is more often known as CryptoMasun (@cryptomasun) and is one of the most reliable sources of cryptocurrency knowledge. He already has a sizable following base on Twitter, Instagram, Discord, and several other social media platforms. 
On TikTok, he continues to express worldwide trends, current technical developments, changes in the Bitcoin market, and pretty much everything else that happens in the sector. Furthermore, Crypto Masun's TikTok videos are a blend of serious information, practical insights, sound financial advice, and creative humor, all of which keeps his audience glued to the screen.
If you have a large stake in crypto, you'd want to know everything that's going on in the industry—and you'd want to learn it from a true pro. Crypto Ventures is supported by an experienced trader and investor that can give comprehensive coverage and in-depth insights into existing and upcoming crypto projects.
Crypto Projects (@cryptoprojects) on TikTok discusses tokens and currencies such as Grimace Coin, Talent Coin, PeaSwap, and Litedex. In addition, he provides updates on the Leviathan Protocol and Y-5 Finance. Check out his video on Idle Cyber if you want to earn money while playing. Follow him on TikTok to learn how to support crypto projects with Avoteo and other crypto news.
The cryptocurrency market is, without question, unpredictable. Keeping up with industry news is perhaps one of the most effective ways to stay ahead of the curve and keep your portfolio afloat.
Similarly, following the top TikTok crypto influencers today is one of the simplest methods to gain crypto knowledge. However, keep in mind that influencers aren't usually experts, so it is advisable to do your research before making any financial decisions.