On Saturday, April 30th, Yuga Labs, the creator of the wildly popular Bored Apes Yacht Club (BAYC) NFT collection, launched land sales for its metaverse project – the 'Otherside'.
Otherdeeds Becomes the Top Trending NFT Collection
The sale saw Yuga Labs raise $320 million–the largest amount ever raised via NFT sales, even leading to disruptions on the Ethereum network and causing gas fees to spike up to $14,000 per transaction.
The sale frenzy has made 'Otherdeeds' the top trending asset across multiple platforms. According to CoinGecko, Otherdeeds leads the pack in NFT sales, with 19,535 ETH, or $55.7 million, traded over the last 24 hours.
Otherdeed Owners Fall Underwater
Despite its recent launch and emergence as a top-trending NFT collection, on-chain data suggests that many Otherdeed NFT owners have been thrown underwater due to falling prices.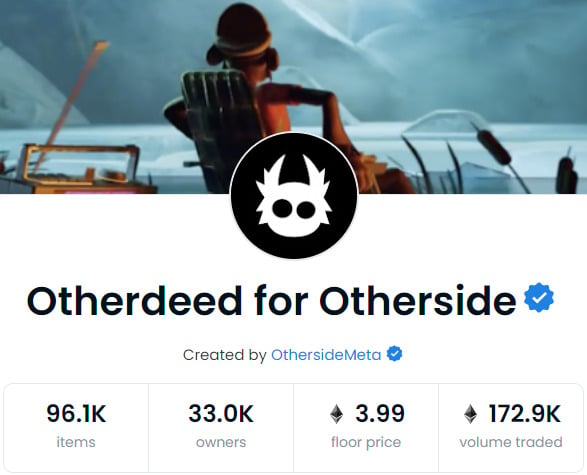 In the last 24 hours, the floor price of the Otherdeeds collection has dropped from 3.99 ETH (and much as 4.21 ETH at its peak) to 3.39 ETH as of this writing.
The challenges faced at launch, and the subsequent price drop of Otherdeeds NFTs have prompted backlash from Yuga Labs community members who had initially snapped up the NFTs.
According to DappRadar, Otherdeeds remains the most traded NFT collection over the last 24 hours, even despite its drop in price.
The current state of the NFT market leaves Otherdeeds with an uphill struggle to recover trust and enthusiasm among users.