Mines of Dalarnia (often abbreviated as MoD), the 2D mining action-adventure game, has just announced that its public beta is now available on Mac. Players can download the game on their Mac devices directly from the official website.
The MoD team took to Twitter to share the news.
"Are you ready, Miners?! We are very excited to announce that our Mac Build Public Beta is finally available to everyone," the announcement read.
With this, the blockchain game will be available on Mac and Windows PC. To download, players can head over to the official website and install the beta version.
What Is Mines of Dalarnia?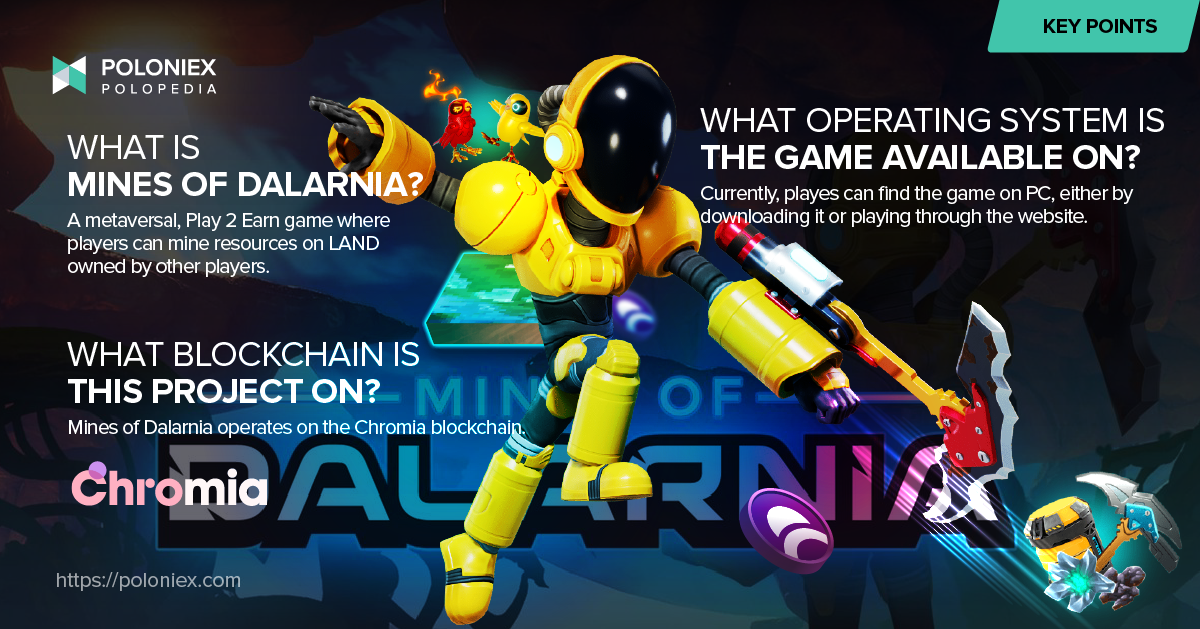 Mines of Dalarnia is an action-adventure dungeon crawler game based on the Chromia blockchain. Much like the name suggests, the game is all about mining minerals and progressing through the levels. 
As players mine and collect in-game items, they have to slay monsters. Developed by Workinman Interactive, the 2D game is a perfect blend of combat, mining, and adventure in an interplanetary environment. 
The first Alpha test was rolled out in 2021 and the devs continue to make steady progress. The DAR token is available on several exchanges.
Mines of Dalarnia Gameplay
As MoD runs on Chromia blockchain, the game can collaborate with other games within the Chromia ecosystem. Players can own land (NFTs) and other in-game resources (tokens) in the game. 
As a player, here's what you can do in the MoD universe:
Players can either be Miners or Land Owners. The Land Owners rent their land out to the Miners. The Miners then indulge in a dungeon side-scrolling game and mine resources. 
The Miners pay a fee to the Owners. Meanwhile, the Owners are responsible for managing the land and hosting events.
Robo Canary birds (NFTs) assist players by alerting them about foes and carrying resources. 
Both Landowners and Miners earn DAR rewards for their contribution. Apart from the game, players can socialize with other players at Space Stations.
With so many 3D games coming out, the 2D game may not appeal to gamers who prefer 3D graphics. However, Mines of Dalarnia has that "Nintendo 64" appeal with vibrant visuals.
Mines of Dalarnia has been making steady progress ever since it was announced. The game has a unique concept with a good old dungeon crawler streak. With the release of Mac Build, MoD can reach wider audiences.