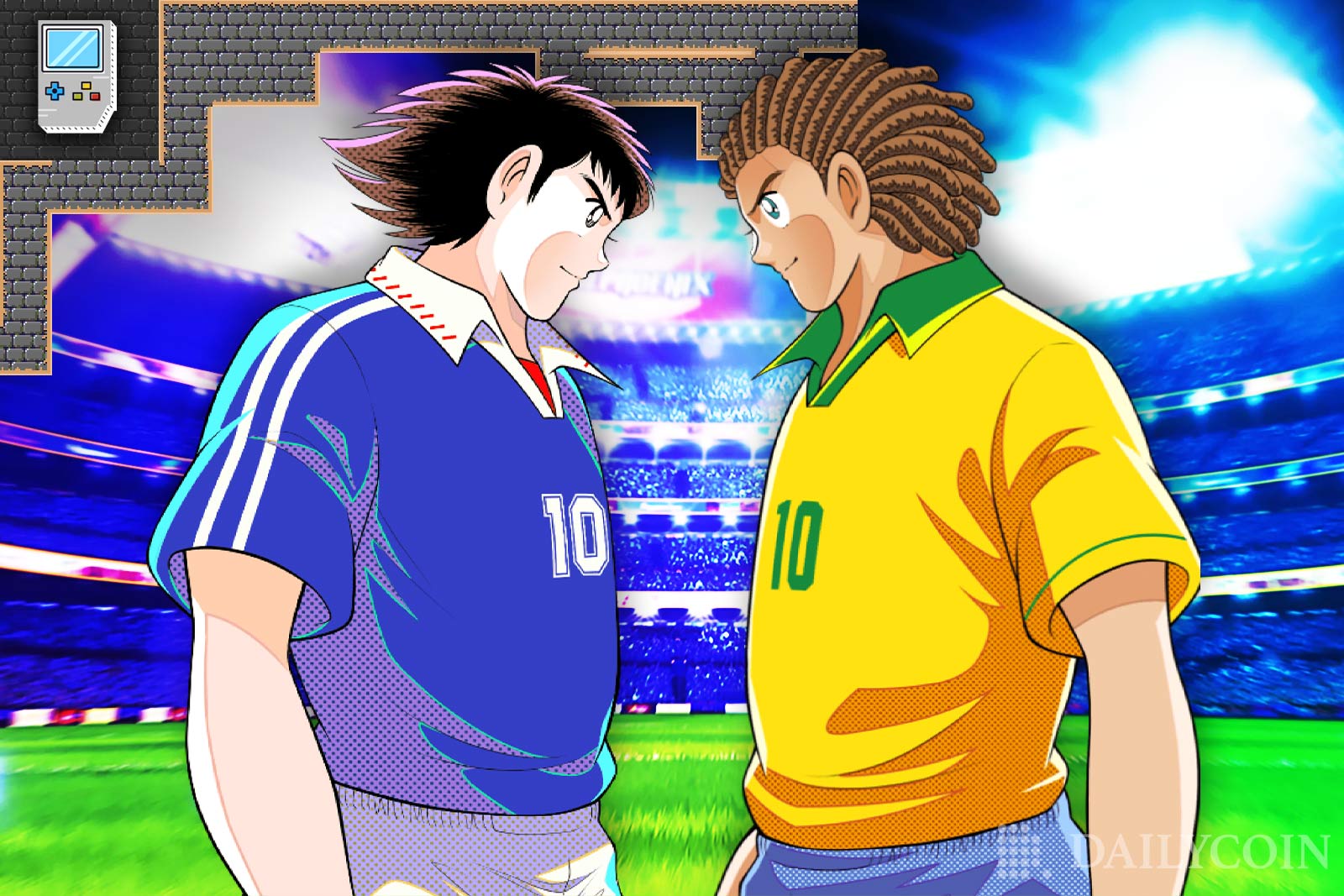 Captain Tsubasa is embracing Web 3.0 and blockchain technology with the announcement of a new mobile game titled 'Captain Tsubasa Rivals'.
Playable characters will come in the form of NFTs, all of which feature card rules, rarities, skills, and economics.
Classic manga series Captain Tsubasa is making its way to the blockchain with its new game titled 'Captain Tsubasa Rivals', which is scheduled for launch at the end of 2022.
The project aims to give players the opportunity to interact with characters from the manga, and play with them in the form of non-fungible tokens (NFTs). The official website for the game is now available.
Captain Tsubasa Embraces Web 3.0 and the Blockchain
Captain Tsubasa Rivals is a mobile game in which players can compete using NFT characters from the original manga.
The source material the game is based on, Captain Tsubasa is a Japanese manga series written and illustrated by Yōichi Takahashi from April 13th, 1981, until May 9th, 1988.
Users will be able to exchange rivalry pieces, as well as other in-game items that can be obtained through battling other players.
All characters in the game will be generative NFTs, which means that no two will ever be the same, or have the same characteristics associated with them.
While there can be NFTs that carry the same name, each card will be automatically generated by a program and will contain different pictures as well as parameters.
Players need to devise strategies around the special moves and attributes of each card in their position. TSUBASAUT is set to be the native cryptocurrency used within the game, and can be earned by participating in matches of the game's Player vs Environment (PvE) mode.
Players can use these tokens to develop their characters, which they can then choose to sell them through the in-game marketplace.
The game also features generative background music (BGM) technology, meaning that in-game soundtracks will be automatically generated through programmatic combinations, in collaboration with Japanese musician Shinichi Osawa, who goes by the stage name Mondo Grosso.
For those interested further details about how the game works, the team has released an official portal that explains card rules, rarities, skills, and economics for the NFT aspect. It also outlines the game's two main modes—battling with rivals in the original story (PvE), and competing against other users (PvP).
While Rivals is not the first game developed under the Captain Tsubasa banner, it will be the first iteration to leverage the power of the blockchain.
Captain Tsubasa Rivals joins a growing GameFi sphere filled with thousands of games, so it is bound to face stiff competition.
Captain Tsubasa is a classic manga series that was hitherto been adapted in a variety of purely non-Web 3.0 mediums, including its own anime series.
With the beloved series making its way to Web 3.0 and implementing generative NFTs, it is that even classics are beginning to embrace the blockchain space.
The move is likely to encourage other projects that have typically only been found in traditional media to make their way to the blockchain.
Discover how other Japanese gaming studios are embracing the blockchain space:
Gaming Giant Konami Increases Staff for Web 3.0, Metaverse, and NFT Marketplace Expansion