The stock market fell sharply on Thursday, erasing the gains made in the previous rally, driven by the historic decision made by the United States' FED to increase interest rates. Bitcoin and the the cryptocurrency market at large declined in sync, losing 7.5% of the total market cap in the span of 24 hours. 
The biggest U.S. stock market index, which tracks the performance of 500 major companies, S&P500, dropped by 4%. Tech company-focused Nasdaq 100 also saw a decline of 5.1%, marking the biggest daily decline since the end of January. 
The dominant crypto, Bitcoin (BTC), soon followed suit, slumping by 10 percent and dwindling from $39.542 to lows of $35.871 within 6 hours. The drop marked the biggest decline in Bitcoin's price in three months. 
Major Altcoins, including Ethereum (ETH), recorded even bigger losses. The total market capitalization of the cryptocurrency market has shrunk by nearly 7.5% over the past 24 hours, and sits at $1.66 trillion at the time of writing.
Bitcoin has had a positive correlation with major stock market indexes since 2020, the start of the global pandemic. This means that the benchmark crypto typically moves in the same direction as the equities market, rather than acting as a less risky safe-haven asset, like gold. 
Bitcoin's current correlation level with the S&P500 index is one of the largest in history, according to Arcane research data.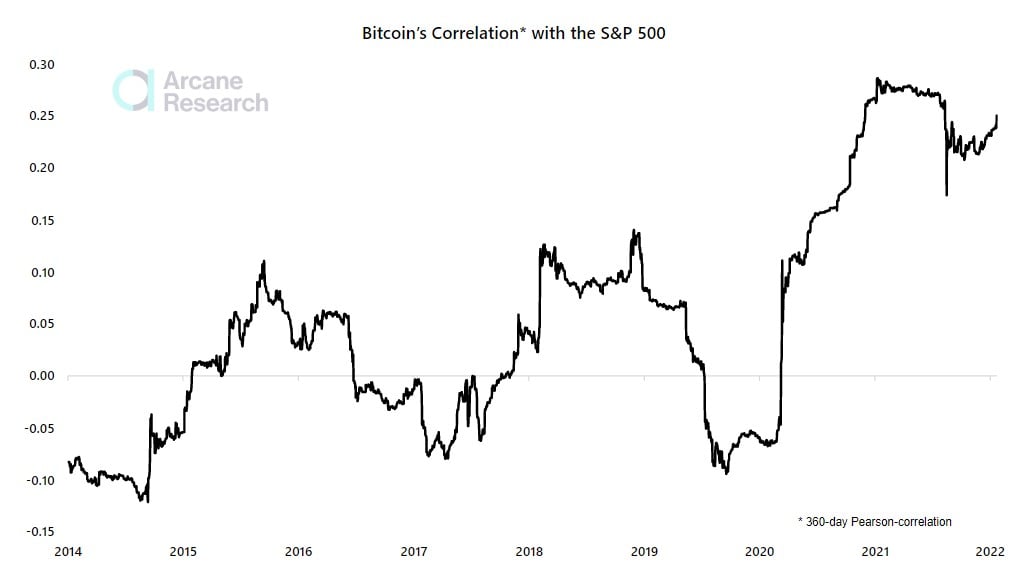 The recent stock market sell-off, which triggered the cryptocurrency price drop, surprised financial professionals. "The 100% reversal within half a day is just truly extraordinary", one of them told CNBC.